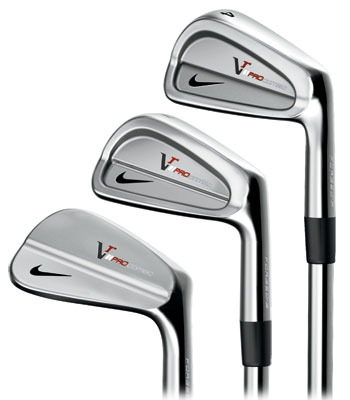 Features of Golf Irons
The shaft and head of an iron can be made from a range of metals. Steel is a common material used along with the more lightweight aluminium, titanium and graphite. The former is more commonplace with the average amateur golfer due to its broader availability and cheaper price, whilst the others are more selective for more advanced players.
There are two ways in which an iron can be made, either being 'cast' or 'forged.' These can have a significant effect on how it feels to strike the ball so is definitely worth considering when researching the key facts about cast or forged irons.
The head of an iron is thin and the faces are imprinted with grooves as to assist the ball to spin. There are three different types of club heads that a player can choose between. They are:
Muscle-back Irons – These are clubs where the back part of the club head is wholly constructed out of metal. They can help with providing feedback to the player but need to be hit with a higher degree of accuracy to be advantageous.
Cavity-back Irons – As opposed to muscle-backs, these are irons where the back of the club head has been hollowed out. It is better for more amateur players as a larger 'sweet-spot' is created and allows shots to be less precise.
The shaft of an iron is the part that connects the long club to the head. It is the driving force behind the club-to-ball connection. A decent shaft can improve the technique and length of shots whilst a poorly suited one can have the opposite effect. The higher the number of the iron the shorter the shaft. They are usually made from steel.
Different Types of Golf Irons
There are many different golfing irons that are found in a player's bag, simply because they are used the most often and for a variety of shots.
Numbered Irons
The number of irons range between 1 and 9 but when coming to make a purchase of a set, there will typically only be irons between 3 and 9. Usually, this is all the average golfer will need. Enquire about any of the other number of iron if it is needed to improve your game. Below is a table that highlight numbered irons and their uses:
Type of

Iron

Number of Iron

Description

1

These types of iron have occasionally been used as a driver to take tee shots, although this is very rare nowadays. This is because they are difficult to hit due to the smaller surface area on the club-head face. Woods are usually preferred to take driving shots with.

2-4

These types of clubs have low lofts in order to hit the ball long distances at a more flat angle (around 170-260 yards.) Again, they are known for being some of the most difficult clubs to hit due to the reduced size of the striking area and the distance travelled by the ball, which accentuates any inaccuracies.

5-7

Mid irons are used for longer approach shots towards the green and can be hit around 140-220 yards. They are used often during a player's game and are generally more forgiving when struck. Their shafts are commonly made from steel or from graphite which can give better distance on shots.

8-10

The short irons are labelled 8-9 but occasionally a customized 10 can be found for certain situations. The shafts are very short as to allow for the club to go underneath the ball easier. Shots can thus be chipped easier over shorter distances (around 130-150 yards.) The club-heads are larger meaning short-irons are easier to hit
Wedges
Wedges are a type of iron that is used when a high degree of loft is needed, usually over shorter distances than is suitable for a numbered iron. Their standout feature of them is their capacity to hit the ball at a high angle with increased backspin. They are often used as the shot just before the green or escaping tricky situations. The different types of wedge are the:
Pitching Wedge – This is used mainly for approach shots towards the green that require a degree of elevation and backspin. These are commonly included in a set of golf irons.
Sand Wedge – The sand wedge has a wide sole and is designed solely for use in bunkers, where the club-head can push through the sand more freely. Again, these are an important fixture in the general golfers club set and are especially useful if hitting the ball into the bunker too often.
There is also the gap and lob wedges which can be added to a player's set. These won't be used as often, especially for the amateur player, so not essential when buying a set of new or used golf irons. If looking to buy separately then be sure to check out eBay as they will have a selection of second-hand wedges that will be available at a more affordable price.
Advice for Buying a Set of Golf Irons
This guide has so far looked at what types of clubs make up a set of irons and their features. If buying a whole set or perhaps just a few additional individual clubs then consider the following:
The Budget. Keep in mind how much to spend on the irons from the start. Spend according to how often they will be used and at what for what ability level. Occasional and recreational use won't require a top of the line, expensive set.
The Course. Review this guide and think of the golf course the irons will be used on. For example, a hilly course that requires more lofted shots may require higher numbered irons or wedges to cope.
Dexterity. Left-handed irons are available too, although perhaps not as commonplace as standard clubs.
Brands. All the big golfing brands make irons and wedges such as Nike, Callaway, TaylorMade and Cleveland. Look into buying these as it guarantees a certain authenticity and degree of quality.
Searching for and buying golf irons
When coming to make a purchase of golf irons the best advice is to shop around as much as possible and obtain as much first hand advice as possible. Read reviews of clubs online and ask fellow players their recommendations and experiences of certain irons.
A good piece of advice is to visit sports shops or specialist golf outlets and try out the clubs in-store to give a feel of the irons and if they suit your swing. Then see if the desired model is available at a cheaper price online or on eBay.
Buying from the high street does not give a full view of the market however as the scouring the internet will show the vast selections available. It will also make life a lot easier by having a potentially awkward and heavy set of clubs delivered to the front door.
eBay has plenty of brand new and second hand irons to choose from within its listings, many available at reduced prices.
Just because some irons are second-hand doesn't mean they will be inadequate. Some players may be selling simply because they are giving up the game or are trying to raise money.
Below are some good tips for buying from eBay:
To begin with, type in "golf clubs" into the eBay search bar and narrow down the searches by using the preference bar on the left hand side.
Decide whether it is a set of clubs or just individual ones that are needed. Then look as many as possible within the chosen price range.
Read the description of the irons carefully and also the seller's history rating.
Consider if the item has a returns policy if there is something wrong with them or they just don't feel right when swinging. The cost of postage and packaging and how long they will take to arrive is something to think about too.
Make sure to ask the seller as many questions as possible about the irons if unsure of any aspect of them.
Consider paying through Paypal for a smooth transaction and added protection and ensure that you include the cost of postage and packaging.
Conclusion
Irons make up the majority of clubs in a golfers set. The different types are required to perform distinctive roles during a round of golf, be it hitting the ball varying distances or trajectories. They are used for a selection of shots but are mostly employed from the fairway.
Irons should come with a number on them which indicate their capability to loft a ball; the higher the number, the more loft they can produce. This is because the shaft is shorter which allows the club to get under the ball easier.
Buying a set of irons is made easier by the fact that golf is a popular activity in the United Kingdom and Ireland; there are plenty of outlets which stock all sorts of clubs for any level of player. Searching online is also a useful approach to buying golf irons and sites such as eBay stock plenty of both new and used club to choose from if looking for a good deal.