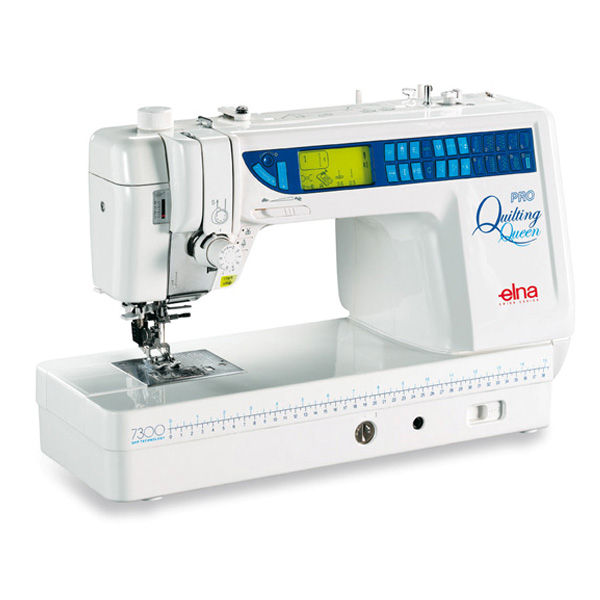 Buying an advanced level sewing machine comes at a hefty price, but for those sewers who make their own clothes, quilts, or embroidery there might not be any other option. A basic sewing machine is fine for most beginners, but as their skills advance they start wanting a device that can do more than make a simple stitch. The wonderful thing about advanced-level sewing machines is that they can be customised to fit the sewer's needs.
Many of the parts are interchangeable, allowing operators to switch between different projects at the press of a button. High-end sewing machines are found for sale in craft stores and through online websites like eBay. There is a stunning array of these top-level machines, and it can be intimidating to try and find the best model without the proper level knowledge of sewing products. Buyers are advised to start their search by first examining the different features of each machine and then determine which features best fits their needs.
Sewing Machine Type
There are two main kinds of sewing machines available on the market: mechanic and electronic. The first time most people interact with a sewing machine, it is typically a mechanical one. These models are relatively inexpensive, but they also require a lot of handling. All of the options have to be tuned by hand, and there is a limited number of stitch presets that come along with the machine. Mechanical types are good at first, but as sewers advance in skill they start needing a model that relies more on user skill and less on physical manipulation.
Electronic
Electronic machines offer the latest in sewing technology. Modern machines automatically adjust depending on the controls the user sets into the system. Unlike mechanical models, these electric sewing machines can sew hundreds of different stitches, and can even be programmed to change from one sewing method to another while being used. This is because the machine has a tiny computer chip inside that programmes the different functions. Of course, the main downside to an electronic machine is that it is usually more expensive than a mechanical one. However, for professional sewers the lightning quick reflexes of an electronic model make it well worth the price.
Embroidery Machines
Embroidery machines are actually a subset of electronic models. These are true top of the line models that go above and beyond all of the standard features found on an electronic sewing machine. They allow for embroidering and monogramming functions, simply by being able to hold a hoop under the needle. Embroidering machines are unique because once the hoop feature is attached, operators can move the fabric in all four directions. In fact, patterns can even be pre-programmed into the machine to allow for hands-free sewing.
| Type | Hemming | Simple Clothing Repairs | Complex Clothing Repair | Quilting | Embroidery |
| --- | --- | --- | --- | --- | --- |
| Mechanical | Yes | Yes | No | No | No |
| Electric | Yes | Yes | Yes | Depends | No |
| Embroidery | Yes | Yes | Yes | Yes | Yes |
Not everyone needs an embroidering machine, and those who primarily sew their own clothes would be well off with any electronic model. However, anyone who sews quilts, or enjoys creating decorative pieces of embroidery, should not pass up the opportunity to buy an electronic embroidery model. The best models even allow users to connect them to their computer, and directly programme their designs into the machine through pattern-making software.
Advanced Sewing Machine Features
Users typically buy an advanced sewing machine for the extra features it offers. It makes sewing easier and more enjoyable without having to worry about manipulating knobs and levers. Keep in mind that the more features a machine offers, the higher the overall price most times.
Needle Settings
Every basic sewing machine comes with a needle. However, certain types of stitching require different needles. For example, embroidery work uses a very fine needle, while doing denim repair usually requires a larger one. There are dozens of different needles designed to fit into sewing machines, and advanced models are designed to work with all of them.
Functions to Look Into
Besides the different needle sizes, it is also a good idea to purchase a model that comes with an automatic needle threader. Instead of having to worry about raising the flywheel to thread the needle, the machine takes matters into its own hands. It threads the needle for the operator, making it easier to change out different thread colours.
It is also a good idea to look into buying a model with a needle down option. This handy feature automatically stops the needle in the down position, making it easier to turn the fabric and the stitch line. For those who work with larger sewing patterns that require a lot of adjustment going through the machine, the needle down feature is a more than adequate option.
Adjustable Feed Dogs
A feed dog is the name given to the set of metal teeth at the base of the sewing machine that pulls the fabric underneath the needle, and through the presser feet. It is the job of the presser feet to keep the fabric flat as it passes through the machine, while the feed dog regulates the tempo of the stitch. Adjustable feed dogs can be raised to deal with thick fabrics like quilts, or they can be removed entirely on embroidery machines.
Sewers who need adjustable feed dogs are the ones who work with especially thick fabrics. This includes denim, bedding, and anything else that is too wide to pass underneath the normal setting. Professionals sometimes forgo using the feed dog altogether, preferring to use their hands to pull the fabric through the machine at their own pace.
Speed Control
The pace at which the feed dogs pull the fabric through the machine is regulated by speed control. Low-end models usually have limited options when it comes to controlling the machine's sewing speed. High-end models can be changed to work slowly enough for a finely embroidered stitch, or fast enough to punch through fabric at a lightning quick pace. Different sewing projects require various speed levels, so it is best to purchase a model that has multiple speed control options to choose from.
Tension Adjustment
Basic sewing machines come with only one standard tension setting for the thread as it passes through the machine. Professional sewers know that this can create problems when it comes to working with different types of fabric. For example, silk fabric has a tendency to pucker around the stitch easily if it is sewn too tight. Having a control that adjusts the tension of the thread keeps this problem from happening. Tension adjusters are used by everyone, but they are features to look out for if the customer does a lot of sewing with very thin or thick fabrics. The density of these fabrics affect the tightness of the stitch, so controlling tension is crucial to producing a quality product.
Top-Loading Bobbin
The position of the bobbin loader does not affect the machine's performance, but sewers certainly appreciate being able to load the bobbin on top of the machine. Basic models load the bobbin at the bottom underneath the plate, and it is very difficult to get the bobbin in and out of its compartment. Selecting a model with a top-loading bobbin makes thread changes easier than a bottom-loading bobbin.
How to Buy an Advanced-Level Sewing Machine on eBay
Advanced-level sewing machines are one of the most important choices a sewer makes. eBay has a wide selection of sewing machines for sale, including top-level models that command premium prices. However, buyers who are on the lookout for a good deal can always score a fabulous used sewing machine, sometimes at half the price of a brand new model.
Searching Sewing Machines on eBay
Begin searching for sewing machines by typing 'electronic sewing machines' into the eBay search bar found on an eBay page. This limits the selection to electronic models only, meaning you do not have to browse through long listings of mechanical machines in order to find an advanced model. Searching by name brand, such as 'Brother sewing machine' is another way to browse through the results and find high quality products. Carefully read each listing to find out the different features of the machines being offered for sale.
Typing in 'used sewing machines' produces only used results. This is an excellent search method if you are looking for a high quality sewing machine, while on a shoestring budget. Just make sure you can accurately assess the condition of the machine before you purchase one. Buying a used machine that does not function correctly is a waste of time and money, and should be avoided at all costs.
Conclusion
Sewing machines do not come in one size fits all, and different models are produced to meet a wide range of sewing needs. Advanced sewing machines are meant for professional sewers, or enthusiasts who use their sewing machine several times a week. Furthermore, they often take on products that normal sewing machines have trouble completing. It is best to judge what type of sewing machine to buy based on its features and functionalities.
Adjustable needle settings, different speed controls, and top-loading bobbins are useful for all types of sewing activities. Purchasing a model with removable feed dogs may not be appealing to everyone, but quilters and embroiderers may find this feature to be quite useful. Likewise, the ability to adjust the tension controls is also important for those who deal primarily in clothing repair, and therefore have to work with a wide variety of different fabrics. All of these machines, as well as their selective features can be found and purchased on eBay with great ease.