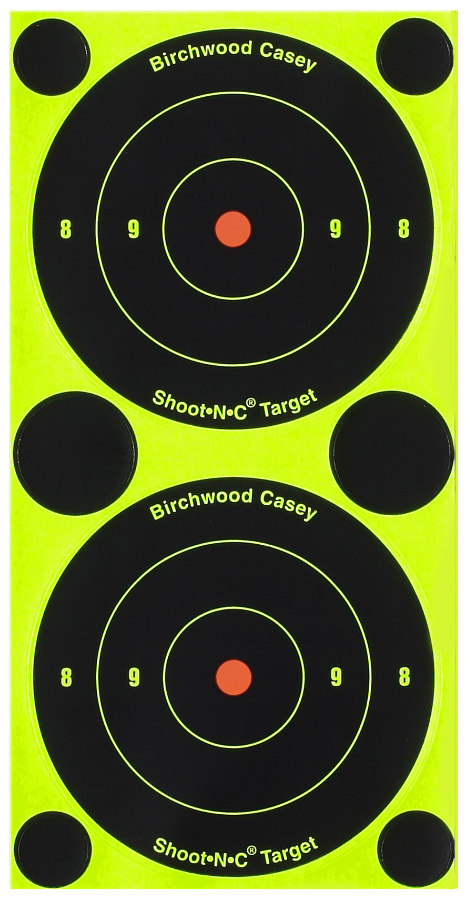 Shooting is a pleasurable pastime which appeals to a wide range of people. As with many specialist hobbies it can be difficult to find the correct accessories and equipment. Specialist stores are often too far away for marksmen to travel to, and often the range of targets may not be what the marksman is after.
More specialist sports stockists are taking their stock online, which is of great advantage for the hobbyist marksman. This guide aims to help make the task of picking the right shooting target on eBay easy and simple.
What is a Shooting Target?
A shooting target is typically a thick piece of paper with an ink print of a circle broken into regular segments with point scores in each section. The centre of the target is often a small black area and worth the most points. A person may go to a shooting range to shoot at targets or out into a private space. Shooting targets provides good feedback for the marksman and allow them to improve their shooting style. Without practise with a target a marksman will find little improvement in their shooting.
Materials and the Different Types of Target
Shooting targets come in a range of materials and different designs. The most popular ones are the traditional circle targets. Most paper targets come in the same size of 14cm by 14 cm and in packs of a 100 targets. Paper targets are slotted into a metal target funnel which is designed to catch all of the pellets.
There are varieties of paper targets available on eBay:
| | |
| --- | --- |
| Game Targets | these come with prints of different types of game animals, from hares to pheasants. These are for fun purposes as well as training someone where to shoot game to kill it. |
| | these targets are made from metal so are not replaceable but will last a long time. The spinning nature of these targets shows the marksman that they have actually hit the target and the sound can give younger marksmen a lot of satisfaction. They can be secured to the ground by driving a sharp spike into the ground, or secured with metal pegs. |
| Deer Stalking Targets | These can be attached to a tree and used to help a marksman learn where to aim for a kill shoot on a deer. |
| | These are small clay discs which are launched into the air with catapult operated by another person and shot with a shotgun rather than air rifle. |
| | These are larger paper targets which can be attached to trees or large straw targets so the arrows can be removed with ease. |
| Novelty targets | These come in a range of novelty designs which marksmen of any age will enjoy using. |
Some targets come with automatic resitting abilities which prevent the need to have to reset the target, and therefore more time is spent on shooting. Such targets come in a wide range of designs from animal heads to small circles or squares. Targets in the style of fun fair shooting targets are popular for sporting days and family related shooting activities.
Advantages and Disadvantages of Paper and Metal Shooting Targets
Shooting paper targets means that the accuracy of the shot can be gauged with ease, and with much practise a marksman can become better over time.
When a target has had too many shots fired into it, the paper target can be swapped with a fresh one.
Paper targets are ideal for a marksman to keep as a record of their improvements. Paper targets are also used in testing marksmen for qualifications, such as deer hunting.
Competitions will also use paper targets in order to gauge scores. Paper targets come in a wider range of styles and colours which can appeal to a range of shooting disciplines and marksmen.
When shooting with steel targets the marksman gets immediate feedback by the sound the target makes. Steel targets provide a different feedback that using paper targets.
Steel targets that move will encourage a marksman to move into different positions, and provide more of a challenge than paper targets.
When using a metal target the pellet is likely not to be found, whereas with paper targets that are mounted on a box, the pellets can be collected up and not litter the area.
Selecting the Right Target for the Sport
A marksman will wish to consider the sport they will be participating in before choosing a type of target. Those stalking deer will wish to use a paper target with a print of a deer on it, and some marksmen wishing for more sound feedback from the target will want to use metal targets. The size of the target will also need to be considered, this will be detailed in the listing's description or in the title of the listing.
If unsure which target is suitable, research clubs in the local area and see what they offer for open days. Go along to an open day and see which targets are preferred. Joining a local shooting club will allow an inexperienced marksman to be in contact with experienced marksman who can advise and help with the choice of new targets.
Safety Accessories to Use When Shooting at Targets
When shooting it is vital that safety is considered above everything else. When placing targets the area should be clear behind them and other people in the area warned that shooting is taking place. The permission of the landowner should be sought before anything takes place.
When shooting protective eyewear must be worn by all participating, these can be bought on eBay by looking for 'protective shooting eyewear.' Some of the protective eyewear comes with antiglare properties which is ideal for shooting in bright sunlight. When clay pigeon shooting sound protection must be worn at all times due to the sound shotguns make so close to the marksman.
Air Rifle Safety and Shooting Safely
When carrying an air rifle, never carry it loaded and do not aim at anything even when not loaded. When transporting a rifle is must be covered, and if transported in a car be placed in the boot of the car and not in the back or front seat. It is legal to shoot targets on private property with the permission of the land owner. There are however many clubs for rifle shooting in the country that are always willing to accept new members and people keen to try a new sport. If shooting on own property, it is vital to have a good backstop. A backstop is a wall of soft earth or chipboard which is meant to absorb the shots. Polished surfaces must not be used as these could make the shots ricochet and potentially cause serious damage.
How to Buy a Shooting Target on eBay
To browse the range of shooting targets on eBay, a basic search can be done on the eBay home page by typing 'Shooting Targets' into the 'Sporting Goods' category. From there is a set of listing matching those search terms. To be more specific, look for 'Shooting Targets' under 'Hunting' in 'Sporting Goods'. The range of subtypes can help narrow down the choice for a target if the marksman is unsure which one is suitable. Some of the subtypes are:
Targets
Clay pigeon shooting
Catapults
By selecting one of the subtypes above the search will be quickly narrowed down to what the marksman may want. If the marksman wishes to look for something more specific then searches like 'Animal Shooting Targets' can be entered into the search bar. This search will bring up a range of metal animal targets that can be adapted and reset with ease.
When buying the condition of the item is very important. As with paper targets these are most commonly sold in a new condition. Some metal targets may be sold in a used condition, and for a new marksman wishing to try a new style of shooting target this is ideal.
It is best to read the description and also look closely at the pictures, as the target may have seen heavy use. Also look at the feedback from the seller and the number of sales that have taken place. Previous buyers can leave comments regarding their transactions.
Consider using PayPal when making a purchase in eBay. There are several safe payment options that aim to protect the buyer from any fraud. Budget will be a factor to consider, and the marksman can chose to view listings within a specific price rage by using the price option on the left hand side. Any lower and upper value may be entered, for example a range of £5-£15. A buyer will also need to consider the price of the postage, or if the item needs to be collected, the cost of the petrol and location of the seller.
Conclusion
Buying a target from eBay couldn't be easier with the many useful search tools the site provides. Secure payment takes the worry from the buyer and allows the perfect shooting target to be bought with total confidence. Shooting is a fun hobby for many different people, and a good target will make all the difference to improving their sport.
With some research a buyer can know what targets are priced fairly and make a decision based on that as well as other factors. Targets are vital to helping a marksman improve their shooting and with much practise with the right shooting target purchased on eBay, the shooting fun can continue.