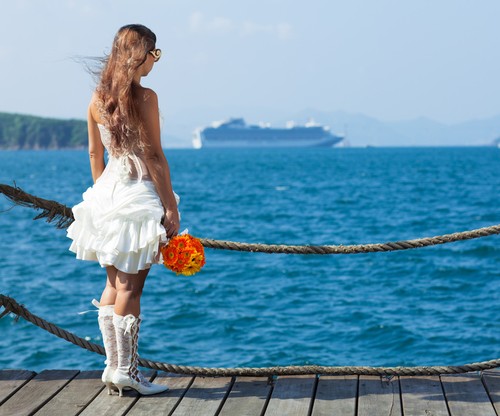 Finding the perfect wedding dress is a huge part of the wedding planning process. Many brides choose to skirt around the more traditional longer wedding dresses for their wedding and opt to customise and personalise their big day in a variety of ways. An increasingly popular option for wedding dresses is the short wedding dress. The time when short wedding dresses were only seen on the catwalk is long gone, and finding a short wedding gown is easier than it once was. Short wedding dresses are a suitable option for a variety of weddings, and should be a consideration for every bride.
Some factors to consider when choosing a short wedding dress are the length of the dress and just how short the dress should fall. There are also many different types of silhouettes that a bride may choose for her big day. The types of fabrics that are available to traditional wedding gowns are also available for short wedding dresses and are discussed later in this guide. Choosing to have embroidery or beading on a wedding dress is also something that many brides consider. This guide covers the various types of length, silhouettes, fabrics, and ornamentation available for short wedding dresses.
Short Wedding Dress Lengths
For short wedding dresses there are two main dress lengths to consider. Anything longer than a tea length is considered a longer wedding dress, and anything above the knee is a cocktail dress.
Tea Length
A dress that falls to the midcalf is a more conservative option for a shorter wedding dress and still shows part of the leg, which helps to add height. This is often referred to as a tea length dress and is a classic, more formal option for a short wedding dress. Tea length dresses can also appear vintage, especially when vintage accessories are used with the dress.
Cocktail Length
A dress that falls just above the knees is considered a cocktail length dress, and is another option for a short wedding dress. Cocktail length wedding dresses display more of the leg and also make the leg appear longer. They can be a good option for weddings in warmer weather, where the bride does not have to be concerned about standing around and getting cold. Cocktail length wedding dresses are not recommended for very formal weddings, or for religious weddings held in a church.
Silhouettes to Consider
A-Line or Princess
The A-line or princess silhouette is more commonly chosen by brides because it can be flattering for a wide variety of body types. It is tighter around the core of the body and flares out starting just above the hips and continues to flare out and create the characteristic A shape. The extremity of the flare varies from dress to dress. Because the waist is hidden behind the start of the flare, it can add height to the wearer.
Ball Gown
While the ball gown style is traditionally seen on floor length gowns, it is also available for a short wedding dress and has a very playful feel to it. It has a tight bodice with an extreme flare starting just below the natural waist. It can hide larger hips, while also adding a feminine curve to the bride.
Empire Waist
The Empire waist begins just below the bust and falls with a subtle flare. The dress can hug more tightly or fall loosely around the bride ending at the desired length. This silhouette draws the eye towards the neckline, making it a good option for brides with a smaller bust.
Mermaid
Mermaid dresses hug the body, showing off its natural curves. Towards the bottom of the dress, it begins to flare out and will either flare out subtly or drastically, creating two very different looks. The Mermaid dress is a good choice for the more confident bride.
Sheath
A sheath dress can sometimes be called a column dress. This dress falls straight down from the start to the bottom of the dress. It can hug around the body's natural curves while being loose in other areas. When a sheath dress is chosen, a lighter weight material is recommended as heavier materials do not allow the dress to flex and hug the curves as much as a lighter weight material.
Dress Fabrics
Fabrics can make or break the dress. If dancing the night away, tight fabrics are not optimal. However, fabrics that stretch too much do not look as appealing while moving.
Damask
Damask is a fabric that has a noticeable pattern weaved throughout. It can be made of many different types of fibres and fabrics. Damask dresses are typically adorned with beading and embroidery, making them a more classic, detailed option.
Lace
Lace is a fabric made of other fibres that are created to make a patterned open-work fabric. Lace is an option as an overlay for other layers or for wearing directly over the skin, allowing the skin to be visible underneath. Lace adds a vintage feel to a dress and can be very feminine. Lace is sometimes used to add detailed designs in a dress. A commonly seen use of lace is as an overlay over a silk dress.
Silk and Chiffon
An extremely soft, lustrous fibre is silk, which is produced by silkworms. Silk fibres, as well as nylon and other materials, are used to create chiffon fabric. Chiffon is generally sheer and is a lightweight fabric which can be layered to add a float-like quality to fine dresses.
Charmeuse
A lightweight fabric made of satin is charmeuse. This is a good option for a shorter wedding dress because of its lightweight qualities. It goes well with many different silhouettes, including mermaid, sheath, and empire cuts because it is thin and falls well over the body. It is also soft on the skin and is a good underlayer for layered dresses.
Cotton
A material made from natural fibres that is suitable for a more casual, comfortable wedding dress is cotton. Cotton wedding dresses add a natural feel to a dress and are well suited to shorter wedding dresses. A similar natural fibre-derived material is linen, which is made from the flax seed plant and produces a material that is similar in feel and texture to cotton.
Decorating the Wedding Dress
Embroidery, lace, and beading can add ornamental details to dresses. Beading is often added to dresses to add detail, and there is no specific type of beads designed for a wedding dress. They are the same types of beads that are used on most clothing, with the difference being that beading for wedding dresses is generally white.
Embroidery can be added to a dress by a professional after it is purchased, if desired by the bride. Some dresses will already have embroidery on them.
Wedding Dress Sizing
It is important to make sure that the sizing is correct for wedding dresses as the wedding day is typically one of the most important days in a bride's life and the dress should allow the bride to feel comfortable and confident. Below is a sizing chart for short wedding dresses.
| | | | | | | | | |
| --- | --- | --- | --- | --- | --- | --- | --- | --- |
| Size | 4 | 6 | 8 | 10 | 12 | 14 | 16 | 18 |
| Bust (cm) | 81.28 | 83.82 | 86.36 | 88.9 | 91.44 | 95.25 | 99.06 | 104.14 |
| Waist (cm) | 63.5 | 66.04 | 68.58 | 71.12 | 81.28 | 86.36 | 77.47 | 86.36 |
| Hip (cm) | 88.9 | 91.44 | 93.98 | 96.52 | 99.06 | 102.87 | 106.68 | 111.76 |
| Height (cm) | 160.02 | 160.02 | 165.1 | 165.1 | 165.1 | 170.18 | 170.18 | 175.26 |
The above size chart should only be used as an approximate guide. Refer to specific brand's own sizing charts when a brand has been decided upon.
How to Buy a Short Wedding Dress on eBay
Short wedding dresses can be tailored, found in speciality shops, and are available online. eBay has a wide selection of short wedding dresses and you can begin your search by typing in the search box on the eBay homepage. If you know which brand, style, and silhouette you would like, type descriptive details into the search box. After searching you can browse through the listings to find the correct dress for your specifications or use the filters to narrow down your search results.
You may want to look for sellers in your local area. If both you and the seller can come to an agreement, you could arrange to try on the dress before you buy it and pick-up the dress from the seller once you've made the purchase. To search for listings in your area, enter postcode under 'Distance' on the results page. You can also specify the approximate distance you are willing to travel from your postcode.
Conclusion
Short wedding dresses are a popular option for weddings. They are a great option for warm weather and for destination weddings. Choosing to have a short wedding dress can be one of the first of many choices that every bride makes. A factor that the bride should consider is the length of the dress, and whether a tea length or a cocktail dress is more suitable. Other things that should be considered are the silhouette of the dress and the fabric it should be made out of. Once these decisions have been made, the search for the wedding dress can begin, if it hasn't already started. Having the correct dress that is both to the bride's specifications and is comfortable to wear is an important factor that contributes to the smooth running of the wedding day. It is one of the most fundamental decisions for a bride, and is best to be well thought through and planned. eBay boasts a wide variety of short wedding dresses made out of many different fabrics with a multitude of different cuts and silhouette styles.