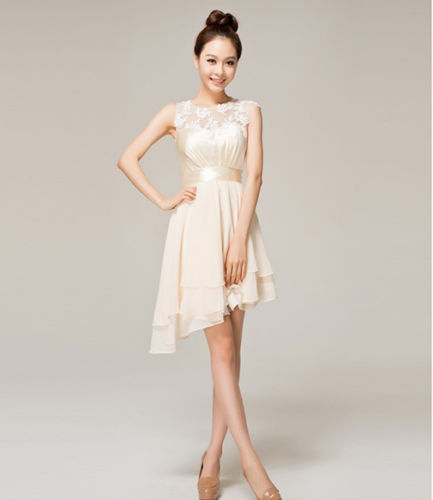 Short and chic bridesmaid dresses make the bridal party look trendy, stylish, and sophisticated, all of which helps to make the bride appear all the more attractive. There are a number of factors that have to be considered when buying short and chic bridesmaid dresses, including proper sizing and comfort, and the fabric. Different fabrics have different qualities that make them appropriate for certain styles and settings. The venue and season for the wedding are important when choosing a dress and accessories that provide ample warmth in cooler conditions.
The bride makes the final decision when it comes to bridesmaid dresses, and she may decide that the dresses should be identical and traditional, or individual and complementary. Short and chic bridesmaid dresses can be found at department stores and specialist bridal boutiques. eBay offers a wide range of new and pre-owned bridesmaid dresses in a variety of colours, fabrics, and styles.
Factors to Consider When Buying a Short and Chic Bridesmaid Dress
When purchasing a short and chic bridesmaid dress, there are a number of factors to bear in mind. The most important is how the bridesmaid dress fits the overall theme of the wedding. Another factor is the season and venue for the wedding. Finally, the bride needs to decide whether the bridesmaid dresses should be identical or not.
Wedding Theme and Short and Chic Bridesmaid Dresses
The bridesmaid dress should look beautiful on the bridesmaids and must suit the colour scheme and theme of the wedding, including being in harmony with the colour of the flowers. The bridesmaid dresses should also flatter and complement the bride and her wedding dress, but should in no way overpower the appearance of the bride: she should be the centre of attention on her big day. Bridesmaid dresses can be similar in overall style and colour to the wedding dress, or they can be in a complementary style and colour. For example, a long wedding dress is often paired with short bridesmaid dresses.
Season and Venue for Short and Chic Bridesmaid Dresses
Even though the bridesmaid dresses are short, they can still be seasonally appropriate. They should also be appropriate for the venue. For example, an outdoor wedding ceremony in a marquee in winter may require accessories if the short and chic bridesmaid dress is strapless and revealing. In this case, wearing an elegant pashmina or shawl helps to keep the wearer warm in the cooler conditions.
Identical or Individual Short and Chic Bridesmaid Dresses
Some brides choose to have their bridesmaids wearing identical dresses, with the dresses being a very close match to the bride's, perhaps just of a different colour, or styled shorter. A more modern trend, especially for less formal weddings, is for the bride to set certain parameters, and then allow the bridesmaids to choose their own dresses. For example, the bride may choose the colour, length, style, or neckline, and then give the bridesmaids some autonomy so that they can select a dress which flatters them individually: often a single type of dress does not flatter every bridesmaid.
Sizing of Short and Chic Bridesmaid Dresses
Short and chic bridesmaid dresses should fit well and be comfortable for each of the bridesmaids because they are likely to be in their dresses for many hours on the wedding day. Some of the time they may be sitting, at others standing, and later on, dancing at the wedding reception. So the dress has to allow for movement, as well as not causing skin irritation or discomfort by being too tight.
Sizing bridesmaid dresses can be a challenge. They do not generally follow the standard UK dress sizing, and many shops and manufacturers tend to use vanity sizing in a bid to encourage women to buy from them because the dress size appears to be smaller. As a general rule, bridesmaids are most likely to be at least two dress sizes larger than they are in standard clothing, but this is rough guide only as the cut of every dress is different, as are the relative proportions of the wearer's body. The best way to ensure a good fit is to take current measurements.
Measuring for a Short and Chic Bridesmaid Dress
Even if a woman finds a bridesmaid dress that fits well at the time of purchase, it is a good idea for the bridesmaid to get measured closer to the big day in case any alterations need to be made. A dress that fitted perfectly six months ago may need some minor adjustments as the big day approaches because of weight loss, weight gain, or pregnancy. Take the bust, waist, and hip measurements and match these to the desired dress.
Fabrics for a Short and Chic Bridesmaid Dresses
Understanding the qualities of each fabric used to make short and chic bridesmaid dresses helps the buyer to make an informed purchase. Each fabric has its advantages.
Taffeta Bridesmaid Dresses
Taffeta is a popular choice for short, chic bridesmaid dresses, as it holds its shape well and remains wrinkle free, even after a long day of photos and toasts to the bride and groom. Taffeta is an iridescent fabric made of silk or a mixture of silk and synthetic fibres, making it a beautiful, long-lasting, and resilient. Taffeta can be styled easily and it is a popular choice in the cooler months as it has an insulating effect, ensuring that the bridesmaids remain warm on a cool spring or autumn wedding day.
Satin Bridesmaid Dresses
Satin is a woven fabric that is made of silk, or a synthetic fibre such as nylon. Satin is a traditional fabric frequently used to make bridesmaid dresses. It is a comfortable fabric to wear for long periods of time, so it is ideal for a long day of celebrating. Glossy satin looks wonderful in wedding photographs, without detracting from the beauty of the bridal gown. Satin is a very lightweight fabric that drapes well on the body, giving the appearance of soft, flowing lines on short and chic bridesmaid dresses. When altering a bridesmaid dress made from satin, care must be taken not to pull the fibres and cause unsightly marks in the fabric.
Chiffon Bridesmaid Dresses
Chiffon is the lightest of the common bridesmaid dress fabrics. It provides a less structured look when compared to the other fabrics. Chiffon moves with a softly draped, flowing motion that is very elegant and graceful. Chiffon is a lightweight fabric that is most commonly layered, or is used in conjunction with other fabrics because it has a translucent quality allows other colours and fabrics to show through, leaving it as a tantalisingly revealing layer. Short and chic bridesmaid dresses are often worn at summer weddings, but chiffon layers can appear on bridesmaid dresses for colder weather.
Buying Short and Chic Bridesmaid Dresses on eBay
eBay is a great place to purchase short and chic bridesmaid dresses. Buyers can choose to search from the eBay home page by entering a phrase, such as 'short bridesmaid dresses' into the search box. This yields a large number of results that can be narrowed down using the filters provided. The filters allow the buyer the opportunity to choose the price range and size of the dress, as well as other features. If a more specific dress is desired, then adding details to the search phrase can reveal more accurate listings, for example, 'ivory short bridesmaid dress'.
When purchasing a bridesmaid dress on eBay, the buyer should look at the condition of the dress in the photos and read the description carefully, especially if the dress was pre-owned. The description should include information about any features of the dress, and buyers can contact the seller using the 'Ask a question' link if they require more information.
The seller's feedback provides information about the previous transactions that the seller has had. Feedback is left by other buyers for the seller once the transaction has been completed. By choosing a seller who has a high percentage of positive feedback, buyers know that the transaction will be smooth and straightforward.
Conclusion
From taffeta to chiffon and silk, short and chic bridesmaid dresses are worn for all types of wedding, whether it be formal, informal, or themed. The ideal bridesmaid dress complements the bride, the other bridesmaids, and the wedding theme. The dresses should be seasonally appropriate, or have the necessary accessories, such as a pashmina or shawl, to provide extra warmth in cooler conditions. Choosing the right type of fabric is essential to achieving the perfect look and style. The bride may decide to choose traditional, identical bridesmaid dresses, or to follow the more contemporary trend of setting a few guidelines, such as the colour and style of the dress, and allowing the bridesmaids to choose whatever flatters them the most. eBay has a wide selection of short and chic bridesmaid dresses, both new and pre-owned. It the wedding budget is tight, then eBay is an excellent place to search for a beautiful bridesmaid dress at a bargain.