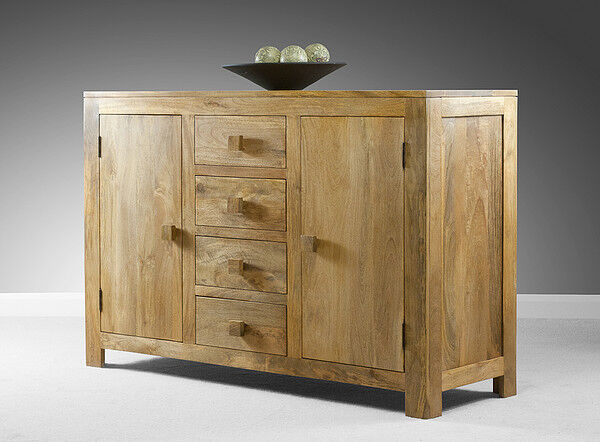 Sideboards (sometimes called "buffets" or "credenzas") are a large piece of furniture with a long flat top and storage beneath, designed as a place from which to serve food. Sideboards fulfill three functions in a room. They add storage space, they add tabletop space, and they provide decoration. Sideboards are extremely useful in a variety of settings, but are mainly used in the dining room. When buying a sideboard, buyers should determine what sized unit will provide the perfect fit and style to complement the room.
Sideboards are a purchase that tend to be treasured and move with families from home to home because of their decorative style and useful storage. While sideboards have predominantly been used in dining rooms, they can be a useful addition to nearly any room in the house. Sideboards come in a variety of styles and can be used to suit almost any room decor, including antique, contemporary, retro, or natural looks. The following guide discusses how to select a sideboard for your home, and also explains how and where to find a quality sideboard for a reasonable price by shopping on eBay.
Types of Sideboards
Sideboards come in a variety of styles, colours, and designs. Some of the most common sideboard construction materials include various woods, plastic, metal, and glass. Some models are made out of wood but feature a glass front, so the contents are visible from outside.
Wood sideboards are the most common type. They come in different washes, stains, or glosses, so buyers can select an appropriate style and colour to suit the style of the room. For those who do not know, the difference between a stain and a gloss is quite simple; a stain accentuates the natural details of the wood, while a gloss adds shine and pigment.
Some of the most popular style options for sideboards include retro, modern, and antique. Searching for an antique sideboard produces a lot of wood results. Retro sideboards, on the other hand, typically have signature detailing, including long stem legs, splashes of bold colour, and sliding doors on the cupboard. A retro sideboard is often an attention-grabber, especially if it is designed to flow with, yet slightly mismatch, the rest of the room.
Contemporary or modern sideboards usually feature simple designs. They have a clean look, and do not feature a lot of detailing or contrasting colours. They sometimes feature very bold colours, depending on the style.
Classic designed sideboards are often made of wood, and usually feature a simple design without much detailing. They boast immaculate craftsmanship, and are often a work of pride for the woodworkers who created them. They feature either glass fronts on the cupboard, or solid wood.
Antique sideboards are often made of wood but have very detailed woodworking. They also have distinct features, and utilise specific handles and knobs, usually made out of metal. Antique wood sidebars sometimes feature elaborate, decorative, wood carving.
Some Sideboard Considerations
Sideboards come with a variety of options. Some have doors on the front that open to shelving, while others have drawers that pull out. Some have both doors and drawers. Cupboards are a good option for larger items (e.g. serving platters), and are also a good place to keep fine china. Drawers are suitable for holding cutlery, napkins, and other items that are convenient to have on hand.
Sizing Considerations for Sideboards
Be sure to measure the width, height, and depth of the spot the sideboard will occupy. It is typically a very large item, so keep in mind the effect it will have on a room. If it is too large, it may dominate a smaller room, causing the other furniture to appear out of place or unmatched. If the sideboard is too small, it may not provide enough suitable storage.
Open Shelving
As discussed, sideboards often have both drawers and cupboards, and some feature glass fronts to display the contents. But others feature open shelving, which provides storage that is both open and viewable, without glass. Glass has a an impact on the style of the sideboard, and those looking for a more simple design may opt for open shelving. Open shelving lets users adjust the room decor by placing different items on the shelves. Open shelving draws the eye, and often feature picture frames, small statues, or candles. It may also store more practical items, including fine china, plates, or items the user utilises frequently. However, when deciding between open shelving and glass doors, buyers should remember that a pane of glass adds a certain amount of protection that open shelving does not. Some fragile or irreplaceable items may need to be stored behind glass.
Wine Racks in Sideboards
Another feature available in some sideboards is a built-in wine rack. A sideboard with a wine rack adds a sense of elegance, and can be used to showcase specific wines the owner is proud of. Wine connoisseurs and those who entertain frequently may want to consider this feature when shopping for a new sideboard on eBay.
Sideboard Uses
While the primary use for sideboards is as storage for china, linens, and other items needed in a dining room, this is not their only use, by any means. Sideboards are being used more and more frequently in different areas of the house. For example, a sideboard can occupy a large hallway and provide both storage space and style. Sideboards are also used effectively in offices, bedrooms, and kitchens. They are particularly useful in bedrooms where little dresser storage is necessary, and are sometimes even used as an extended side table. Smaller sideboards can be used as an entry table, to hold essential items like mail and keys.
Buying a Sideboard on eBay
The eBay home page is a good place to start a search for a new sideboard. Begin by typing appropriate keywords into the search bar on the home page. For example, to find an oak sideboard, type "oak sideboard" into the search box. If your search returns too many results, enter more specific, descriptive keywords for a more targeted search. Also, try searching for "credenzas" and "buffets" as well as sideboards, for a more complete list of available items.
Once you have located a number of likely listings and have decided on a style and colour scheme that suits your needs and your home, you can begin the buying process. First, make sure that you have read the entire item description in detail, and that you understand exactly what is being offered for sale. Examine the photograph carefully, to make sure there are not unacceptable dings or scratches on the furniture.]
Click on the seller's profile to learn more about him or her. Make sure they payment methods the seller accepts match how you intend to pay. Also, be aware of how much the seller is charging for shipping, and take this amount into consideration when deciding how much to bid. In other words, factor in the shipping charges into the total cost of the item.
Also, view the seller's eBay history and positive feedback percentage. Previous buyers leave feedback on a seller's profile to indicate whether or not their transaction went smoothly, and whether they were ultimately happy with their purchase. Sellers with a lot of positive feedback are a safer bet than sellers with negative comments on their profile. Don't forget to leave positive feedback yourself, once your transaction is complete, and the item arrives. If it is in the described condition, and it arrives in a reasonable amount of time, let future buyers know that this seller is safe to deal with.
A sideboard is a large item, which may impact shipping charges. If both the buyer and the seller are agreeable, you may want to arrange pickup or delivery of the item. This is typically only available to sellers that are nearby. To look for sellers located near you, specify your postcode under the 'Distance' tab of the search results page.
Conclusion
Sideboards, sometimes called buffets or credenzas, are a useful and decorative piece of furniture. They have historically been used in dining rooms or kitchens with the function of holding important dining items and assisting with serving food to guests. Now, they are used in nearly every room of a house because of their storage, table top space, and decorative designs. When purchasing a sideboard, it is important to consider both the size and style of the room. There are a variety of styles of sideboards, including retro, contemporary, classic and antique sideboards. Sideboards also have a variety of different features to consider. Some have both cupboards and drawers, although there are some that have only one or the other. It is important to decide which storage type will best suit your room. Some sideboards come with a wine rack or open shelving. These are often details that are desirable to the buyer. They also come in many different colours and sizes. eBay has many different types, sizes and colours to choose from for many different types of spaces.