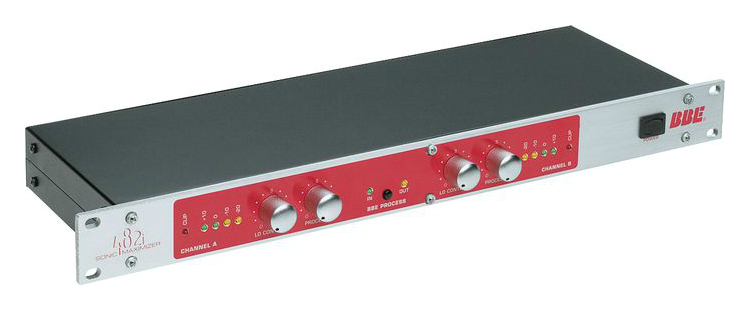 Buying a signal processor on eBay is relatively simple and straightforward. Even those with little or no experience of buying anything on eBay would be able to figure out how to find a signal processor reasonably easily. However, spending a little time getting to know how items are listed on eBay and the various features, tools and aids that eBay offer will make finding the right processor at the right price even simpler and quicker.
Which eBay Site to Use
eBay UK is the simple answer. Many of the items listed on eBay UK are going to be located in the UK. Buying a signal processor from a UK-based source makes for faster and cheaper delivery compared with buying one from abroad. eBay also offer a filtering option so that a search can be be made that will only return a list of signal processors within a specified distance from any UK address. This can be set as low ten miles. The advantage of this is that if the signal processor is located close enough, it may be possible to arrange to collect it personally and cut out waiting times and delivery costs completely.
Who to Buy From
In order to reassure their users that they can expect a trouble-free transaction, eBay have a feedback system in place. Every user, whether they've joined eBay to buy or sell, or both, has a feedback profile. In the case of people selling items, it's a record of comments left by previous customers. Buy from someone whose feedback profile shows that they are professional and efficient. It cuts out any uncertainty. eBay even awards the best of the best with Top-rated seller status, which is displayed on their profile and also in search results.
Getting More Information
The main section of any signal processor listing, as with any item listing, is the item description. This consists of a photo of the item and text detailing the processor's individual features. Some listings are more informative than others, so eBay provide a useful Ask seller a question feature. Not only is this a convenient feature, it is also a very important feature because it is essential to know exactly what is on offer before buying any signal processor. If anything in the description is vague or unclear, simply make use of that feature and ask a specific question via the provided form. Wait for a reply which, along with the question, will be published on the Q&A section of the listing. Before posting a question, however, read through any previous questions and answers in that section to see if others have already asked similar questions.
Making the Purchase
Having found the right signal processor at the right price, the next step is to go ahead and buy it. Payment and delivery options are detailed on every listing. The following points are relevant to making the purchase.
Registering with eBay
For those who aren't already a registered eBay member, the first step in the buying process is to sign up. The register option is displayed at the top of the home page next to the sign-in link. Registering is a very straightforward process. Just follow the instructions.
Recommended Form of Payment
The payment section of the listing details the payment options available for that particular item. Paypal is the most common form of payment. It is also the most recommended. That is because, as an eBay-owned company, it's set up to handle eBay transactions efficiently and securely. It also includes a buyer protection scheme. Other payment options may include postal orders and personal cheque. Keep in mind, though, that personal cheques normally will have to clear before the signal processor will be dispatched
Delivery Options
Every eBay listing provides delivery details. The seller decides how the processer will be sent and how much it will cost. They may offer a variety of options including express delivery or recorded delivery. Sometimes, free delivery within the UK will be offered. Some outlying areas of the UK, however, may be excluded from this offer because of extra costs charged by the delivery company. If so, it will be clearly stated in the listing.
Returns
Look for information on the seller's return policy, which will be displayed on the listing. The vast majority of sales are completed without problem, but it's good to know that, if necessary, the processor can be returned with the minimum of fuss for a full refund or replacement. This is another good reason for choosing to buy from someone who has acquired a good reputation through positive feedback. Their returns policy will be stated clearly in the listing, and, in the event of any problem that requires the processor to be returned, they will be helpful and will do whatever is required to ensure another satisfied customer, and yet more positive feedback.
About Signal Processors
The term signal processor is an umbrella term that has several uses in the field of electronics. In relation to audio, it refers to electronic equipment that offers a range of sound enhancements or sound transformation effects achieved by directly altering the audio signal in various ways. Different signal processors may offer different enhancements and different combinations of effects, so it is essential to ensure that any signal processor available on eBay offers what is required. Some audio signal processors may be designed for sound enhancement of pre-recorded music in home sound systems. These devices will enhance specific characteristics of the sound, such as tone and clarity. Alternatively, signal processers may be designed for instrument performance, in which case sound 'transformation' effects may also be included. The following table summarises the common names given to the most commonly-listed audio signal processing effects and enhancements.
| | |
| --- | --- |
| Equalisation | Equalisers are sophisticated tone controls that are used to adjust the frequency characteristics of an audio signal. These include graphic equalisers and parametric equalisers. Any part, or even multiple parts, of the frequency spectrum can be boosted or reduced (cut). |
| Reverb and Delay | Reverb produces the familiar spacious, boomy echoing effect heard in large halls. Digital delay produces a distinct and clear echo. |
| Sound transformation effects | These include flanger, compressor, chorus and phaser effects. These devices manipulate the audio signal and can transform the sound dramatically. They can also be used discreetly and tastefully for a very subtle and attractive effect. |
| Compression/ expansion | Compressors and expanders are two sides of the same coin. Compressors reduce the volume range of the signal. They reduce the loudest sounds and boost the softest ones. Expanders do the opposite. |
| Distortion | From mild overdrive to harsh and uncompromising fuzz, distortion can be added to any electric guitar output for a typical hard-rock sound. |
Signal processors listed on eBay may be listed as rack-mounted, table-top, or foot-pedal type. If the description isn't clear about the signal processor's design, the photo supplied on the listing will show exactly the style of construction of the unit.
How to Find a Signal Processor on eBay
Prominently displayed at the top of eBay UK's home page and every listings page are both a search box and an All Categories drop-down list. Enter the search term "signal processor" into the search box. A list of signal processors will be returned. On the left-hand side of the page, all categories and subcategories that contain signal processors will be displayed with the number of items currently being listed in each category. The most relevant subcategory is Pro Audio Equipment. Select it, and an updated list will be returned. The updated list will be far more relevant as it will exclude non-audio signal processors that have uses in other fields of electronics. Further filtering of the list can be done from the check-box options also displayed on the left-hand side. These include: Condition, where new or used signal processors can be listed separately; Price, which enables signal processors within a particular price range to be shown; Buying Format (auction or direct sale) and many more options that enable a more targeted search and more relevant search results to choose from.
Conclusion
eBay's reputation as a professionally-managed, safe and secure online buying and selling venue is well-deserved. Their many features such as eBay Buyer Protection, Ask seller a question, Safety Centre, Resolution Centre, Customer Support and a completely transparent feedback system will virtually ensure a trouble-free transaction and a signal processor that will be exactly as described.