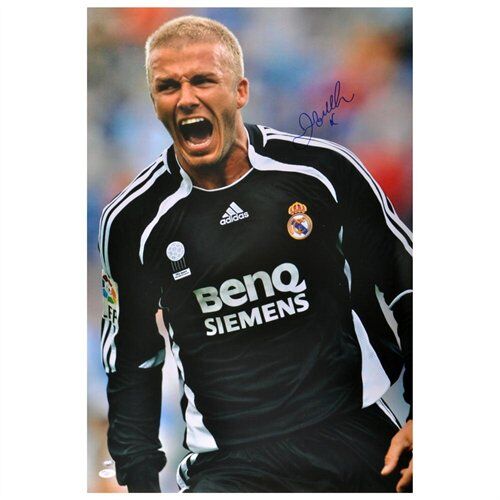 For kids and adults alike, football stars are some of the most admired public figures. Kids see football stars are heroes who inspire them to practise, work, and succeed. Adults admire football stars for their outstanding talent and their ability to lead their teams to victory time after time. Signed photos of a beloved football star makes a great gift or collector's item. Authentic signed photos are a valuable type of sports memorabilia, and often become more valuable over time.
Getting a photograph signed by a football star may be a once in a lifetime experience. However, signed photos of football stars are available for purchase on eBay. eBay is one of the only places where sellers and collectors are able to sell their signed photos. While authentic signed photos of football stars may get costly, many mass produced replica signed photos are available at much lower prices. Before purchasing an autographed photo, it is important to understand how to determine if the photo is authentic or a replica.
Considerations for Searching for a Signed Photo of a Football Star
One of the best ways to tell if a signed photograph of a football star is authentic is by analysing it after purchase. However, there are many tips to help a buyer decipher if a signed photograph is authentic before making a purchase, to ensure the buyer does not get ripped off. Before making a purchase, it is important to understand the different things to look for, and those to avoid.
Research the Player's Autograph
When searching for a football player's signed photograph, it is important to research the player's autograph to get a sense of how the signature is supposed to look, as well as the spelling of the name. Most autographed photos being sold online have a close-up of the signature. By printing both autographs, a buyer is able to compare the two for likeness. By turning both signatures upside down, a buyers is able to get a better sense of mismatches between the signatures. If the seller does not provide a close-up image of the signature, the buyer should not hesitate to ask for one. Sellers with authentic items should never be hesitant to provide details about the photo.
Read the Seller's Description Thoroughly
When purchasing an autographed photo online, it is important to ensure that the signature is authentic before buying the item. When selling an item online, the item description should describe the condition of the item. If the seller lists the signed photo as 'replica', 'copy', 'reprint', or 'print', the signature is usually not authentic. If the signed photograph is described as an 'official licenced photo', the photo may be authentic, but the signature may not be. Sellers who are selling multiple signed photographs are also a red flag, since most collectors only own one or two of the same signed photograph. If the buyer is unsure about the authenticity of the item, he or she should contact the seller before making a purchase.
Get to Know the Seller
One of the best ways to ensure that the signed photograph is authentic is by getting to know the seller. Many collectors make a profit selling authentic items, and their customer feedback often reflects their previous positive transactions. Look out for sellers with private customer feedback, or those selling in private. Also, make sure to avoid sellers who do not accept refunds on the signed photos, in case they do turn out to be replicas.
Another way to ensure the item is unique is by asking the seller about the details of the item. A buyers can ask the seller about how they obtained the item to ensure it is authentic. Asking the seller when, how, and where they received the signed photograph can help the buyer determine if the item is authentic. A seller may have obtained the item from either a private signing or public signing, which are usually signs that the item is authentic.
Multiple Autographs from One Seller
Be aware of sellers with multiple autographs from one football star, and make sure the seller's explanation seems legitimate. Most football star's close friends, relatives, or manager do not sell numerous autographed photos of the star for a profit, so look for sellers with specific details about when and where the photo was signed. Buyers should also be wary of sellers who refuse to provide information or do not reply at all.
Sports Memorabilia Collectors
Sports memorabilia collectors may be one of the only exceptions for purchasing from sellers who sell multiple signed items from one player. Many sellers belong to a reputable seller's organisation, such as Manuscript Society or UACC. Many sellers also have a Certificate of Authentication (COA). Many collectors who purchase the signed photograph would have had the signature examined for authenticity before purchase, so when purchasing the item from a collector, the buyer should ask for the COA to see if the item was examined for authenticity.
Consider the Price of the Item
When searching for a football star's autograph, it is important to consider price when looking through the different options. Pre-prints or copies of signed photographs usually have the lowest price, so look out for signed photographs described as authentic that are priced too low. Valuable, unique signatures are going to be harder to find and are more valuable, and so are oftentimes more expensive. A star football player's autograph is also more expensive after the player has retired or died.
Keeping an eye on trends for which football players' signed photos are the most expensive or increasing in value is one of the best ways to find valuable signed photographs for a collection. By browsing through the different signed photographs by a star player, the buyer is able to get a sense of what an authentic or replica signed photograph is worth.
Examining the Signed Photo of a Football Star After Making a Purchase
After making a purchase, it is important to examine the photo to ensure that the autograph is actually an authentic signature. By making sure that the seller accepts refunds, the buyer is protected in the event that the signed photograph is not authentic. By knowing what to look for when examining an autograph, a buyer can easily spot a replica.
Examine the Signature Closely
One of the first things to look for after purchasing a football player's signed photograph is if the signature is done by a mass produced stamp. Stamped signatures are normally stamped or printed on the photo, so the signature is flat on the photo. Authentic photos have a signature that is slightly raised from writing directly onto the photo. Mechanical signatures are also often extremely smooth and bump free, which is another indication that the signature is a replica.
Another way to determine if the signature is authentic is by holding the photo up to the light. If the signature is even throughout, it may be a replica. Most authentic signatures have thicker points when more pressure was applied, and have small bridges where the marker dried. Authentic signatures are less likely to look smooth and precise. The signatures of a specific player may not be exactly the same, but are all very similar. Looking at the signature through a magnifying glass makes it easier to find flaws or details to tell if the signature is authentic.
How to Purchase a Signed Photo of a Football Star on eBay
eBay is one of the only places to sell and purchase authentic photos of football stars. By knowing what to look for when searching for a signed photo, the buyer is able to purchase an authentic, valuable signed photograph. To begin your search for a signed football star's photo on eBay, you can begin with a keyword search. If you already know which player's signed photo you are looking for, you can search a specific player, such as, "Lionel Messi signed photograph". The buyer is also able to search by team or region.
When searching with the keyword search bar, a buyer can make sure the item is authentic by removing words from the search results. By adding "replica", "reprint", or other similar terms preceded by a dash, eBay removes any results with those words. This saves the buyer from having to examine every description before considering the signed photo. An example of this type of search is, "Lionel Messi signed photograph -replica -reprint -copy". Although some keywords for replicas are included, it is still important to read the description and consider the seller before making a purchase.
Conclusion
Signed photographs of football stars can be some of the most valuable types of football memorabilia. They make a great gift for diehard fans, and gain value over time. Signed photos are also popular amongst collectors, since they are both interesting and valuable. By knowing what to look for when searching for an authentic signed photo, a buyer can be confident that the item is an original.
Some people care less about authenticity and more about affordability, so a replica or copy of a signed photo may be the best option. Replicas, however, are not as valuable as the original, and do not gain value over time. Investing in an authentic signed photo of a football star gains value as the player continues to succeed and after their career is over. By understanding what to look for when purchasing a signed photo of a football player, a buyer can be sure he or she is getting a good value on an authentic product.