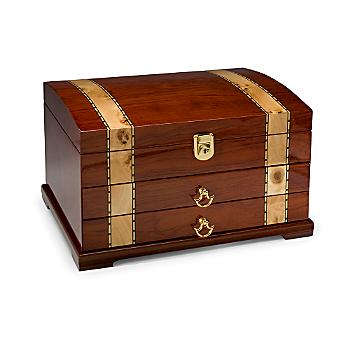 A silk jewellery box is a functional way to store jewellery, and it looks nice on a dresser or vanity. Silk jewellery boxes are typically lined with soft silk to protect jewellery and keep it from being scratched, and some jewellery boxes have dividers inside which allow the consumer to store different types of jewellery in different compartments to keep items from getting tangled up.
Silk jewellery boxes come in various colours and styles, and some have ornate designs or embroidery on them. A silk jewellery box makes a good gift for a friend who enjoys wearing jewellery, or for someone who loves the look and feel of silk. These jewellery boxes look expensive, but most of them are fairly affordable. They are a small luxury which is inexpensive, as well as being functional. Select the right silk jewellery box based on the style, shape, and colour of the jewellery box.
Types of Silk Jewellery Boxes
When it comes to silk jewellery boxes, there is not just one style. There are a few types and shapes of silk jewellery boxes, as well as silk jewellery rolls, which are optimal for the consumer who wants to take his or her jewellery while travelling. Silk jewellery boxes are plain or ornate and light or dark coloured. A buyer needs to select a box based on personal preference, as well as how much jewellery needs to be stored in the box.
Round Silk Jewellery Boxes
An alternative to the traditional square jewellery box is a round silk jewellery box. These are made in various sizes and some come in interesting shapes such as oval-shaped jewellery boxes or hexagonal-shaped jewellery boxes. These may or may not have a tray inside which can be lifted out for more jewellery storage underneath. Some round jewellery boxes have cushioned sections for rings and bracelets to be stored, while some are simply open boxes that jewellery is placed in.
Round silk jewellery boxes are adorned with embroidery, ribbons, lace, flowers, or stones, and sometimes they have mirrors on the inside of the box lids. Asian style or brocade jewellery boxes have flowered embroidery on them and come in many different colours. Some of these have handles for easy carrying and travel. Small round silk jewellery boxes only hold a few small items, such as rings.
Square Silk Jewellery Boxes
The most common type of silk jewellery box is square shaped. Square silk jewellery boxes are either open on the inside with room to put any type of jewellery, or they have dividers and compartments which hold rings, bracelets, and necklaces without getting them mixed up or tangled together. Square silk jewellery boxes come in many colours and designs, and some have Oriental designs, while some are studded with stones or have other designs embroidered on to the tops such as stars, hearts, or swirls. The designs are different colours and add interest to the boxes themselves.
Some square silk jewellery boxes include mirrors, and some have trays which are lifted out to provide more storage inside the boxes for larger items, such as bangle bracelets or chunky necklaces or earrings. Some square jewellery boxes have very small compartments that a set of earrings fits into, so smaller earrings do not get lost among the other types of jewellery inside the boxes. A buyer can even purchase a square silk jewellery box that has a lock on it which a small key is used to open; to keep expensive and fine jewellery safe inside.
Silk Jewellery Rolls
An alternative to a silk jewellery box is a silk jewellery roll. For a buyers who loves the look of her silk jewellery box, she does not have to leave it behind when travelling. A silk jewellery roll is a silk pouch which stores jewellery and keeps it organised in zippered compartments, and then it is easily rolled up and secured so nothing fall outs. There is also a soft fabric tube that rings are slid onto and snapped together so they do not get lost.
A silk jewellery roll is a practical solution to jewellery organisation for a buyer who frequently takes jewellery along when travelling. These rolls come in many colours, just like silk jewellery boxes, and they offer many designs and styles. They are typically secured around the roll with a soft silk tie closure. Oriental brocade designs and floral embroidery are quite popular when it comes to silk jewellery rolls.
Selecting a Silk Jewellery Box
For a buyer who is trying to decide between silk jewellery boxes, it comes down to a few unique factors. First, how much jewellery does the buyer need to store? For a shopper who has a lot of jewellery, a larger box might be necessary. The design of the box and the colour is also a large factor when trying to select the right silk jewellery box.
Colour
The colour of the silk jewellery box is an important buying factor. A silk jewellery box complements a dresser, bathroom counter, or vanity quite nicely and fits into other decor, if the right colour is purchased. Silk jewellery boxes range from bright red, pink, purple, and orange to more muted shades such as light green, cream, and gold, or even multicoloured designs. The buyer should select a colour that goes with existing décor.
Oriental styles are quite popular when it comes to coloured silk jewellery boxes, but there are silk boxes which offer beads, rhinestones, and hand embroidered designs and decorations along with simple, solid coloured boxes as well.
Style
The style of the silk jewellery box is also important. A buyer who wants added space for more jewellery should consider a larger box which has a lift-out tray for more room. A consumer who only wants a little jewellery box should consider a small box or a square silk jewellery box that is smaller in size. For the buyer who wants to take her jewellery while travelling, a separate silk jewellery roll can be purchased as well as a box, so the buyer has spots to hold her jewellery at home and while travelling.
A buyer who carries her jewellery from room to room may want a box with a handle on it for easy carrying. A mirror on the inside of the box is also be a neat touch. If a buyer is purchasing a jewellery box as a gift, he or she might select one with added touches such as fringe, ribbon roses, or lace trimming for an extra special silk jewellery box.
How to Buy a Silk Jewellery Box on eBay
Find the perfect silk jewellery box on eBay for an affordable price. Search for a silk jewellery box to see many options, or narrow your search by keying in more specific terms such as "silk jewellery roll" or "round silk jewellery box". Tailor the search to find a box that is the colour you like and the style you want and with the embellishments which complement your existing decor, as well as hold all of the jewellery you need stored. Buy a silk jewellery box from a Top-rated seller, and check buyer feedback to ensure it is positive. Compare silk jewellery boxes by carefully checking listings to shop by price, style, and what condition the box is in, if it is used.
If you have never shopped on eBay before, you can find the search engine to be very functional as well as easy to use, and you can also easily communicate with sellers if you have questions about their products. Once you have purchased your silk jewellery box and it has arrived safely, go back to the seller's page and leave feedback about the buying and shipping process and talk about the positive aspects of it. This helps future buyers make purchases, and it is nice for sellers to get positive feedback from buyers.
Conclusion
A jewellery box is something a woman does not often buy for herself, but she should. A jewellery box not only looks nice on a dresser, but it is also quite useful. For a woman who has a lot of jewellery which is placed in a drawer or otherwise disorganised, a silk jewellery box provides a great way to organise and store jewellery so it does not get damaged, and it can be worn and enjoyed. A silk jewellery box makes a good gift for a woman who is hard to buy for, because most women enjoy having a nice spot to store their most precious items.
A silk jewellery roll is indispensable for a woman who travels frequently, and it is a nice spot to store jewellery without worrying about it falling out of travel bags or getting lost in suitcases. A girl of any age enjoys having a silk jewellery box to store treasures in, and may enjoy a silk brocade box to put rings and earrings into. A silk jewellery box also keeps jewellery protected and helps keep it from getting scratched, and a box with a lock on it means that jewellery is kept safe, too.