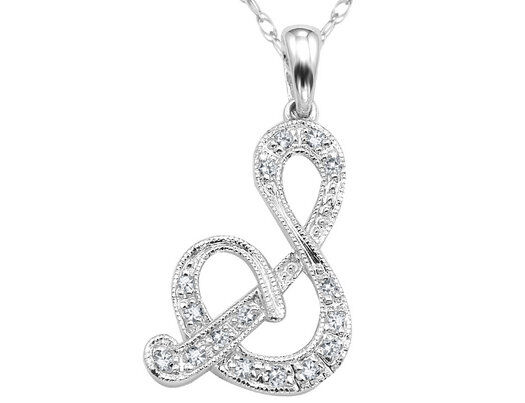 Silver initial necklaces are popular accessories not only because they look nice, but also because they can be great conversation starters. In addition to that, they can set the wearer apart simply because one chooses to wear a necklace that symbolises their name. Buyers who are interested in purchasing a silver initial necklace either for themselves or as a gift should pay attention to several factors when selecting such an item. For instance, some prefer to wear a single initial, whereas other people prefer a necklace featuring all the initials of their first, middle, and last name.
Choosing the style of a silver initial necklace usually comes down to personal preferences. Silver is a preferred option for many because this is a precious metals that looks great and is not as expensive as gold or platinum. By learning more about different styles of silver initial necklaces and their characteristics, one can make an informed decision when shopping for personalised pieces of jewellery.
What to Look For in a Silver Initial Necklace
Silver initial necklaces have been around for years and they are popular choices for gifts. They can be worn by women and men alike and they come in a variety of styles. When shopping for a silver initial necklace, one should pay attention to the quality of the item, its style, as well as the preferences of the person for which the necklace is intended. One can choose to buy a silver necklace in the preferred length and add an initial pendant to it or simply purchase a ready-made silver initial necklace.
Choosing the Pendant Style
The pendant letter of an initial silver necklace is often the central point of such a piece of jewellery and buyers can choose from a range of different styles. Some of the most popular options include initials made from silver or various gemstones such as cubic zirconia, diamonds, birthstones, and more. The letter can be plain or it can feature an intricate design and buyers should choose it according to their taste or that of the person who shall wear the necklace. In some cases, the letter is made from silver, but it features crystal accents as well, with Swarovski crystals being a very popular choice. One should also keep in mind that oversized initial pendants tend to be more expensive, especially if they are made from precious or semi-precious stones.
Besides the pendant letter style, one can also choose stamped initial necklaces. This particular style does not feature a single letter made from metal or gemstones, but the initial are stamped with the help of a metal stamp and integrated onto the surface of the pendant. Silver initial necklaces manufactured in this style are very popular because of their simple design, which makes them a great choice for everyday wear.
Choosing the Type of Silver
When shopping for a silver initial necklace online, such as on eBay, one should be careful when it comes to choosing the type of silver. Not all types of silver have the same purity and this is often reflected in the price of an item. As silver is a very soft metal, it is often combined with other metals in order to form alloys, which are more durable and can be moulded into different pieces of jewellery easier. Silver initial necklaces made from silver with a small content of other metals in the alloy are generally more expensive. The chart below illustrates the most common types of silver one can choose from when it comes to initial necklaces, according to the silver level of purity. For example, an alloy with 999 millesimals pure silver means that 99.9 per cent of the alloy is pure silver.
| Silver Purity (millesimals) | Other Names |
| --- | --- |
| 999 | Fine Silver or Pure Silver |
| 958 | Britannia Silver |
| 950 | French 1St Standard or Mexican Silver |
| 925 | Sterling Silver |
| 900 | Coin Silver |
| 830 | Scandinavian Silver |
| 800 | German or Egyptian Silver |
When shopping for a silver initial necklace online on websites such as eBay, buyers should pay close attention to the photos provided by the seller in order to observe the hallmarks. This certified mark is a sign that indicates the purity of the metal and the fact that the silver initial necklace has passed the required tests before being made available to customers. Besides the purity hallmark, one may also notice other marks such as the year when the silver was minted or the maker of a certain piece. The most common type of silver used for silver initial necklaces is 925 silver, which is actually an alloy made from 92.5 per cent pure silver and copper.
Silver initial necklaces are often plated with another metal in order to obtain a shinier look. Rhodium is one of the most popular metals used for plating sterling silver jewellery. By using this technique, a sterling silver initial necklace may look bright for a long time and tarnish may be less obvious. Buyers can often find initial necklaces made from this type of silver under the name 'platinum silver necklaces'.
How to Look After a Silver Initial Necklace
Finding and buying the ideal style of silver initial necklace is often not enough when it comes to having a piece of jewellery that preserves its appearance for years. Taking good care of a silver initial necklace is the surest way to keep it looking just like new for a prolonged period of time. One should store such a necklace separately from other pieces of jewellery in order to avoid tangling. Hanging a silver initial necklace on a special jewellery roll is always a good idea to avoid having a hard time untangling it.
When it comes to cleaning, buyers should remember that silver is a natural metal and thus it is prone to react with its environment, particularly chemicals. As silver may become tarnished, it is important to clean it properly in order to be able to enjoy a silver initial necklace for the years to come. Sterling silver cleaners are a good choice for those who are looking for a DIY solution, but buyers should remember that these should not be used on jewellery with stones. Some types of precious and semi-precious gemstones such as pearls, lapis lazuli, opals, and others can be affected by chemical solutions.
Those who wish to have their silver initial necklace cleaned professionally should take it to a local jeweller who can restore the item to its original appearance. Wearers can avoid or reduce tarnish for their silver initial necklace simply by making sure they take it off before swimming or sunbathing. The original shine of the necklace can also be preserved for a long period by avoiding any contact with chemicals such as perfumes, makeup, and hairspray.
How to Find a Silver Initial Necklace on eBay
If you are looking for the right silver initial necklace for yourself or to offer as a gift, there are many models to choose from. One of the best ways to find such a necklace quickly is browsing through as many styles as possible. eBay is a good place to do so because it offers a large selection of silver initial necklaces available from a variety of sellers.
To start looking for a silver initial necklace, type 'silver initial necklace' into eBay's search bar and browse the results. One of the advantages of shopping on eBay is the fact that you can narrow down the results you get after performing a search according to your preferences. For example, you could choose to refine the results by type of silver or gemstone, weight, price, or location of the seller. This way, you can reduce the amount of time spent searching for a silver initial necklace.
When shopping for a silver initial necklace on eBay you can opt for a new or used item. If you choose to buy vintage jewellery, pay attention to the condition of the necklace. This can be easily done by having a close look at the photos and reading the product description provided by the seller. In order to save some money on delivery fees, you can choose to refine the results by location and purchase a silver initial necklace from a seller in your area.
Conclusion
Regardless of the design or price, a silver initial necklace is one of the most beautiful gifts one can offer to a loved one. Moreover, silver necklaces are versatile pieces of jewellery that can be worn as accessories for both casual and elegant outfits. The multitude of designs can make it rather difficult to choose a silver initial necklace. These necklaces are actually personalised pieces of jewellery and it may be difficult sometimes to find something that truly matches one's personality.
eBay is one of the best places to start the search for a silver initial necklace. The website offers a wide selection of necklaces and separate pendants, so chances are everyone can find a suitable item for their taste and budget. Buyers should pay attention to the seller's reputation before making a purchase on eBay, especially when it comes to an expensive item, in order to make sure the silver initial necklace they buy is exactly what they need.