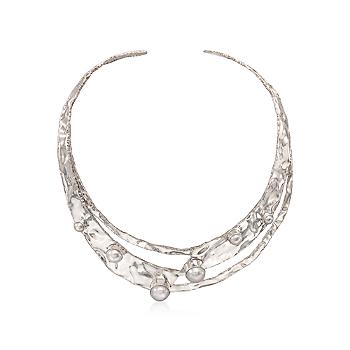 Silver necklaces are a versatile piece of jewellery worn to show off the wearer's neckline and collar bone. They come in a wide array of lengths, widths, and styles. Silver necklaces can either be the centre of attention or complement an outfit. When paired with a gemstone or pearl solitaire, silver necklaces have an elegant look. Silver necklaces also come in various grades. The grade of the silver determines the necklace's quality and thus, its price. Silver necklaces are a great cost effective alternative to gold. Silver has become one of the most pliable kinds of metals, so is widely used for making all types of necklaces. It is often combined with small amounts of other metals. When purchasing a silver necklace on eBay, buyers must consider the necklace length, learn how to differentiate between the various grades of silver, and familiarise themselves with eBay's buying process and the different features that the online marketplace has to offer.
Lengths of Silver Necklace
Silver necklaces come in various lengths. The length that a buyer chooses is determined by a number of factors including why the necklace is worn, the outfit, and personal taste.
Type of Silver Necklace

Length (inches)

Description

Collar

13-14

Fits tightly around the neck

Worn with V-neck, boat neck, and off the shoulder tops

Choker

15-16

Lays just above the collarbone

Versatile length

Avoid wearing with polo necks

Princess

17-18

Most popular length

Hangs below the collarbone and usually includes a pendant

Suits crew and high neckline fashions or low plunging necklines

Matinee

20-24

Lays low on the chest, close to the breast area

Best for business dress, but also works well as a casual style

Opera

28-34

Hangs below the breast or can be doubled as a choker

Works well with high neckline fashions or evening wear

Rope

Over 45

Can be worn close to the naval or doubles as a two strand princess length

Elegant and classic look

Lariat

Over 45

Necklace is not attached at the ends

Can be tied in a knot to wear in various ways
Women who plan to wear a necklace for business casual wear should choose a matinee silver necklace. On the other hand, women who plan to wear their necklace for a night out on the town should consider pairing a princess or opera length silver necklace with a plunging neckline.
Grades of Silver for Necklaces
Before purchasing a silver necklace on eBay, buyers should familiarise themselves with the different grades of silver available and know how to distinguish between them. Silver on its own is very malleable, so it is often combined with a small percentage of other types of metals to enable it to withstand daily wear and tear. When buying silver necklaces, it is important to know what percentage of silver is present as this determines the quality of the jewellery.
Sterling Silver Necklaces
Sterling silver is the most common and sought after type of silver used to make necklaces. It is hallmarked as "silver 925" because it is composed of 92.5 percent silver and 7.5 percent metal alloy.
Britannia Silver Necklaces
Britannia silver is often hallmarked as "silver 958" as it is made from 95.84 percent silver and 4.16 percent copper. So, necklaces made from Britannia silver contain a more significant amount of silver compared to other types.
Silver Plated Necklaces
Silver plated necklaces are often difficult to distinguish from sterling silver. However, these necklaces are plated with a thin layer of pure silver on their outer covering. Silver plated necklaces are relatively inexpensive as the silver used is considered to be of low quality. Over time, the silver plating tends to wear away.
German or Alpaca Silver Necklaces
German or Alpaca silver is usually greyish and looks similar to authentic silver. However, this nickel based alloy is not made from real silver as its name leads people to believe.
Buying a Silver Necklace on eBay
Buyers looking to purchase a silver necklace on eBay are free to browse the website without having to sign up. However, in order to buy an item, it will be necessary to complete the eBay registration process.
Registering on eBay
Registered eBay members can interact with other members, buy items, and review a seller's feedback ratings. Registered members also have the ability to save their searches and receive notifications when desired items become available.
Searching for a Silver Necklace on eBay
Buyers in search of a silver necklace should begin on the eBay homepage. Buyers can enter any keywords such as "silver necklace" into the search bar. This is likely to render a large number of results. Buyers can narrow down their search by using more specific keywords related to silver necklaces such as "sterling silver necklace". Buyers are also free to use eBay's advanced search feature to find what they are looking for. Searching through this method allows buyers to filter through categories like price and condition. This feature also gives the buyer the ability to browse items from specific sellers.
Search for a Silver Necklace by Brand
Buyers looking for a specific brand or manufacturer can choose to search accordingly. Entering the brand in the search bar not only allows buyers to narrow their search even further, but eliminates items that are of little interest to the buyer.
Search for a Silver Necklace by Condition
Searching by condition allows the buyer to browse new or preowned silver necklaces. While buying new will yield a worry free transaction, it can be much more costly than buying a used item. Buying a used silver necklace is a great option for shoppers on a budget. Many used necklaces have received limited use and can therefore be found in a like new condition. Buyers should research what they are looking for thoroughly and communicate clearly with the seller about the exact condition of the necklace.
Search for a Silver Necklace by Length
Silver necklaces can be found in a wide variety of lengths. Searching by length is a great way to narrow down search results quickly if the buyer has a good idea about the length of necklace that they require.
Search for a Silver Necklace by Seller
All sellers on eBay have a rating that reflects their level of professionalism and service. Buyers searching using this method can limit their search to items listed by Top-rated sellers. Top-rated sellers are recognised by the eBay community for providing excellent products and customer service. These sellers receive consistently positive feedback and high ratings from previous buyers. They usually dispatch items quickly and provide accurate item descriptions. Top-rated sellers must also undergo regular reviews to ensure that they comply with eBay's seller standards. Searching for particular sellers allows the buyer to maintain business relationships with sellers that they have had positive experiences with in the past.
Reviewing Item Descriptions
Buyers should always review a listing's item description carefully before making a purchase. If buying a used silver necklace, the item description should always include the condition of the necklace, as well as any relevant information, such as any scratches or dents, that may affect the buyer's final purchasing decision. If the buyer is not fully satisfied with the item's description and still has questions, they can use the "Ask a question" feature on the listing page to contact the seller directly. Most of the time, sellers are glad to answer any questions or provide any information the buyer may need in order to ensure a positive transaction.
eBay's Preferred Methods of Payment
eBay sellers are free to decide which type of payment they will accept. Buyers should always conduct a transaction with sellers who allow payments by credit card, debit card, or PayPal. PayPal is a web based service that allows the safe transfer of payments from one party to another over the internet. PayPal is both convenient and user friendly. It uses the buyer's bank or credit card information to process the transaction. However, the seller never sees this information, instead they only receive the final sum. The level of security offered by PayPal is preferred by many buyers and sellers alike. Buyers should never pay by cash or cheque.
Conclusion
Choosing the perfect silver necklace requires some planning. Buyers must first consider the length. The length of silver necklaces varies greatly and can alter the look of an outfit. Women who wear mainly tops with high necklines should consider a princess or opera length necklace, while those who prefer to vary their wardrobe may benefit from the versatility that a lariat or rope length necklace can offer. In addition to length, buyers need to bear in mind the grade of the silver. Buyers on a budget may choose a lower grade silver, such as silver plate, while others may favour the quality that Britannia silver offers.
Whether searching for a silver necklace of a particular length, grade, or another feature, eBay offers buyers a number of convenient search options. Buyers can browse the eBay website using the search bar or may choose to use the advanced search feature. Regardless of which method a buyer decides to use, becoming familiar with eBay's guidelines and payment options helps to ensure a positive shopping experience. eBay sellers offer a range of silver necklaces of all lengths and grades of silver.