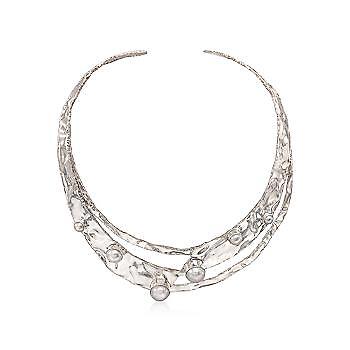 Precious metal and gemstone jewellery is a great addition to any wardrobe. For centuries, silver and pearls have been paired together in various types of jewellery to include necklaces, rings, bracelets, and earrings. Dress up a casual outfit or add pizzazz to a formal dress with a silver necklace with pearls. Silver chains of various lengths adorned with one, two, or many genuine pearls bring a touch of elegance to any outfit, and are versatile enough to be worn to the office or for an evening out. Find silver necklaces in a variety of lengths to suit any taste. Choose from several different types of pearls in a multitude of colours, sizes, and price points. Before purchasing a silver necklace with pearls, shoppers need to know how to identify the different types of silver, as well as how different types of pearls are classified and graded. The last step in purchasing a silver necklace with pearls is to choose the right length necklace. With this knowledge in hand, shoppers are ready to hit the shops to find the perfect addition to their jewellery collections.
How to Identify Silver
When considering precious metal jewellery, silver is a strong yet affordable choice. Silver has a look similar to white gold or platinum at a fraction of the cost. The following sections explain how to identify the markings that differentiate sterling silver jewellery from less expensive silver plated jewellery, to make buying a silver necklace with pearls easier.
Composition of Silver Jewellery
As a precious metal, silver is prized for its malleability and bright lustre. Pure silver is resistant to tarnishing, but is too soft to use in jewellery. Therefore, silver alloys are used instead, to make silver more suitable for jewellery making. In Europe and the United States, silver jewellery is commonly made from an alloy of 92.5 per cent silver mixed with 7.5 per cent copper. In the U.K., silver alloys must be at least 90.0 per cent silver to be sold as silver. Silver jewellery from other countries may be made from silver alloys containing as little as 75 per cent silver.
Understanding Silver Purity Marks
Silver jewellery bears different markings or stamps, depending on the amount of silver in the alloy used to make the jewellery. Pure silver has a fineness of 999, or 99.9 per cent silver. Sterling silver is 92.5 per cent and is marked with a 925 stamp. Mexican silver from the mid-20th Century was marked as 980, or 98 per cent silver, while the French silver standard is 950. Some U.S. silver is stamped 900, indicating 90 per cent silver alloy. Britannia silver is marked with a 958, and is most commonly found in tableware.
Silver Plating
Sterling silver jewellery is often plated with a thin coating of 99.9 per cent silver to add an extra coating of shine. Rhodium, a metal from the platinum group, is also used as plating on silver jewellery to prevent scratches and tarnishing. Sometimes referred to as platinum-enhanced silver jewellery, this coating does not affect the value of the piece if it has been done properly. Rhodium wears off over time, so it may be necessary to have an item re-plated several times during it's lifetime.
Get Familiar with Pearls
Pearls are a rare example of a gemstone formed by a biological rather than a tectonic process. When a foreign substance, such as a grain of sand, enters the shell of an oyster, the oyster responds by coating the foreign object with the same coating it uses to make its shell. The result is a round, lustrous pearl. Genuine pearls used in fine jewellery are real pearls, whether they are classified as cultured or natural. Fake pearls are made from either glass or plastic and are used in costume jewellery. There are several different types of genuine pearls sold in the world today, and they are priced according to size, quality, and colour.
Pearl Jewellery
Pearls can either be freshwater or saltwater, with saltwater pearls being either natural or cultured. The majority of pearls sold today are cultured, or farmed, meaning a human introduced a grain of sand into the oyster shell to artificially begin the process of pearl making. Freshwater pearls are cultivated from freshwater mollusks. Saltwater pearls are classified as natural or cultured depending on whether the pearl was created by chance of nature or with human intervention. Natural pearls form randomly, and are discovered by chance. Therefore, they are extremely rare. There are three main types of cultured saltwater pearls commonly found in jewellery. These are Tahitian, Akoya, and South Sea pearls. Akoya pearls are the type most commonly used in jewellery.
Pearls come in a range of colours. Though some colour variance occurs naturally, most colours are the result of organic dyes. The chart below offers a description of each type of pearl, and the common colours in which each type comes.
| Type of Pearl | Description | colours |
| --- | --- | --- |
| Natural | Occur by chance in nature; various sizes and shapes include round, oval, and teardrop | Iridescent, white, cream |
| Tahitian | Cultivated from black lipped oysters, the only naturally black pearls; round or slightly off-round | Black, silver, dark green, peacock |
| Akoya | Lustrous, metallic sheen; produced by Akoya oysters in Japan or China | Bright white, ivory, or treated to give a rosy hue; also dyed various colours |
| South Sea | Largest and most expensive cultured pearls | White, silver, golden, various dyed colours |
| Freshwater | Wide variety of shapes, durable, with many layers of nacre | Numerous colours to include white, cream, golden |
Whether cultured or natural, all saltwater and freshwater pearls are genuine gemstones. The variations in size, colour, and type, as outlined above, make some pearls more valuable than others.
Judging Pearl Quality
The two common scales used to grade pearls are the AAA-A and the A-D scales. The A-D scale, also referred to as the Tahitian scale, is used all over the world to grade all types of pearls.
AAA-A Scale
The following chart outlines the AAA-A pearl grading scale. A grade of AAA indicates the highest quality pearls.
| Grade | Description of Grade |
| --- | --- |
| AAA | Highest quality, nearly flawless pearls with high surface lustre, 95 per cent free from surface imperfections |
| AA | High surface lustre, 75 per cent free from surface imperfections |
| A | Low grade, low lustre, more than 25 per cent of surface shows defects |
Reputable jewellers sometimes grade pearls in between these classifications, for instance, A+ or AA+, to indicate that the pearl is slightly better quality than most pearls in this category.
A-D Scale
The following chart shows the A-D scale, with A being the highest grade and D being the lowest grade pearls.
| Rank | Description of Rank |
| --- | --- |
| A | Highest quality pearls with high lustre and less than 10 per cent surface defects |
| B | Medium to high lustre with less than 30 per cent of surface showing imperfections |
| C | Medium lustre with less than 40 per cent surface showing imperfections |
| D | Lowest grade pearls used for jewellery making, more than 60 per cent of surface showing defects regardless of lustre |
Bear in mind the AAA-A and the A-D scales are interchangeable. The A-D scale is used in pearl-producing countries, and is the only system used to grade Tahitian and South Sea pearls.
Choosing Necklace Length
Necklaces come in a variety of lengths to suit various style tastes. Shoppers looking for a silver necklace with pearls should consider their height, neck size, and desired look before settling on a necklace length.
The chart below outlines some common chain lengths and describes how they fit the body of the wearer.
| Necklace Length | Appearance |
| --- | --- |
| 10 to 14 inches | Fits closely around the neck |
| 16 inches | Drapes loosely around the neck |
| 18 inches | Sits just below the collarbone |
| 20 inches | Hangs a few inches below the collarbone |
| 22 inches | Falls closer to the breast area |
| 24 inches | Falls at or just below the top of the bust |
The size descriptions in the chart above are approximate. Height and neck size affect the overall fit of a necklace. Shoppers should take measurements to get a more exact fit.
Find Silver Necklace with Pearls
Consumers in the market for a silver necklace with pearls can search for vintage and estate jewellery in jewellery shops, antique stores and consignment shops. Department stores sell a wide variety of new jewellery. Online marketplaces and auction sites, such as eBay, sell new and estate jewellery.
Find Silver Necklace with Pearls on eBay
Shoppers can find a vast inventory of fine jewellery, including silver necklaces with pearls, on eBay. Worldwide sellers, many who offer free shipping on numerous items, offer competitive prices and thus potential savings for consumers. Shoppers hoping to find a silver necklace with pearls on eBay should begin with an understanding of eBay's search procedures and other features.
Search for Silver Necklace with Pearls
Once you are ready to buy a silver necklace with pearls on eBay, the fastest, easiest way to find your desired item is to do a keyword search. From the main eBay page, simply type the words "silver necklace pearls" into the search box and eBay's search engine returns all the results with those keywords. Alternatively, perform a search from any eBay web page. Quickly narrow results using the filters provided. Results can be narrowed by parameters, to include brand, price, condition, location, and pearl type. For more tips on searching with keywords, buyers can read eBay's tips for better searching.
Getting Started on eBay
Buyers new to eBay can find all the information needed to open and manage an account and how to buy or sell an item by perusing the guide "Getting Started on eBay". Shoppers can find an abundance of information about eBay, to include a glossary of terms, icons, and acronyms, as well as find out how to get help and answers to frequently asked questions.
Conclusion
Whether you are buying a Silver Necklace with Pearls as a gift for someone special or simply treating yourself, buyers of fine jewellery need some basic knowledge before investing in a new piece. Shoppers can find different alloy compositions of silver depending on the country of origin, the age of the piece, and the manufacturer. Although the majority of silver and sterling silver bear purity marks indicating the percentage of silver used, not all pieces do. Shoppers should get familiar with the different purity marks before investing in silver jewellery. Some basic knowledge about pearls is necessary before shoppers can buy pearls with confidence. Pearls come in several types, including freshwater, saltwater, cultured, and natural. Various colours, sizes, and qualities are available at a variety of price points. Buyers should learn where different types of pearls are farmed and how they are graded to avoid paying too much for the wrong kind of pearls. With this knowledge in hand, shoppers should have a more successful experience when buying a silver necklace with pearls.