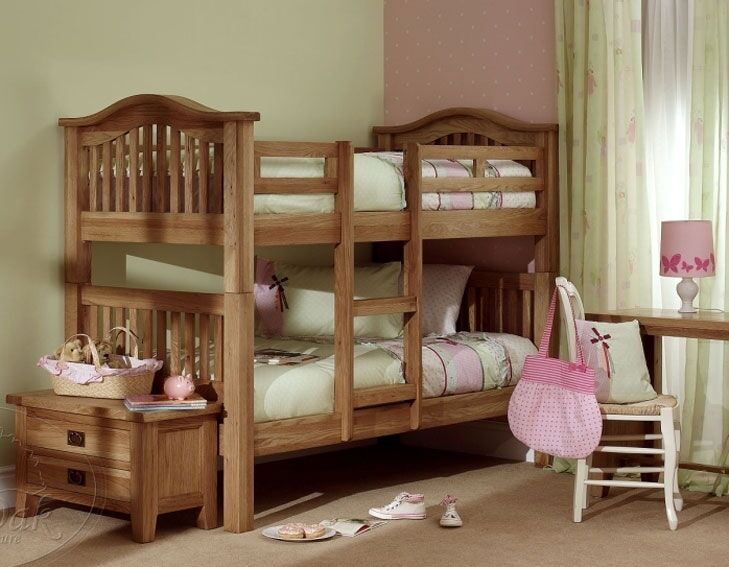 The single bunk bed has always been a popular choice, both for families with small children and for hostels or other types of hospitality businesses which are looking to provide affordable and efficient accommodation. Choosing exactly the right kind of bed can be difficult, however, and it is wise to think carefully before making the correct purchase for a specific need.
Different Types of Bunk Bed
Even if the choice to purchase a single bunk bed has already been made, there are still a number of important factors to consider when assessing the type of bed required. Firstly, the size of mattress that can be slotted into the bunk frame must be assessed. An increasing number of single bunk beds have a full size mattress at the base to provide stability, with a smaller sized bunk above. This can be ideal for a family with two children, one of whom is older than the other. Alternatively, a customer might choose two full size frames, or two smaller frames, depending upon the specific needs driving the purchase. A choice of material for the bunk bed frame will also need to be made, which can have both aesthetic and practical consequences. Bunk beds come in a variety of different design styles, from bare metal to solid wood, and the right choice depends entirely upon the effect that is required. As might be expected, it is generally the case that the more care and attention has gone into the construction of the frame, the more expensive the bunk bed is likely to be. Modular bunk beds should also be considered, which can be disassembled into two ordinary beds when needed. This provides greater flexibility of usage, but sometimes requires a higher quality of construction and, thus, can be a more expensive purchase.
Measurement is Vital
It is vital that the space available for the bunk bed is measured before any purchase is carried out. It is often assumed that because a traditional bed has fitted into a room with no problem, a bunk bed can be ordered with no further concerns. Forgetting to measure the height of the bedroom is one of the most common mistakes made, and this can lead to a very uncomfortable sleeping experience. At least 2 feet of headroom should be left between the mattress and the ceiling, and even more is best in order to avoid the danger of the occasional painful accident. A simple vertical measurement is not enough, however. The overall dimensions of the room must be recorded, as bunk beds can often take up more floorspace than a traditional single bed. Many have features such as sliding storage or retractable ladders which become useless if they cannot properly fit into the space provided.
Consult the User
With such a variety of single bunk beds available, the best way to choose an appropriate type is to consult whomever is going to use the bed. If a child is the intended recipient, they should be asked about what type of material they would like the bed to be made from, whether they are looking for particular features, and even whether they would like it to have a theme. Bunk beds are available which have been designed to help children to imagine that they are in a spaceship or racing car - some of them even have slides to replace the traditional ladder to get to and from the top bunk. Of course, if the intention is to provide basic bunk beds for adults, such features are unlikely to be a priority, but consulting customers or guests in order to find out which additional design elements are considered desirable would still be useful. Some element of storage underneath or to the sides of the bunks is often popular, as are sidelights or retractable sideboards.
Some Assembly Required
As with most beds, single bunks do not normally arrive fully assembled. This is a practical measure, as most are too large to pass through normal entrances, but it does entail some thought about ease or difficulty of assembly. Those who are not skilled or experienced with DIY assembly may wish to choose a brand of bunk bed which is simple and does not have too many additional features. The bedroom which is intended to house the bunk bed will also need to be sufficient in size for the assembly process, and should not be too cramped. It will almost certainly be helpful for more than one person to take part, as the various stages of assembly can often be cumbersome and require more than two hands at a time. As with most furniture assembly, it is prudent to make sure that all of the components mentioned in the instructions are present before beginning, and that they are separated into piles which will not be scattered or lost in the process. Additionally, making sure that the vendor from whom the bunk bed has been purchased can confirm that every component has been provided would be wise. It is relatively common for those who have not checked this to reach the end of the instructions only to find that a vital nut and bolt has been missed from the delivery.
Safety First
Last, but very definitely not least, comes the issue of safety. This is of particular importance if the purchase of a bunk bed is for the use of children, but is always of concern given the height of a bunk bed set. If the opportunity to pick the bunk bed up personally is available and the frame has not yet been disassembled, a basic 'shake test' should be administered to ensure its stability and the quality of its manufacture. If the materials used are poor, or the components holding the frame together are frayed in any way, another seller out of the many available on eBay should be found. Even if the materials used seem sturdy, it is vital to make sure that all of the safety equipment provided is in good order and works well. Any bunk bed should include a guard rail which is capable of bearing the full weight of whomever is going to be sleeping on the top bunk, as well as sturdy headboards and a secure ladder which can be climbed without any give on the rungs or against the floor. Under no circumstances should a child under the age of six be allowed to sleep on the top bunk, as small children both sleep more soundly than adults and move in their sleep more often. An increasing number of bone fractures in small children are caused by falling from a bunk bed, and such incidents are easily avoided by simple common sense.
How to Find a Bunk Bed on eBay
To purchase a wide variety of single bunk beds, simply head to the eBay homepage. Begin by opening the Home & Garden tab and clicking on the side tab which appears, also entitled Home & Garden, followed by the tab for Furniture & Living. From this page, click on Beds & Mattresses, then Bed Frames & Divan Bases. Search available item listings, or refine the search further by using new options on the left side of the page, which will include a large number of bunk bed entries. Alternately, try entering specific terms into the search bar at the top of any eBay page. For example, to find a bunk bed suitable for children, search for "childrens bunk bed" and filter the options which appear.
Conclusion
Buying a bunk bed can be a significant purchase, and it's important to consider all important factors when doing so. The most obvious of these are the size of the room available, the materials from which the frame is constructed, the size of bed that needs to be purchased, and the safety of the frame for those using it. Extra features should also carefully be considered, along with the time that it will take to assemble the bed once it is purchased. When all of these factors have been taken into account, it will be possible to find an ideal bunk bed for any purpose on eBay.