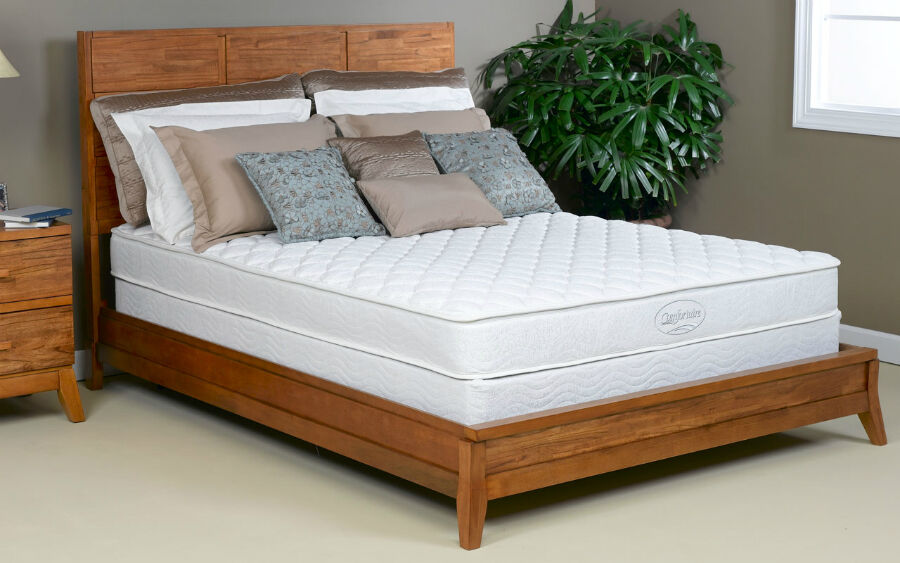 Choosing a mattress is an important decision because the mattress is the key component in ensuring a good night's sleep. Experts agree that adequate and good-quality sleep is essential for physical and mental wellbeing, meaning the right mattress can have a positive impact on everyday life. There is no "right" mattress because everyone is different. Mattresses come in different sizes and are constructed from different materials; what works well for one person might be uncomfortable to another. Price is often a factor in the decision-making process, but it shouldn't be the only one. It is a good idea to research mattress brands, types, and materials before purchasing in order to find the most suitable mattress.
Why a Single Mattress?
Single mattresses are a great option for children, students, single adults, or for guest beds. They are not suitable for two adults who wish to share a bed because they are too narrow. Single mattresses, like other mattresses, can vary in length, but are usually either 2ft. 6in. or 3ft. wide, making them too narrow to comfortably fit two adults in the long-term. It is important to check the dimensions of any mattress before purchasing to make sure that the mattress will fit the bed frame, and the proportions of the person who will be sleeping on it. Single mattresses are often the most economical choice and are a great option for many households.
Choosing a Single Mattress
As with choosing any mattress, when choosing a single mattress various options must be taken into consideration. It is important to assess different variables when comparing products, as well as to determine which factors are most important. For example, a small child may not care how soft or firm a mattress is, whereas an adult may have more specific preferences. If suffering from allergies or from chronic pain, the construction and materials used in the mattresses would have to be considered more carefully than when not suffering from these conditions. In general, because of their smaller size, single mattresses will feel firmer than double, or king-size, mattresses of exactly the same materials and construction.
Single Mattress Materials: Inner Construction
| | |
| --- | --- |
| Innerspring | Innerspring mattresses have coiled springs inside a layer of foam and are topped with material. The denser the springs, the more supportive the mattress. Innerspring mattresses can be made of an open spring or a pocket sprung construction. |
| Open Spring | Springs are joined and not individually wrapped in material as with pocket sprung mattresses. Generally open-coil mattresses provide less support and can feel softer than pocket-sprung mattresses. |
| Pocket-Sprung | In pocket-sprung mattresses, each single spring is encased in a fabric pocket. Hundreds of these springs make up the mattress. Pocket-sprung mattresses offer superior support as the individual springs conform to the sleeper's body. |
| Memory Foam | Memory foam mattresses conform to the body and can provide pressure in the right places. Some memory foam mattresses are made from patented material while others are made from generic memory foam. All memory foam mattresses are made from manmade materials and work by selectively cushioning the body at pressure points and can provide comfortable support for all areas of the body. |
| Latex | Latex is a natural, hypoallergenic, material. It is a good choice for many allergy sufferers, or when wishing to avoid buying products that contain chemicals. Natural latex is similar to synthetic memory foam for supporting and contouring the body. |
| Combination Foam | This type of mattress combines latex and memory foam. The mattress can be turned to enjoy the benefits of either type of foam. |
| Air-System | Allows the firmness of the mattress to be adjusted. Great for couples who disagree over mattress firmness or for people with medical conditions who need to adjust the firmness of their mattress. |
Single Mattress Features
| | |
| --- | --- |
| Hypoallergenic | Hypoallergenic mattresses are made from materials that limit the growth of fungi, bacteria, and dust mites. This type of filling is likely to be natural and chemical-free. Some mattresses are sealed to prevent allergens from building up in the mattress. Others are entirely constructed from hypoallergenic materials. Such materials include: natural latex, natural wool, cotton, and coconut fibre or horse hair. Wool is fire-retardant by nature and so avoids the use of fire-retardant chemicals, which can cause problems for chemical-allergy sufferers. |
| Orthopedic | Orthopedic mattresses help to support the bones, joints, ligaments, and muscles of the body. This type of mattress can help to relieve pressure during sleep, meaning less joint and muscle pain, and may be good for back-pain and chronic pain sufferers. Some orthopedic mattresses mould to the sleeper's body during sleep. |
| Roll-Up | This type of mattress saves space, but means that there is always a comfortable guest-bed on hand. The mattress rolls up after use and some brands come with a storage bag. |
| Waterproof | A waterproof mattress is a better investment than a mattress protector because they are usually quieter and more comfortable to sleep on. Waterproof mattresses are fully sealed with waterproof material, providing a hygienic way to deal with common health concerns that require a waterproof sleeping surface. |
Choosing a Soft or Firm Single Mattress
There are three basic types of firmness: soft, medium, and firm. Some manufacturers use variations on these types that incorporate subtle differences, such as medium-firm or medium-soft. Choosing the right firmness in a mattress may depend on factors such as sleeping position preference, and the existence of back pain or other pain conditions.
| | |
| --- | --- |
| Soft | Soft mattresses are generally considered to be good for side sleeping but may not provide the right level of support for stomach sleeping. Soft does not necessarily mean unsupportive. Some mattresses feel "soft" and comfortable, but are very supportive because of the coil-count of the inner construction. |
| Medium | Medium-feel mattresses are good basic mattresses and a good choice for couples, especially when one person prefers soft and one person prefers firm. Medium mattresses are likely to have a coil-count in the mid-range. Memory foam mattresses can also be considered a "medium" mattress because they conform to the individual's body. |
| Firm | Firm mattresses are usually constructed of tight coils and firm material layers on top. This type of mattress is usually considered to be good for back sleepers and for people suffering from back pain, but it is worth consulting a doctor for recommendations on the right sort of mattress for individual conditions. Firm mattresses are not so comfortable for side-sleeping and they can sometimes inhibit good circulation when in the side-sleeping position. |
Buying a Single Mattress on eBay
The easiest way to buy a single mattress on eBay is to select the "Home & Garden" link, and then select "Beds & Mattresses" under the "Furniture & Living" tab. Selecting "Mattresses" under Categories allows for the narrowing of choices by size (select "Single"), mattress type, condition, price, firmness, brand, features, and seller. Most of the listings on eBay include detailed descriptions of the product which allows the purchaser to make an informed decision. Some sellers offer free shipping, or local collection if both buyer and seller live in the same vicinity. Sellers are often rated by previous buyers, and it is a good idea to research sellers' profiles, shipping options, and terms and conditions before making a purchase.
Conclusion
Choosing the right mattress might seem overwhelming, but it is really just a matter of having the right information on hand. Single mattresses are made to all sorts of different specifications, but researching the options available is a small price to pay for a great night's sleep. A good mattress should last for a few years and should continue to provide the right level of support for a comfortable night's sleep.