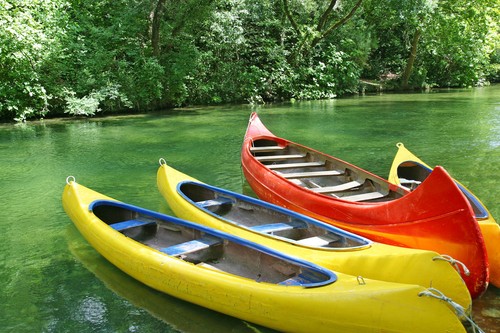 Kayaks are narrow boats that outdoor enthusiasts use to enjoy a wide range of activities. Some kayakers enjoy boating with a kayak for its own sake, while others utilise kayaks in the pursuit of other sports, like fishing. The popularity of kayaks stems from the boat's lightweight convenience and ease of propulsion, which is typically provided by a double blade paddle. Kayaks can be found in local sporting goods shops and boating specialty shops, as well as online at retailers like eBay, which carries a range of kayaks and related products.
One of the first decisions buyers often face when shopping for a kayak is whether it is more beneficial to own a sit-in vs. sit-on-top kayak. Which to purchase is largely determined by the types of activities a buyer pursues, because sit-in and sit-on-top kayaks are more appropriate for certain activities. Before shopping for a kayak, buyers should understand the differences between kayak types, styles, stability, and storage to ensure that they choose the right kayak for their plans.
Differences Between Sit-in and Sit-on-Top Kayaks
Sit-in and sit-on-top kayaks have a number of differences that impact both the form and function of the boats. The most obvious difference is how users position themselves within the kayak. Sit-in kayaks include a fitted cockpit, which allows users to slip their legs and hips inside the kayak; while users remain in the kayak, their legs stay completely covered by the kayak's shell. Conversely, sit-on-top kayaks forego the fitted cockpit and allow users to sit in an open-air seat, which allows users more freedom of movement, but diminishes their efficiency when they paddle.
Kayaking Activities
Sit-in and sit-on-top kayaks are best suited to different activities because the forms of the two types of kayaks greatly impact a user's performance, endurance level, and flexibility. The fitted cockpit of a sit-in kayak provides users with an increased ability to control the kayak. This ability comes in handy when users participate in rigorous boating activities, like whitewater rafting. Endurance levels of users are also increased with sit-in kayaks, making them a more appropriate choice for activities, like kayak racing.
Sit-on-top kayaks do not provide users with a high level of performance or endurance capabilities, but make up for these deficiencies by increasing a user's flexibility. This is beneficial to users who want to employ their kayaks for fishing excursions. The ability to get off or on a sit-on-top kayak also makes this type of kayak an attractive choice for kayak surfing.
Kayak Styles
Kayaks were originally developed by Inuit tribes in the Arctic region for fishing and hunting and retained the same basic shape for thousands of years. In the 20th century, however, the increasing popularity of kayaks led kayak manufacturers to develop specific styles of kayaks.
| Kayak Style | Description | Kayak Type |
| --- | --- | --- |
| Recreational | Kayaks with small hulls and large seating that require users to paddle at a low intensity | Sit-on-top |
| Touring | Kayaks developed for long excursions on flat water | Sit-in |
| Whitewater | Kayaks with no keel which allow users to quickly respond to the changing conditions of whitewater rapids | Sit-in |
| Surf | Kayaks developed and outfitted for use in the ocean's surf | Sit-on-top |
Before purchasing a kayak, buyers should assess which style of kayak is the most appropriate for their lifestyles. For buyers who engage in a variety of kayaking pursuits, a purchasing decision should be based on which activity they perform most frequently.
Kayak Stability
Because kayaks are so narrow, many potential buyers worry about a kayak's ability to remain stable and resist capsizing. When evaluating a kayak's stability, buyers should examine a kayak's initial stability vs. its final stability. The initial stability of a kayak refers to its ability to remain steady while at rest in the water, while the final stability refers to its steadiness as it is propelled through the water.
Initial Stability
Kayaks with a high level of initial stability are easier to enter and exit because they do not wobble on the surface of the water. This steady ability is also important for users who employ their kayaks for certain activities, like fishing or nature photography. Initial stability is increased in kayaks with wider hulls, a design factor commonly associated with sit-on-top kayaks. Buyers who opt for more initial stability should, therefore, opt for a sit-on-top kayak when they are shopping.
Final Stability
Even in rough conditions, kayaks with a high level of final stability can resist capsizing when they are paddled through waves. This ability, however, makes it very difficult for novices to find the correct balance of their kayaks when the kayak is at rest on the water. Luckily, novices can learn to control a kayak's balance through practising stabilisation techniques, using the position of their bodies and the kayak's paddles.
Final stability is related to kayaks with a slender hull, which is a typical feature of sit-in kayaks. Some activities, such as sea kayaking, demand a kayak with a high level of final stability and cannot be pursued with low stability kayaks without jeopardising the safety of a rider. Because of this, buyers who plan to launch their kayaks for use on water that experiences a lot of waves should purchase sit-in kayaks.
Tracking and Turning
A kayak's ability to track, or go forward smoothly, and turn are related to its ability to remain stable. In general, a narrow kayak can turn more easily than a wide kayak. Sit-in kayaks are designed to be more slender, so they are a better purchasing option for buyers who need to turn quickly when on the water. Unfortunately, the ability to manoeuvre turns efficiently compromises a kayak's tracking, so sit-in kayakers must use more control when they paddle forward if they want to track in a straight line. Sit-on-top kayaks are more prone to straight tracking because of their wider shape, but are very awkward to turn. Buyers who prefer sit-on-top kayaks must practice edging their paddles to achieve efficient turns.
Storage Capacity of Kayaks
Buyers who plan to use their kayaks for long fishing or camping trips often find kayak storage space is severely limited because of the boat's small size. When comparing sit-in kayaks to sit-on-top kayaks, buyers should note the distinction between the different types of storage capacities each type of kayak provides. Sit-on-top kayaks can be loaded with more equipment, but the equipment is exposed to the elements if it is not covered. Additionally, items stored on sit-on-top kayaks are more vulnerable if a kayak dips deeply to the side or capsizes. Sit-in kayaks provide less space for stored items but offer better protection than sit-on-top styles, especially if a sit-in kayak is outfitted with a spray skirt, which prevents water from entering the kayak from the cockpit. Which type of storage option is best relies on a buyer's plans and the type of equipment the buyer plans to carry. Buyers can also research ways to expand a kayak's storage if they need more storage capacity.
Increasing Kayak Storage
A number of products are available that allow kayak users to easily add more items to their kayaks. Rod holders hold fishing rods in place so more rods can be added securely to the outside of a kayak. Tackle boxes should be measured to make sure they maximise space more efficiently in kayak bulkheads. Buyers can also purchase hard-cased, airtight containers made of plastic or plastic dry bags to protect items that need to be stored outside of a kayak.
Buying Sit-in and Sit-on-Top Kayaks on eBay
eBay offers outdoors enthusiasts a wide selection of both sit-in and sit-on-top kayaks manufactured by well-established makers, like Teksport, Sevylor, Feel Free, Dagger, and more. Finding kayaks and related items is easy when using the search field located on every eBay page. To operate eBay's search function, buyers type in relevant keywords related to the products they are looking for to generate focused search results. For example, typing in the keywords "double sit-on kayak" allows buyers to browse every eBay item that matches that keyword description. Once buyers find a potential purchase, registering with eBay allows them to initialise a sale and utilise eBay's user toolset for managing account activity.
Before purchasing an item, kayak buyers should carefully read the item's product listing to find essential information about the item, such as whether a kayak is in new or used condition. Product listings also contain details about a seller's policies and the feedback rating score that a seller attained through past interactions with fellow buyers.
Conclusion
Kayaks are a great option for buyers interested in purchasing a lightweight and versatile boat. To meet the demands of customers, kayak makers have diversified their offerings, so buyers have a number of purchasing decisions to make before shopping for their kayaks. The most basic distinction between the various models of kayaks offered is whether a kayak was designed to be a sit-in or sit-on-top kayak. Each type of kayak can be more appropriate for certain situations, so buyers need to determine which type is more beneficial for the activities they pursue. Stability is influenced by kayak types because manufacturers need to alter the width of kayaks to create either a sit-in or sit-on-top kayak. This change in width affects the initial and final stability of a kayak. For buyers who prefer a steady resting kayak, sit-on-top kayaks are preferable. Conversely, buyers who need increased stability while breaking through waves should opt for a sit-in kayak.
Storage issues are a concern for all kayaks, but buyers can take a number of steps to increase the storage capacities of their kayaks by outfitting the kayaks with certain accessory items. To access a large selection of kayak types, styles, and accessories, buyers can shop on eBay, which carries kayaking and related equipment from a variety of manufacturers.