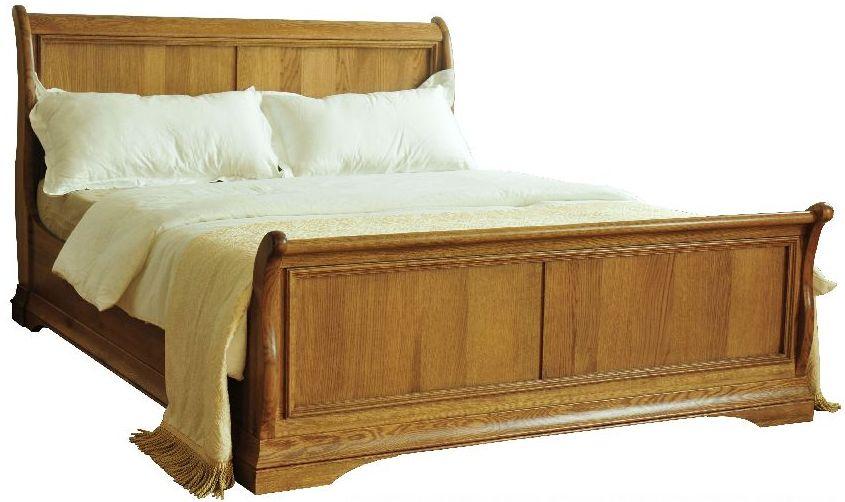 A stunning sleigh bed allows you to sleep in luxurious style. These beds have a distinctive appearance and a long history. Sleigh beds are large and heavy, and bring a touch of majestic opulence to the bedroom. Most sleigh beds are made of wood, but some are available in leather, faux leather, and metal. Sleigh beds come in all sizes, from a single bed right up to a super king size model for maximum space and comfort.
Buying a sleigh bed on eBay is easy. The site is has a range of new and used sleigh beds in all sizes. eBay is simple to use and navigate, and great bargains may be found. Buying a used sleigh bed is a great way to purchase a high quality bed for a fraction of the original price, provided that it is in good condition. Alternatively, buyers can choose to buy a worn sleigh bed in need of some care and attention to refurbish themselves.
What is a Sleigh Bed?
A sleigh bed has a headboard that is much higher than the footboard. Both the headboard and footboard have an elegant, outward curl on the top edge, usually with intricately worked detail on the sides. The sleigh bed design is very popular, and is considered to be extremely luxurious, with a long history and a certain stylish majesty. The sleigh bed has romantic, historical, and fantastical connotations.
Traditionally, sleigh beds had wooden slats running along each side, mimicking an actual sleigh. When riding a real sleigh, passengers would use these hand holds for stability and safety. Traditionally, and most commonly in the present day, sleigh beds are made from sturdy wood, such as cherry or mahogany with a highly polished finish. Some models are available in metal or with leather headboards and footboards.
History of the Sleigh Bed
There is evidence of the use of recognisable sleigh beds in ancient Rome. Sleigh beds gained in popularity in Europe after they caught the imagination of Napoleon Bonaparte during the late 1700s. He insisted that every bed that he had commissioned was built in this style. Throughout the 1800s they continued to be very popular with the affluent classes throughout Europe and the United States, and were considered an important status symbol. In the modern era, sleigh beds are available to anyone, no longer just the very wealthy.
Matching a Sleigh Bed With a Bedroom
Sleigh beds are, undoubtedly, large, majestic pieces of furniture. As such, many people feel that a sleigh bed does not work particularly well in a small room. The large, bold, albeit graceful, sleigh bed can easily dominate a small room, so is best suited to more spacious quarters, where the bed enhances the decor.
Sizes of Sleigh Bed
Sleigh beds can be purchased in a range of sizes on eBay. Buyers should ensure that they choose the correct size, ensuring there is sufficient space in the bedroom so that they are able to manoeuvre around the area comfortably. The bed should not look out of place and overwhelm the room. The chart below provides sleigh bed sizes to enable buyers to identify the best size for their sleeping arrangements and available floor space.
Size of Sleigh Bed

Single

Small double

Double

King size

Super king size

Imperial Size

(ft/in)

3 ft x 6 ft 3 in

4 ft x 6 ft 3 in

4 ft 6 in x 6 ft 3 in

5 ft x 6 ft 6 in

6 ft x 6 ft 6 in

Metric Size (cm)

90 x 190

120 x 190

135 x 190

150 x 200

180 x 200
The chart above shows sleigh bed sizes in both imperial and metric units. Buyers should remember that the exact size can differ slightly between beds from different makers, so ask for the exact measurements before purchasing.
Buying a Used Sleigh Bed
Good quality sleigh beds can be expensive. If they are made from heavy premium wood, sleigh beds last for many years, just needing an occasional change of mattress. Their durability means that many sleigh beds can be found in used, but excellent condition on eBay. It is even possible to purchase a well worn sleigh bed and refurbish it at home. Either of these options saves a considerable amount of money, but buyers should still make sure that the bed is structurally sound, with no broken parts and definitely no signs of woodworm infestation, which can degrade and destroy quality wood rapidly. If a used bed has leather components, buyers should check that the leather remains supple and has no splits or cracks, otherwise it will need to be reupholstered to look appealing.
Buying a Sleigh Bed on eBay
eBay has hundreds of sleigh beds available to purchase, at a range of prices. Buyers can search for sleigh beds from the eBay homepage by typing a key phrase such as, "leather sleigh beds", and browse all of the beds that are available. This is an ideal way to look at the different types of sleigh beds if unsure of the style that is required. However, if buyers know the size, material and colour of sleigh bed that they want, then they can use the filters to narrow down their search results.
Factors to Consider When Purchasing a Sleigh Bed on eBay
Before purchasing a sleigh bed on eBay, there are several factors that should be considered, which can help to ensure that the buyer is happy with their bed, and that the transaction is smooth. Buyers should contact the seller if they are unsure about any feature of the item. The seller can be contacted directly using the "Ask a question" link.
Item Description
Buyers should look carefully at the description of the sleigh bed. The description should include the condition and size of the bed, as well as the materials used to make it. The sleigh bed may, or may not include a mattress. Buyers should be aware that sleigh beds without a mattress may cost less, but have the added cost of purchasing a mattress before the bed can be used.
The photo of the item should help the buyer to see any imperfections or wear on the sleigh bed. This can include scratches on the leather, dents in the wood, or any other markings on the bed. If there are any areas of concern, the buyer should contact the seller, who may be able to provide additional photos to show the areas in more detail.
The seller should also provide information about the accepted payment methods. It is advisable to use a credit card or PayPal rather than cash or cheque.
Item Location
Sleigh beds are large and heavy items, so they may be costly to deliver. If this is the case, the seller may state in the item listing that the sleigh bed is collection only. Buyers should ensure that they read the description carefully and pay particular attention to where the item is located. The cost of collecting the sleigh bed must be factored into the total cost of the transaction: the item may seem like a real bargain, but the cost of petrol, or hiring a van to collect the sleigh bed may be expensive, especially if the item is hundreds of miles away. The filters on eBay allow the buyer to search for sleigh beds which are within a certain distance from their postcode or area.
Feedback
The feedback system on eBay allows the buyer to see information about the customer experience from previous transactions involving the seller. Feedback is left for a seller once the transaction has been completed. This feedback may be positive, negative, or neutral. Brief comments from previous buyers are available to read for a more personal response to the seller's service. Sellers who have a large amount of positive feedback are likely to offer a fast and smooth transaction. Buyers should also look for Top-rated sellers. These are sellers who consistently offer an excellent service to their customers, and are selected by eBay for their excellent feedback scores.
Conclusion
Dating back to ancient times, the sleigh bed still remains popular today, and is considered by many to be the height of opulent style. Sleigh beds are beautiful, regal furniture usually made of wood, although there are some models available in leather, faux leather, and metal. Making a sleigh bed work aesthetically requires a fairly large bedroom, otherwise the bed can overpower the room. Sleigh beds are available in a variety of sizes and are suited to both adults and children.
The large, heavy nature of sleigh beds, means that buyers may benefit from finding one locally to better manage the delivery costs, and perhaps even collect the bed themselves. Buying a sleigh bed on eBay is simple and straightforward. The site caters for everyone, regardless of technology know-how or income bracket. As well as purchasing a new sleigh bed, used models in good condition can be found on eBay for those shopping on a budget who do not want to compromise on quality or appearance.