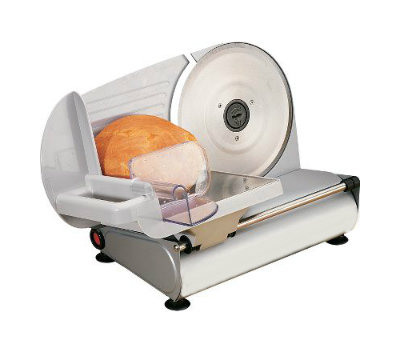 There is an appropriate slicer for use with almost every ingredient that is used in a kitchen, from simple bean slicers to gadgets that can cut food into sophisticated shapes. Kitchen slicers are a valuable addition to the kitchen of a novice cook, or the most experienced of chefs.
About Slicers
All slicers have one thing in common: one or more cutting edges. The material and configuration of the cutting edge may differ from one style to another, and will depend on the design and purpose of the slicer, but they will all have a sharp edge that makes easy work of preparing a huge range of ingredients, both before and after cooking. Given the nature of these utensils, it is necessary to use them with caution, especially when young children or small animals are nearby.
Types of Slicer
There are several types and designs of kitchen slicers currently available. Detailed below are the models that are most popular and easily obtainable.
Mandolin Slicers
The mandolin slicer is thought to have originated as far back as the sixteenth century. A book from the time has an illustration that closely resembles the modern slicer that we know today. The item was refined in the 1930s by a Frenchman who produced an effective wooden version. A metal version of the mandolin inevitably followed. It is thought that the mandolin took its name from the musical instrument because of the manner in which it was held and used by chefs, the movement of the hand being reminiscent of the manner in which the musical instrument was played. The mandolin is perhaps the favourite and best-known kitchen aid of chefs the world over, this efficient cutting tool is quite adaptable and very versatile. Mandolin (or Mandoline) slicers often come with a range of detachable blades that are used for a variety of slicing tasks, or more simply with an adjustable blade that allows for different thicknesses of the finished slice. Very sharp blades and a safety handle that protects the hands ensure that most cooks can use this type of slicer with a relative degree of confidence. The adaptability of this type of slicer extends to its location – it can be used either on a board, directly over a pan or bowl, or in the case of some brands, hooked over a bowl to minimise waste and mess.
Simple Single-Purpose Slicers
There is a huge range of single-purpose slicers available that can reduce the time it takes to prepare individual ingredients, and they will ensure the professional presentation of foods such as fruit, vegetables, meat, fish, cheese, bread, and cakes.
Bean Slicer
A neat little kitchen gadget that will help busy cooks process a lot of beans quickly and efficiently, guaranteeing even slices and the removal of the tough, stringy outer edges; an essential item for cooks with a glut of home-grown beans.
Egg Slicer
Slice hard-boiled eggs into even thicknesses for sandwiches or salads using an egg slicer; this is a very useful tool for anyone that is catering for summer parties or picnics.
Potato Slicer
A hand-held slicer that makes speedy work of slicing or chipping potatoes of all sizes. A modern potato slicer will take the strain when preparing a large amount of these hard vegetables, making the job simple and fast. Potato slicers also come in a more industrial-style version, which would be of use to the busy home cook or in a professional kitchen.
Cheese Slicers
A range of cheese slicers are available on the market, made from a variety of materials; ranging from the stainless steel cheese planer type, to cheese wires – hand held or with integral boards – there is a slicer that is suitable for use with every type of hard and medium-hard cheese.
Cake Slicers
Cake slicers are a versatile tool; an adjustable cake slicer and a levelling wire will ensure that cakes are evenly cut into perfect layers. For serving cakes and pastries, a more traditional cake slicer consisting of a handle attached to a roughly triangular blade with a serrated edge will make serving up pies and cakes of all types an easy and mess free task.
Banana Slicer
A fun gadget for cooks that are trying to encourage children into the kitchen, this brightly coloured, and funky shaped banana slicer will quickly chop a banana into even chunks – perfect for adding to desserts or for use as a baking ingredient.
Electric Slicers
Electric slicers can make short work of slicing large quantities of ingredients; perfect for cooked and raw meat or fish, these slicers guarantee the production of even and thin slices to make the most of expensive ingredients, such as salmon and beef. A more industrial approach to slicing food, electric slicers would be an appropriate choice for anyone catering in bulk or that is involved in larger scale food production. These items are quite bulky and feature a cutting wheel that spins at high speed. They are more regularly seen in professional kitchens, on supermarket delicatessen counters for slicing cooked meats, or being used in butchers' shops, than in the home environment. The machines must be used with great care as although they are supplied fitted with the appropriate guards, any misuse or lack of proper attention during their use can result in very serious injury to the hand. Smaller, less industrial looking versions are available that are more suitable for use in a domestic kitchen. Particularly popular as a labour saving device are the electric cheese slicers. These usually come equipped with a number of different attachments and can be set to grate cheese in a variety of different ways – excellent if cheese is an essential part of the evening meal. Remember that some of these appliances also shred, slice, and grate other food items, such as vegetables and fruit.
Find Slicers on eBay
Slicers on eBay can be found by using one of two routes. Either by type the word 'slicers' into the search box on the homepage, or by use the dynamic menu. If using the menu, select Home & Garden from the list and then select kitchen from the page of results. From here it is just one click to Food Preparation & Tools, which is where slicers can be found. If using the homepage route, the result of the search will take buyers to a comprehensive list of all items that match that search criterion. Using the panel at the left of the screen to eliminate those items that are not appropriate will refine the search. By choosing Cookware, Dining and Bar from the categories, customers will easily find their way to the Food Preparation & Tools listings. Consider a number of factors when buying a slicer, including particular use for the item, their budget and the nature of the products that are available on the market. Decide on the ultimate purpose for the item to be purchased, as this will quickly eliminate those items that are not required – narrowing the parameters before starting to search on eBay will save time and make the process quick and easy.
Conclusion
The sheer volume and variety of slicers that is available on eBay, from simple hand-held gadgets for use in the home kitchen, to the larger versions more regularly seen being used by professional cooks, ensures that eBay will have on offer an item to meet any cook's food slicing requirements. Whether a novice cook just starting out preparing food for friends and family, or branching out into more adventurous catering for the first time, or an experienced cook or a professional chef searching for new equipment to make their routine and repetitive work a bit easier, effective slicers of all shapes and sizes can be found on eBay in a very wide range of prices.