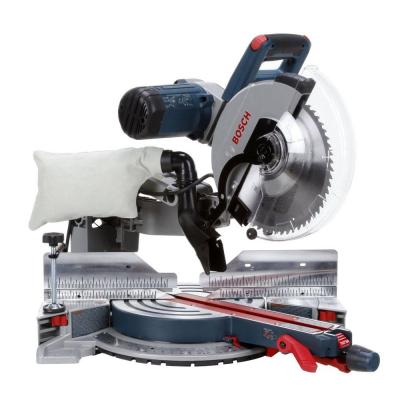 Many people pursue woodworking as a rewarding career or simply as a hobby. They may create elaborate pieces of furniture or turn out nothing more complicated than a birdhouse. However, woodworking requires a significant investment of time and money. Woodworkers must have access to the right tools to complete their projects, including saws, an air compressor, a drill, a lathe, as well as sanders. One valuable tool for woodworkers is the sliding compound mitre saw.
A woodworker who is looking for a sliding compound mitre saw needs to know a few key facts about the saw's design and purpose. One must know what components a new saw should include. Potential buyers should also be aware of important safety procedures before they attempt to use these saws. Sliding compound mitre saws are usually available in retail stores that sells tools and woodworking supplies. They can also be purchased from sellers through an online marketplace such as eBay.
Types of Mitre Saws
Mitre saws are utilised in various types of woodworking. They are specially designed to enable woodworkers to create mitre joints and cross cuts that are flawless and accurate. Since they specialise in cross cutting, mitre saws cannot be used for other purposes such as long cuts.
Different kinds of mitre saws have been developed, facilitating multiple cutting styles for woodworkers. The chart below lists some of the commonly-used kinds of mitre saws.
| Type of Mitre Saw | Description |
| --- | --- |
| Manual Mitre Saw | Basic model, includes a saw that rolls along a metal track |
| Power Mitre Saw | Portable electric model, used for 45-degree cross cuts |
| Compound Mitre Saw | Allows the blade to be pivoted, enabling horizontal, vertical, and angled cuts |
| | A compound mitre saw with sliding arms for wider workpieces |
The manual mitre saw is used by craftsmen from time to time. However, it has been upstaged by the efficiency of modern power tools.
About the Sliding Compound Mitre Saw
The sliding compound mitre saw came on the market in the late 1980s. Woodworkers were immediately pleased with it, since it took the concept of the compound mitre saw even further. Because of the sliding tracks, the blade of the sliding compound mitre saw could accomplish wider cuts than were previously possible. Since its invention, the sliding compound mitre saw has been the top choice of the woodworker who needs a reliable, versatile cross cut saw.
Sliding compound mitre saws are easy to move and can be carried along to a new work area. Setup is simple as well. A sliding compound mitre saw can handle cuts through pieces of various thicknesses, and it can swiftly accomplish a series of repeat cuts if needed.
Mitre saws may include a number of helpful features. For instance, many of them have a laser guide that help the woodworker make the cut in exactly the right spot. One or two reference lines serve as an additional aid to users.
Understanding Components of a Sliding Compound Mitre Saw
Before investing in this tool, it is important for the user to understand the different key components of a sliding compound mitre saw. This type of saw should have a blade guard, a dust bag, a safety clamp, and other vital components. Each of these parts plays an important role in the effectiveness and safety of the saw. If any one of these elements is missing in a sliding compound mitre saw, then a prospective buyer should not purchase it.
Blade Guard
A buyer should be sure that the sliding compound mitre saw being purchased includes a blade guard. This component conceals the sharp points of the blade while the saw is not in use. Many models of sliding compound mitre saws are designed to retract the blade into the saw when the saw is raised. When the saw is lowered, the teeth of the blade are pushed out, ready for action.
One may be interested in purchasing a used saw to save money. If so, the buyer should ensure that all parts of the saw are still functioning correctly, including the blade guard. Operating a sliding compound mitre saw with a broken or missing blade guard is hazardous and ill-advised.
Dust Bag
Dust bags are important accessories for sliding compound mitre saws. The sawdust produced by woodworking is channelled right into the bag, keeping the workplace clean by preventing the dust from settling on the floor of the work area. A prospective buyer who is contemplating a used sliding compound mitre saw should ensure that the dust bag is included and is in good condition. Buyers can also purchase new dust bags if they are missing, or they could order a shop vac from the original manufacturer. The shop vac attaches to the sliding compound mitre saw using a special attachment. Instead of going into a dust bag, the sawdust is sucked away. This method is noisier and more expensive, but it also eliminates the excess sawdust and keeps the workspace neat.
Safety Clamp
A sliding compound mitre saw must include a safety clamp. Without one, the workpiece may not remain stable during the cross cut. A buyer should ensure that the saw has a reliable safety clamp to lock the wood down before the cut is made. Otherwise, smaller pieces can shift just as the blade descends, ruining the piece.
Dual Power Buttons
A sliding compound mitre saw usually has a two-button system for powering on the machine. This prevents the user from bumping a button and turning the saw on accidentally. In order for the machine to operate, each button must be pressed to engage the power. The double button system must be in good working order at all times.
Safety Tips for the Use of a Sliding Compound Mitre Saw
Before users implement sliding compound mitre saws in their woodworking, they should be familiar with some basic safety procedures. The instruction manual that accompanies the saw may include some safety information as well as information about the uses of the saw and tips for troubleshooting. It is therefore important to read the manual before attempting to use the sliding compound mitre saw.
Stable Surface
A user working with the sliding compound mitre saw must be sure to maintain a steady work pace. Hurrying during a woodworking job can cause an accident. In addition, one must have a stable, durable base for the saw. A mitre saw stand may be used, or the saw could be set on a table made of a couple of sawhorses and some boards. In the latter case, the boards need to be fastened to the sawhorses, and the saw should also be screwed down tightly to prevent it from shifting during use.
Correct Placement
During operation, cuts, wood chips, and other bits can fly outwards from the sliding compound mitre saw. Users should wear eye protection while making cuts with the saw. They should also position the saw far enough from windows and walls so that flying pieces do not cause any damage.
Maintenance
Occasionally, sliding compound mitre saws require maintenance. For instance, the blade may need to be sharpened, or other components, such as the blade guard, might need adjustments. A user should keep up with the maintenance to ensure that the machine continues to operate safely and efficiently.
Buying a Sliding Compound Mitre Saw on eBay
Buying a sliding compound mitre saw is simple when you choose eBay. Begin on eBay's home page and enter a basic term such as "sliding compound mitre saw" into the search bar. You can browse through the results of the initial search at your leisure. You can also narrow the search use eBay's search filters. Simply choose your preferences for the mitre saw's condition, price, and location, among other parameters. If you do not find what you want you may save your search so that eBay can let you know whenever a new listing for a sliding compound mitre saw is posted.
Some eBay sellers may supply free postage and packing (P&P) or return policies, or they may include extra items along with the main product. Look for sellers with the "Top-rated seller" seal on the listing. These are some of eBay's more reputable sellers, with high feedback scores from customers. If you need to know more about a saw that you are considering, click on "Ask a Question" on the listing page, or visit the seller's profile and click "Contact Member". Either of these links lets you communicate directly with the seller.
Conclusion
Sliding compound mitre saws are uniquely effective if woodworkers need to create smooth, precise cross cuts. Unlike the regular compound mitre saw, the sliding compound mitre saw can handle broader pieces of wood and make wider cuts. When woodworkers are shopping for sliding compound mitre saws, they can purchase new or pre-owned models from traditional brick-and-mortar retailers or online shops. Brands such as Makita, Dewalt, Milwaukee, Hitachi, and Craftsman are all good choices. Any sliding compound mitre saw, new or used, should have a safety clamp, dual power buttons, a dust bag, and a blade guard. One may also want to invest in a mitre stand so that the new saw is stable and balanced.
With eBay's helpful search features, broad range of products, and Top-rated sellers, a prospective buyer should not have trouble finding the right sliding compound mitre saw. Thanks to eBay, a woodworker should be able to purchase an affordable sliding compound mitre saw that can achieve the crisp, accurate cross cuts that can contribute to the beauty of a project.