In addition to providing storage space for books, a small bookcase is ideal for reclaiming wasted space in an alcove, under stairs, or in a hallway. The small bookcases available on eBay also make practical display shelves for knick-knacks or ornaments and unique bedside tables for prolific readers. Choose a design and materials that suit your home decor and match your existing furniture. Consider the ideal dimensions of the bookcase you require when selecting a bookshelf for your home.
Small Bookcase Designs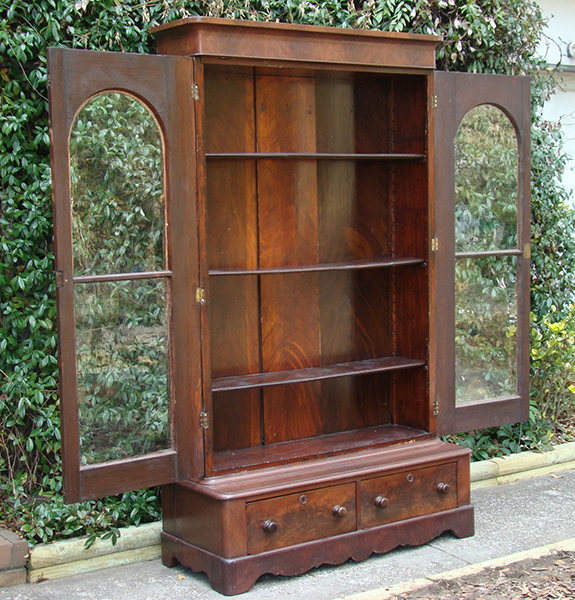 Small bookcase designs vary from simple pine or laminate models to decorative furniture pieces with glass doors and interior lights. If you want to protect the contents of the bookcase from dust and moisture, opt for a design that includes doors. Choose a bookcase type that matches your existing furniture and decor. Consider buying a small antique bookcase if the room in which you plan to install it contains antiques. Small bookcase come in freestanding and built-in models. Built-in models are easier to integrate into a room and often look sleeker than freestanding cases. However, they are more expensive and less versatile. Installation costs add to their price and you cannot easily move them once they are in place.
Small Bookcase Materials
Small bookcase materials range from metal to solid hardwood. Choose a material that matches your home decor. A wooden bookcase with decorative edges provides a traditional feel. Common types of wooden bookcases include pine bookcases, oak bookcases, and mahogany bookcases. For a modern effect, opt for a sleek model that features glass shelving and chrome legs. Use a painted bookshelf to introduce colours and patterns or opt for a white bookcase for simplicity. If you love the look of solid hardwood, but are shopping on a budget, consider a small bookcase covered with wood veneer.
Choosing a Small Bookcase

What you want to use the bookcase for and where you want to use it should inform your buying decision. If you want to store books, ensure that the bookcase you choose has the ideal number of shelves at heights that can accommodate the tallest books. If you want to display ornaments or framed photos, measure the tallest items to ensure that they fit the bookcase you choose. Alternatively, look for a bookcase with adjustable shelves. The shelves should also be wide and deep enough to meet your needs. Use these measurements to obtain minimum size requirements. Measure the space where you want to place the bookcase. Bookcases vary in size and it is crucial to choose a case that suits your home. Remember to consider the depth of the bookcase. Depending on its location, a bookcase that sits too far forward from the wall can impede traffic flow. These measurements indicate the maximum size of the bookcase.