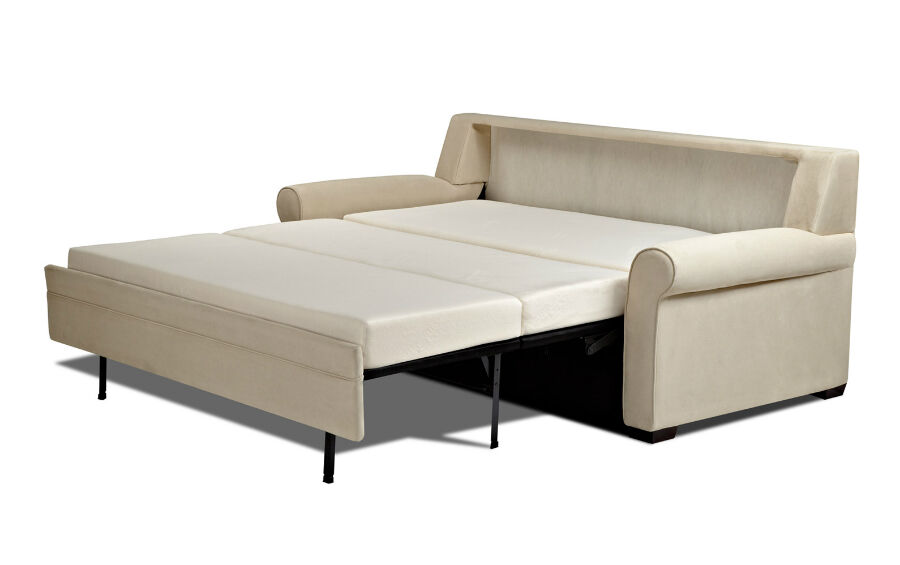 Regardless of whether the average person owns or rents their home, he or she is more than likely going to strive to make the most of their living space. It truly does not matter whether it is a mansion or a studio apartment. There are so many different ways that you can maximize the amount of living space that you have within your home simply by investing in space-efficient items and furniture, such as sofa sleepers.
There is a wide variety of sofa sleepers currently available for sale in traditional furniture stores and through online websites, such as eBay. However, there are so many different options and features to choose from that the average consumer can easily become overwhelmed when shopping for this type of sofa. Fortunately, eBay has developed this guide to provide a detailed map to make your shopping experience a pleasant one.
What Is the Purpose?
A sofa sleeper allows you to turn any room throughout your home into a bedroom without losing the comfort and stylish appeal of also having a sofa. That sort of versatility is not provided as efficiently in other item of furniture.
There are many different types of sofa sleepers on the market because of the many reasons why consumers are interested in purchasing them. Before proceeding any further with this shopping journey, you need to be able to answer three key questions about your purchasing decision:
What purpose will it serve?
What needs are going to be met?
How many people will use it regularly
Answering those questions and identifying the purpose that needs to be fulfilled allows shoppers to head down the right path on their shopping journey. Otherwise, it is fairly easy to overlook an available option that may have been both feasible and affordable.
THE NEED

NUMBER

OPTIONS TO CONSIDER

Portable bedding for camping

1-3 people

Temporary bed for visitors

1-3 people

Inflatable or framed sofa sleeper

(Primarily based on frequency of visitors)

Permanent, high-quality bed

1-2 people

Framed sofa sleeper (variety of mattress sizes)

Bedding for multiple people

3-5 people

Sectional sofa sleeper or enhanced sofa sleeper with a futon attachment above the bed

Efficient combination of storage, bedding and seating

No preference

Sofa sleeper with built-in storage attachments & features (i.e. bookcase, desk, etc.)

High quality sofa that is hardly ever used as a bed

No preference

Sectional sofa sleeper or high quality framed sofa
Addressing those key points will allow shoppers to narrow down the extensive list of options that are available to them so that they can focus solely on the options that meet their needs and fulfill a specific purpose.
Examine the Available Space
One of the first steps to buying a quality sofa sleeper would be to examine the space that is available in the home for it. This is a step that many shoppers fail to take before shopping for furniture in general, which leads to them buying items that are either too big for their available space or too small. Just because a sofa sleeper is designed to be convenient in every room within a home, this does not necessarily mean that it will always be able to fit.
It is the responsibility of shoppers to examine their space and make an educated decision based on their findings. Fortunately, there are many different styles and types of sofa sleepers that can fit in different rooms, including a children's bedroom, a playroom, the office, conservatory or ordinary bedroom. However, before any final decisions can be made, the shopper will definitely need to examine the dimensions of the room in which he or she wants to put the sofa sleeper.
Take the Time to Measure the Space
Visually confirming that you have enough space within a particular room is not enough. A room may actually be much bigger or smaller than it appears to the naked eye. Even though this basic assessment might be sufficient when purchasing smaller items, such as nightstands and television sets, it does not provide shoppers with an adequate amount of information necessary for larger items, such as sofa sleepers.
There are several key areas within a room that will need to be measured:
The entrance to the room
The length of space available on desired wall
The distance between parallel walls
The distance from floor to ceiling
Why is it necessary to take these particular measurements? What are some of the consequences that may result if these measurements are not taken?
| SPECIFIC AREA TO MEASURE | REASON FOR MEASUREMENT | IF AREA IS NOT MEASURED… |
| --- | --- | --- |
| Entrance to Room | To determine whether sofa will fit through doorway or need to be broken down and reassembled | Sofa might not be able to fit through doorway to get into desired room |
| Length of Space on Desired Wall | To determine whether the wall where the bed will be placed is long enough for it | Shoppers may buy a sofa that is too long for the wall and have to completely rearrange furniture or just return the bed for a smaller fit. |
| Distance between Parallel Walls | Sofa sleepers have to have enough space to open up into beds. Finding this distance will ensure there is enough space for the sofa and the bed, too. | Even though the space might be enough for a sofa, you will not be able to use the bed feature because there will not be enough space to open it up fully. |
| Distance from Floor to Ceiling | Many sofa sleepers come with an additional mattress/futon option attached above the actual sofa. This measurement will check to see if there is enough space for this type of enhancement. | If a sofa sleeper is purchased with an enhanced attachment, it will not fit, or could create a safety hazard when being used, or will cause damage to the ceiling of the room. |
Finding the Right Size & Material
After examining the available space and taking the time to record the necessary measurements, the next step in shopping for a quality sofa sleeper would be to find the proper size of bed for that particular space. Allow the space limitations that have been confirmed by those measurements to guide the overall selection process. Just because a person may want a queen-size sofa sleeper, for example, this does not necessarily mean that it is the best option to go with for the allotted space.
There are many different sofa sleepers available from a wide variety of manufacturers, most which will fall under one of four separate categories:
Standard single (twin-sized)
Queen (also called "small double")
Standard double (full-sized)
King-sized
Even though there are going to be different styles, designs and framing to choose from when shopping for these beds, the sizing for the majority of their mattresses is pretty standard based on the type.
| MATTRESS TYPE | STANDARD SIZE |
| --- | --- |
| Standard Single | 36" x 75" (90 cm x 190 cm) |
| Queen (Small Double) | 48" x 75" (120 cm x 190 cm) |
| Standard Double | 54" x 75" (135 cm x 190 cm) |
| King | 60" x 78" (150 cm x 200 cm) |
After determining the size of the bed and mattress that is needed, the next step would be to choose the materials that are used to build the bed. Of course, there is a significant difference between the materials used for portable, inflatable sofa sleepers and ones that are framed. However, there is also a difference within the world of framed sofa sleepers as well. The two primary types of frames are: (1) metal and (2) wood.
There are several advantages and disadvantages that should be considered about both framing types before choosing which one to purchase.
TYPE OF FRAME

ADVANTAGES

DISADVANTAGES

Metal Frame

Price range is consistent for most ranges, regardless of manufacturer

Easier to assemble and disassemble in most cases

Sturdier and much more durable than wooden frames

- Not as stylish; hard to coordinate with existing decor

- A little more maintenance involved than with wood

- Not as comfortable to sleep on as wooden frames

Wooden Frame

Can be very stylish; simple to coordinate with room décor

More comfortable frame for a comfortable rest

Low amount of maintenance needed to preserve quality, efficiency and style

- Price range can fluctuate drastically, based on quality and texture of wood

- Not as easy to assemble and disassemble as metal frames

- Cheaper quality frames can be damaged and chipped easily
What to Consider When Shopping
Regardless of where you decide to shop for your sofa sleeper, there are several key points that you need to take into consideration before finalizing any purchases.
Quality: You should only shop for high quality sofa sleepers, especially if you want them to last a very long time. Even though low quality versions may be cheaper upfront, you will spend much more in future maintenance, repair and replacement costs.
Price: Shop competitively for the best price. In most cases, consumers are able to save hundreds and even thousands of pounds by making their purchases online instead of in traditional stores. However, the best thing to do would be to thoroughly explore all of the available options (online and offline) to get the best deal.
Shipping: Even the best quality sofa sleeper can end up becoming useless and severely damaged if it not packaged, handled and shipped securely and properly. If the bed is going to be shipped, research the shipping methods and timing that will be used. The sofa sleeper should be delivered to its new owner without any sort of damage or defect.
Seller: Research the transaction history of the individual or company that is selling the bed. For example, explore the feedback of eBay sellers to ensure that there is not a substantial number of negative comments and ratings posted there. Read through any comments, reviews and testimonials that have been published by past customers.
Focusing on these several points is another great way to narrow down the list of options that you have available, because it will eliminate the options that do not meet your needs and expectations. This will make purchasing a quality sofa sleeper much quicker and easier than many people may realize.
Using eBay to Buy Sofa sleepers
Even though there are several other online websites that sell sofa sleepers, a wide variety of this particular type of furniture and other related accessories, such as pillows and mattresses, can be found within the online catalog of eBay products. The complete listing of sofa sleepers can be found under Sofa beds in the Sofa, Armchairs & Suites section under the Furniture category of the Home & Garden portal.
There are thousands of items listed within this particular group, which can be filtered by, for instance:
Main colour
Brand
Material
Style, pattern and/or type
Number of people seated
The Auction and Fixed Price options, like the Buy It Now feature, are also available to provide shoppers with more flexible payment options. Key details about a particular item (such as the specifications and sizes of a sofa sleeper) are posted for public display within the item listing. This allows potential buyers to quickly determine whether or not a particular item is going to be able to meet their needs without having to read any further. If those basic specifications are suitable, then the potential buyer is able to explore even more information, which will clearly confirm the quality (or lack thereof) of both the product and the seller.
For all questions and concerns, do not hesitate to contact the seller and get a response before proceeding any further. If you already know exactly what brand or type of sofa sleeper you need, save a lot of time by using the Advanced Search function that is designed to route potential buyers directly to the products for which they are searching.
Conclusion
Sofa sleepers are some of the most space-efficient furniture items that can be placed within a particular room. There are even some enhanced models that combine two beds in one, such as a futon that is cleverly connected to the main sofa sleeper.
Even though most sofa sleepers are already designed to go well with the existing room décor, a wide range of accessories (such as slip covers and throw pillows) are available to further enhance the beauty and appeal of this type of furniture. By purchasing high quality furniture, even if it does cost a little more than the average consumer would like to spend, these items can truly last a lifetime.