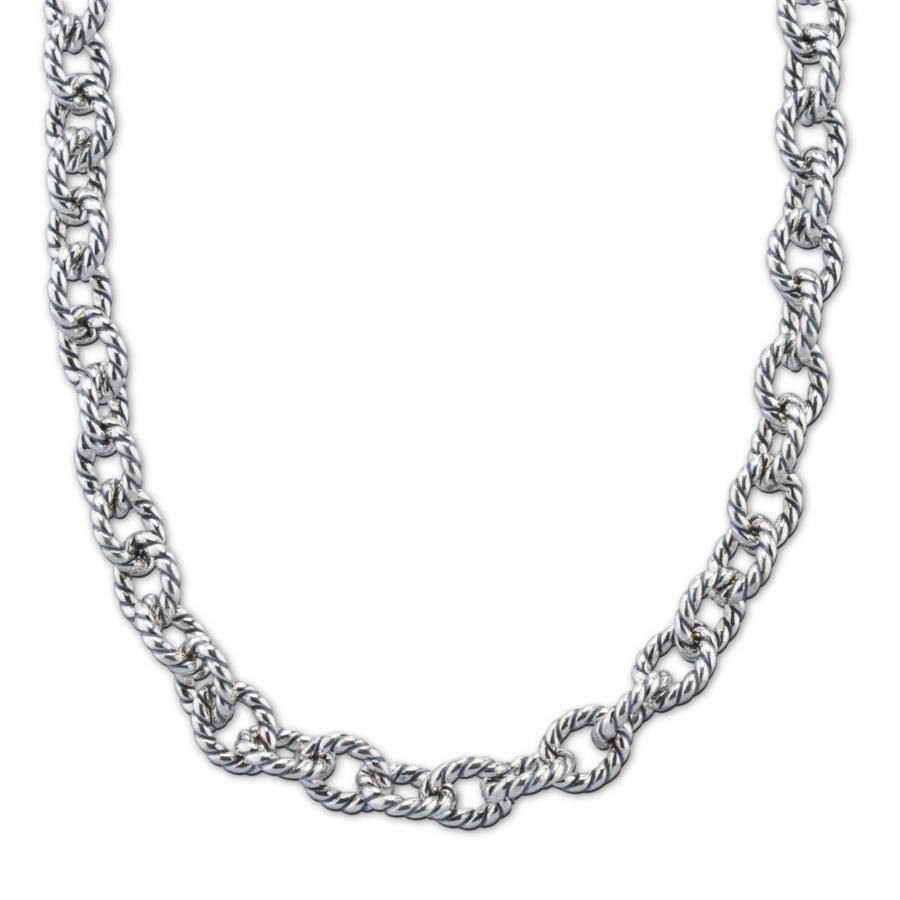 How a consumer buys a sterling silver chain necklace depends on exactly what they want out of the necklace. There are many different sizes and styles of sterling silver chain necklaces, and each person usually has their own preference of which he or she likes. Since silver is more neutral than gold, it is often worn to be seen but not to be flashy. Silver is also a lot less expensive than gold, but still has quite a bit of monetary value. People purchase sterling silver chain necklaces for different reasons. Some may have a gold allergy, which is usually caused by the nickel mixed with gold, and some people may just have a preference for silver.
Sterling silver chain necklaces can be purchased at jewellery shops, department stores, and on the online auction site, eBay. Regardless of why they are specifically purchasing a sterling silver chain necklace, there are a few decisions for consumers to make. These decisions shape the percentage of silver contained in a necklace, the length of chain that is chosen, and the type of sterling silver chain necklace that is purchased.
Percentage of Silver in a Sterling Chain Necklace
Most sterling silver chain necklaces are not pure silver. Just as gold is mixed with other metals to strengthen it, so is silver. For the most part, sterling silver necklaces are made from a high percentage of silver and a low percentage of other metals. Some common metals that are mixed with silver are aluminium, steel, titanium, and others. Most often the purest sterling silver that a person can get is 92.5 per cent, which means that it is almost all silver and only 0.75 per cent another metal. The high per cent of silver makes the necklace more valuable, but it also makes the necklace more delicate. Silver, although relatively strong, is still not as strong as other metals, which is why it is most often mixed. A high per cent of silver in a necklace does make the necklace weaker, whereas a lower per cent of silver makes the necklace stronger. The higher the percentage of silver also means that the necklace tarnishes easier.
Silver is often chosen due to its cost and the fact that it is relatively strong. The problem with a high percentage of silver in a necklace is that it turns black, green, or a reddish colour depending on where it is located and the body chemistry of the person wearing it. The most common colour change due to tarnish is black. This means that a sterling silver necklace needs to be polished to maintain its shiny appearance. Some people choose to leave the tarnish on the necklace because it gives the necklace depth and highlights, while others choose to polish the silver as soon as it starts to change colour. This is an individual choice, but it is important to know that all true silver jewellery does eventually turn colour. It does not, however, turn the wearer's skin a different colour, like copper and other metals tend to do.
Sterling Silver Necklace Chain Length
As with all necklaces, sterling silver chain necklaces come in different lengths. The chain length is a personal preference. Some people want a short choker-like chain, while others want a longer chain. Although a sterling silver chain necklace can come in any length, there are a few standard lengths.
Sterling Silver Chain Length

Position of the Chain

46 cm

Just below the neckline

Often called a choker

Worn outside the shirt

51 cm

Rests on, or just above, the clavicle or collarbone

Most common length

Usually worn outside the shirt or inside a button down shirt

56 cm

Rests just below the collarbone

Worn inside or outside a shirt

Often worn with a pendant

61 cm

Rests near the centre of the sternum

Worn outside a shirt

Worn with or without a pendant

76 cm

Longest standard-sized necklace

Rests below the sternum

Usually not worn with a pendant

Worn outside a shirt
These are the standard lengths for necklaces, sterling silver or otherwise. Many jewellers fit a necklace to any length that a person desires if the standard lengths are not what is needed. When a sterling silver necklace is measured, the measurement includes the clasp along with the hook at the end. A person who wants a non-standard length, or who wants to know which length to purchase, can use a piece of yarn or twine to decide. Measure the yarn or twine to the length that is desired, and then tie it around the neck loosely. The length of the twine or yarn indicates the length that the necklace is going to be while it is worn. This is the easiest way to measure and determine which length works the best. If a pendant is going to be put on the necklace and the pendant has already been purchased, then put the pendent on the twine or yarn. Although the measurement is not exact, since the twine or yarn pulls more than a chain may, it does give a good idea as to where the pendant sits at each length.
Types of Sterling Silver Chain Necklaces
There are several different types and styles of sterling silver chain necklaces. Each style is unique in how it is made and what it looks like. Some styles are more likely to kink than others, and some are more durable.
Figaro Chain
The Figaro chain is a common style for both men and women. It incorporates a pattern of three small circle or oval rings with one larger, oval ring for the length of the necklace. These chains can be made in a wide 7 to 10 mm range, or smaller in the 1 to 2 mm range for women.
Curb Chain
Like the Figaro chain, the curb chain is flat, but instead of having an alternating three and one pattern, it has uniform loops. The loops are flat so that the necklace lies flat against the neck or chest depending on its length. This style is also known as the Cuban chain.
Box Chain
Like its name, the box chain is made from interlinked boxes. This is a strong, sturdy chain that looks as durable as it is. It is one of the stronger linking methods used for sterling silver chains.
Rope Chain
A rope chain has a woven appearance. It looks like several small chains braided together. This is said to have a more vintage look to it, and often looks like a twisted, braided chain. The rope chain style is also very popular for both men and women.
Byzantine Chain
The Byzantine chain is a square patterned chain. Many people suggest that it looks sophisticated with its interlinking boxes. There are several different patterns of Byzantine chain but all of them have approximately the same appearance.
Wheat Link
The wheat link chain is named for the tops of the stalks of wheat. The chain looks very much like the interlinking of wheat before it is harvested. These are also referred to as woven chain necklaces.
Ball Link Chain
Named for the ball-shaped links of these necklaces, which are most often seen in steel, they are shaped to hold military dog tags or ID tags. When made using sterling silver, they can be used for any type of pendant at any length. A variation of this chain is the ball and chain, which is a ball followed by a thin bar, followed by another ball.
Buying Sterling Silver Chain Necklaces on eBay
When purchasing sterling silver chain necklaces on eBay, all you need to do is type in the keywords "sterling silver chain necklace" and click on search. If you would like to narrow your search, then simply add a style or length to the keywords. A list of the different chains matching your criteria appear. Browse through the list and look for a listing that suits you. When you find a listing, simply click on it and a description of the item is populated. Read the description carefully to make sure that the sterling silver chain necklace is the style and length that you desire.
Also on the listing page are the shipping and return policies of the seller. These are important to know in case the necklace has to be returned for any reason. From this page, you can also ask the seller a question or view feedback from previous buyers. Each seller has a feedback rating, which gives you an idea of the individual seller's business practices.
Conclusion
There are many different styles and lengths of sterling silver chain necklaces. Browsing through the listings for them on eBay is an excellent way to search for the perfect chain. Many of the chains can be worn with or without a pendant. The sterling silver chain necklace that is purchased is the result of a person's individual style and taste. Many people purchase a chain to match a pendant or for a specific purpose. Silver is less expensive than gold and is more durable. If the person for whom the chain is purchased is particularly rough with their jewellery, sterling silver may be the best choice. Purchasing a sterling silver chain from eBay is an inexpensive option to the higher-priced jewellery shops. When a sterling silver chain is purchased, make sure to pay attention to the percentage of silver used to make the chain, the style of the chain, and the length of the chain. There are several standard lengths but some sellers may provide different types of chain by varying lengths.