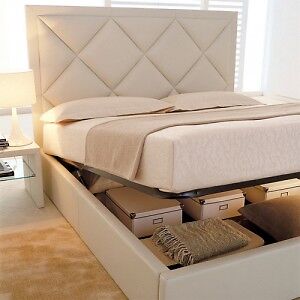 The bed, in one form or another, has been around nearly as long as humans have been around. With time, the bed became a mattress which was elevated from the ground and placed onto a bed frame. The bed is both a fashion statement and a practical necessity for everyday living, particularly if there is storage. There are many different types of decorative beds, but beds with storage capabilities are a very popular alternative for individuals who have limited space. Storage beds are available for both adults and children and come in a few different variations. They allow users to make the most of the space under the bed while maintaining an attractive appearance that suits almost any kind of bedroom décor. Buyers should explore the history of storage beds, the different types and variations, and how to use the Internet to purchase a storage bed before making their final buying decisions.
History of the Storage Bed
The first storage beds were called "captain's beds", and one that is still used today. They were created to be used aboard ships where space was very limited. It was a mattress which was placed on top of a box that had multiple drawers built into it which was used for storage. Captain's beds were popular in the cramped confines of ships' quarters, but they eventually also found favour in small houses where storage space was at a premium. Since that time, storage beds have taken on different styles, but they remain an excellent option for smaller spaces. In these cases, using a bed for storage frees up space that is otherwise occupied by additional pieces of furniture.
Uses for Storage Beds
Storage beds were created out of a necessity for finding creative ways to store items in spaces that were very limited. They also allow people to utilize the space underneath the mattress that otherwise serves very little purpose. By putting drawers into this space, people store items like clothing or spare bedding without using up valuable closet or armoire space. Some storage beds are designed to store a mattress below the top mattress; it is rolled out and used for guests when needed or tucked away and out of sight. Another version of the storage bed features a mechanism that lifts up the mattress and platform like the lid of a box to reveal the large space underneath. Contemporary storage beds feature modern styling while still maintaining the functional characteristics that continue to make them popular additions to any bedroom.
Storage Beds for Adults and Children
All storage beds are similar in nature in that they store something in the space between the mattress and the floor below. However, there are some differences between the storage beds made for children and ones made for adults.
Adult Storage Beds
Storage beds made for adults are usually designed in contemporary styles which accent room décor, yet maintain the functionality of additional storage. These storage beds feature drawers, a hidden trundle bed, or larger storage areas underneath a mattress that is lifted. Storage beds with adult designs maintain many of the same aesthetic design features of normal beds and come with canopies and other design features that make them visually appealing without calling attention to their functional attributes. The storage space in adult storage beds is often slightly hidden in order to avoid calling attention to the need for extra storage space. When it is not hidden, it is often used in large but minimalist bedrooms which feature open spaces, functional furniture, and clean lines in the décor.
Children's Storage Beds
Unlike adult storage beds, children's versions are designed to augment the playful aspects of children's rooms while providing necessary storage options that help reduce clutter in the space. Children's storage beds range from straightforward captain's bed designs with drawers to bunk models with built-in desks and shelves underneath. Some storage beds have stairs that lead up to the sleeping area and resemble a small fort while others feature trundle beds underneath, which roll out to accommodate a sleepover. Children's storage beds are designed to enhance kids' living spaces and make them more appealing areas for them to play in while providing the parents with additional space to keep toys and clothes out of the way.
Types of Storage Beds
Regardless of whether the bed is for adults or children, there are three basic types of storage beds. These are commonly found in both children's and adult's bedrooms, as well as college dorm rooms.
Captain's Storage Bed
The captain's storage bed is the most common type of storage bed available, and it is the oldest of all the storage bed designs. The captain's bed comes in different styles and appearances but the common factor in each one is that they have drawers underneath the mattress for storage. Captain's beds come in adult as well as children's versions and include very few drawers on one side or have multiple drawers all around the perimeter of the bed, depending on the model. Adult versions which have one row of drawers are normally similar in height to a standard bed, whereas adding additional rows of drawers increases the height significantly. Children's versions have one row of drawers and a normal height or they have three or four rows plus a desk attachment; with the mattress at a raised height of 1.2 metres or more.
Lift Storage Bed
The lift storage bed is designed much like the captain's bed, but it does not contain any drawers on the sides of the bed. Instead, the lift storage bed utilizes the entire compartment under the mattress as a large storage area. There is usually an assist mechanism, often hydraulic, which helps individuals lift up the mattress and support the base to reveal the storage area below. This assist mechanism keeps the bed in the open position while the users place their items into storage area, and then the mattress is easily lowered back into place. The lift bed is very popular for storing larger items that are difficult to store in other, smaller spaces, such as large quilts and pillows which are placed on the bed during the day. The lift bed mainly comes in adult versions.
Trundle Storage Bed
The trundle storage bed is similar in design to the captain's bed except that it features a secondary mattress that rolls out from under the main mattress. There are standard trundle beds which feature only a roll-out mattress assembly, and there are slightly taller loft versions which have a roll-out mattress as well as drawers for storage. Trundle beds are designed mostly for use by children and teenagers or for guest rooms where additional sleeping arrangements come in handy.
How to Buy Your Storage Bed Using eBay
Storage beds of all types are found at brick and mortar furniture stores, but in order to comparison shop, it is necessary to visit many stores to see all the models available locally. For this reason, many people choose to shop for storage beds online. There are hundreds of models of storage beds sold by reputable sellers on eBay at any given moment.
Finding the storage bed to suit your particular needs is easy to accomplish by using the advanced search tools available on eBay. You can begin your search by going to the eBay homepage and enter your keywords in the search box. Searching with a specific term like "trundle storage bed" results with more relevant search results than simply entering "storage bed".
Regardless of how you choose to conduct your search, eBay has powerful search tools available to find and purchase your next storage bed. Once you find what you are looking for, use eBay's feedback rating system to make sure you choose one of the many five-star sellers with an established history on eBay.
Conclusion
The storage bed was invented because of a need to utilize every bit of space aboard sailing ships, but they found a niche in modern furniture because of their usefulness. Storage beds are now designed for many different needs from attractive yet functional bedroom furniture for adults to play-and-storage areas for children. Some models are reminiscent of the captains' beds on ships long ago while others feature hidden compartments and mechanisms to lift the mattress for easy access to the storage space. Still, others are intended to accommodate a guest bed which easily rolls out when needed.
Combinations of these types are constantly being created to meet the needs of consumers. In particular, there is some overlap between bunk bed models and storage bed models for children. Storage beds are available at standard bed heights as well as raised loft bed heights. The greatest selection of storage beds is available online, making sites like eBay popular with those who want to shop from the comfort and convenience of their homes. With all the information provided, shoppers can easily find storage beds that perfectly suit the décor of bedrooms in their houses.