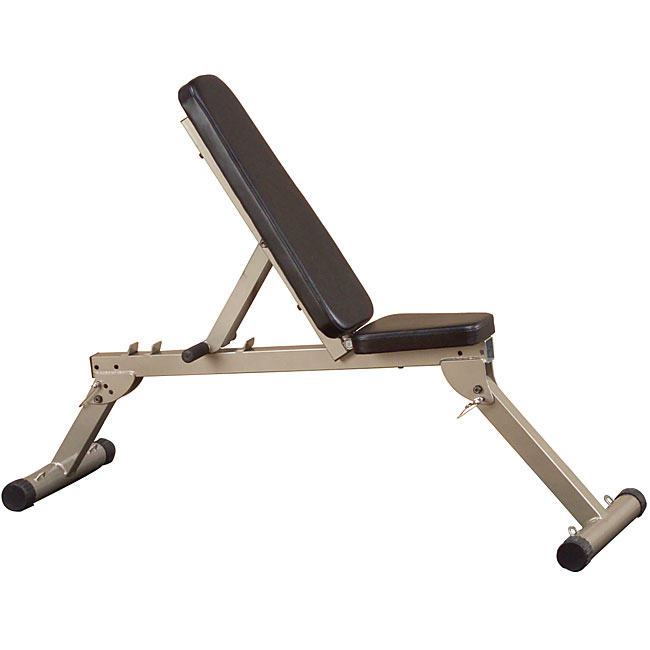 Training for strength and muscle building at home can be quite hard to do with the lack of equipment and space. However, getting your hands on a strength training bench allows more options for strength training, such as using one's own body weight, dumbbells and barbells.
There are a few different variations of strength training benches available on eBay and depending on what the user wants to gain, and what muscles they are likely to train the most will help to decide which bench is the best one to buy. There is a massive selection of strength training benches and weight lifting accessories available in the Exercise and Fitness category on eBay, and this guide will show a buyer how to use the benches properly, which ones are best for different exercises and which benches will be suitable for different budgets.
How to Use a Strength Training Bench
A strength training bench is a staple of any home gym and is a pivotal part of hundreds of different weight training exercises. It is important to know how to use the benches properly to ensure good form and make sure that you are training safely. Some great tips for using a strength training bench are:
Experiment with the bench angles; setting the bench to a decline or incline allows for different part of muscles to be worked, especially when it comes to working on the chest.
Use the bench to support the muscles and spine; using the padding on the bench to support yourself whilst performing an exercise is essential to prevent injury and ensure good form. Arching the back while lifting weights can cause real problems after a while of training, so be sure to make sure the back is firmly against the padding of the bench.
Only use the bench for lifting weights; strength training benches are for using weights only and shouldn't be used for step aerobics.
Always keep your feet flat on the floor to ensure you are stable whilst performing an exercise, and don't lift weights with your back.
Only lift weights with your feet in the air if the weight is light and you are not a beginner. This can be extremely dangerous and cause damage to your core muscles.
With these tips in mind, it is easy to choose from the range of strength training benches available on eBay.
Types of Strength Training Benches Available on eBay
There are a number of strength training benches available on eBay that help to target specific muscle groups or can be used for general use. The following are available to buy in the Sporting Goods section on eBay:
Flat Bench
These are the most basic exercise benches available, as they have no additional features other than cushioned support. These benches are great for all exercises that can be performed lying down or bent over, such as the dumbbell chest press, dumbbell rows and tricep extensions. Flat benches are generally inexpensive and easy to store.
Incline Bench
Incline benches allow the user to lay back with their head at a higher level than their hips. These benches are similar to flat benches but are adjustable to an incline, which helps to target different areas of the body. Incline benches are great for incline chest presses and incline dumbbell bicep curls.
Decline Bench
These benches are completely the opposite of the Incline benches in that they are adjustable to allow the user to lie back into a position, so that their hips are at a higher level than their head. They generally have a footrest in order to keep the user stable whilst performing exercises with heavy weights. Use decline benches for exercises such as decline chest presses, abdominal crunches and decline leg lifts.
Dumbbell Weight Benches
Dumbbell weight benches are specifically designed for lifting dumbbells and are not suitable for barbell exercises. They do not include racks to hold heavy barbells and are just used in a similar matter to that of a normal flat bench.
Preacher Curl Weight Benches
Preacher Curl weight benches are specifically designed to help work on the biceps and allow for the arms to be stable during the exercise. These benches are normally used with Olympics bars or EZ curl bars. They are generally small and easy to remove from the bench, which makes them great for a decent workout in the home.
Abdominal Weight Benches
Ab Weight Benches are used to work the abdominal muscles only. They can be used horizontally or declined and have a footrest at the end to keep the user stable while performing sit-ups or oblique raises.
Olympic Weight Benches
Olympic weight benches are heavy-duty benches that are designed to support the standard seven foot, 20kg Olympic bars. They are a lot wider than the other weight benches available and offer the most padding for fantastic support whilst lifting seriously heavy weights. Olympic weight benches are always found in gyms and may be difficult to fit in the standard home. These benches are for the real enthusiasts who want to lift heavy weights and get a great full body workout.
The whole range of strength training benches listed in this guide is brilliant for lifting dumbbells. When choosing the right bench, it is so important to consider what amount of weight is going to be used, what exercises will be performed, where the bench will be in the home and where it will be stored. Safety is absolutely paramount when lifting weights, so make sure to pick a bench that is capable of carrying your body weight and the weights being lifted.
Common Exercises for a Strength Training Bench
With all of these benches, there a few common exercises that are great for enhancing strength and building muscle. Some of the best exercises to do on all of the different variations of weight bench include:
Dumbbell Bench Press
Lie down on the bench and push the dumbbells towards the sky and lower the weights slowly. This exercise is great for the chest and the biceps and is one of the most used exercises in the gym.
Shoulder Press
Sit up on the strength training bench and push the dumbbells towards the ceiling, and slowly lower the weight to shoulder height for one rep. This exercise works the shoulders, triceps and upper back really well, and it is important to push into the padding to support the spine.
Bicep Curls
Perform bicep curls by sitting on the bench upright and have the weights at waist height and curl the weight up to the chest and slowly lower down back to the waist for one repetition. This works the biceps and is important for upper body strength.
Dumbbell Rows
Place one knee onto the bench and hold the dumbbell with the opposite hand. Bend forward and with a straight back lift the dumbbell towards the sky, keeping your upper arm parallel to the floor at all time. This will work the upper back, so it is important to keep great form.
Tricep Extensions
Lie down on the bench facing the ceiling. Push a barbell upwards and slowly lower the weight towards your head by bending your arms at the elbows. This will target the triceps and it is very important to use a weight that can be controlled easily, as the weight can potentially fall on your face.
Conclusion
There is a large range of strength training benches to look for and buy, so one needs to consider what exercises they will be doing and how heavy the weights need to be. This is because the user will need to pick a bench that will take their weight, as well as the heft of the free weights too. Using these benches correctly will help the user to improve muscular strength, endurance and mass. Many of the brilliant weight benches in this guide can be found in the Exercise and Fitness category on eBay.