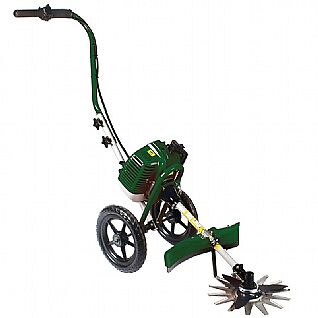 There are two major considerations for anyone thinking of buying a strimmer. The first is what the strimmer is going to be used for, and the second concerns the characteristics of the strimmer.
Uses of a Strimmer
Strimmers are typically used for a number of tasks in and around the garden. Not only used for cutting the grass that a regular lawnmower has trouble reaching, they can also smarten up the edges of a lawn and hack back overgrown weeds and vegetation. Trimming the borders and bases of trees or hedging is also useful and, most importantly, they can be used for the areas where it would otherwise be dangerous to use a lawnmower. Having decided what the strimmer is to be used for, there are a few more elements to be factored into the decision-making process regarding the area to be strimmed.
Size
The larger the area the strimmer is required for, the more powerful the model needed. If the strimmer has too small an engine for the work to be done, it may overheat in the short-term, necessitating breaks in the work while it cools down. Even worse, prolonged use may result in engine strain in the medium- to long-term, thus shortening the lifespan of the appliance.
Location
This is an important factor to consider when deciding whether to have a corded or cordless strimmer. Cordless strimmers can be taken anywhere, but corded strimmers can only operate within the radius provided by the length of electric cable attached to the machine, thereby limiting the work that can be done.
Type of vegetation
Some strimmers are more heavy-duty than others, as reflected in the price tag, and while they are able to carry out all the tasks outlined above with relative ease, they are not necessary if the purchaser only wants a bit of lawn edging. A lighter, less powerful model is perfectly adequate in such situations.
Frequency of treatment
For those who anticipate a lot of work in the garden, a more powerful model is recommended. Those who see themselves just touching up the lawn edges once a fortnight can rest easy with a model from lower down the range.
Strimmer Power Sources
Strimmers are powered by petrol, electricity, or battery.
| | |
| --- | --- |
| Petrol | Petrol-driven strimmers are the most heavy-duty. They are primarily used for cutting down tough, overgrown vegetation, and strimming patches of rough land. They are heavy, due to their engines, and require more strength to operate. They also produce more vibration and noise. As they run on petrol (four cylinders), or a mixture of petrol and oil (two cylinders), they produce fumes, and fuel supplies need to be kept on the premises. They can be used for all strimming tasks, but represent overkill for people who only perform jobs that come into the gentle gardening category. |
| Electric | Electric strimmers are generally light and easy to work with. They do, however, have two potential drawbacks. The user has to be within range of a suitable power supply, and care must be taken not to accidentally cut the cord while working. They are competent for most suburban gardening tasks. |
| Battery | Being cordless, battery strimmers can be used anywhere. However, a fully-charged battery can last for as little as twenty-five minutes and take several hours to recharge, so the operator needs to always have a spare battery or two available, just in case. The weight of the battery can make the machine a little heavy for some. Again, they are suitable for most regular gardening jobs, but only those that can be completed in a short space of time. |
Strimmer Characteristics
Whichever model is eventually chosen, the purchaser will need to run through the specifications of those of special interest and make comparisons. The characteristics deemed of most importance depend upon which of the aforementioned tasks the strimmer is intended for. Strimmers not only come in a variety of types, but also in a bewildering selection of different models, and each person must make their choice based on the requirements of the tasks to be performed and the specifications of the various strimmers available on the market.
Model Specifications
It is important to check the specifications of the exact model to avoid purchasing a strimmer which is unsuitable.
Width
For cutting large areas, a wide cutting swathe is required, while a smaller swathe is suitable for such tasks as trimming up a neat lawn and delving under hedges, as it gives greater manoeuvrability.
Weight
Not all strimmers weigh the same, and it is important to buy one which can be comfortably operated, as well as lift and carry around without any bodily stress or strain.
Balance
In order to be properly balanced, and easier to handle, a strimmer's weight should be evenly distributed, or heavier at the top. If it feels heavier at the base, it will result in control problems.
Height
For maximum comfort, the handle or shaft has to be at the correct height for the user, so one should be chosen that is adjustable in order to reduce strain on the back. Furthermore, other people can use the strimmer and adjust the height to suit themselves.
Handle/Shaft
Small, light strimmers can be operated with one hand, so long as there isn't much work to do, but it's best to buy one with a second handle as this gives more control and keeps the appliance steadier. The shaft shape can also vary in that it can be straight or curved. A straight shaft furnishes the user with a longer reach and is better for cutting under hedges, bushes, and fences, while a curved shaft tends to be lighter and easier to handle, and better for work around flower beds.
Cutting line
The choice here is automatic or manual. Automatic means that the line is fed through when required, for example, when it breaks and more is required. Manual means the operator has to do it herself. Replacement also varies. With some models, the worn out or broken line is replaced, while others have an integral spool which is removed and replaced when the time comes.
Power source
The choice of petrol, electric or diesel may be wholly dictated by the work that has to be completed. However, most purchasers are able to apply their own personal preference when choosing a machine.
Safety
Everyone has to pay close attention to safety when operating a strimmer, so purchasing models with such features as a harness, shoulder strap, or cutting head guard is definitely worthy of consideration.
Adaptability
It's possible to buy strimmers that can take attachments, so by removing the strimmer head and attaching a metal blade, for example, it can be turned into a brushcutter. This is obviously useful if the purchaser has a large plot that presents a variety of tasks.
Price
A quick look on eBay will show the range of prices available. Generally speaking, the more money the model costs, the better the machine. However, there are exceptions and, as explained above, price is also an indicator that the model may not possess the correct power for the jobs in hand.
Accessories
Some models have certain accessories as standard, while others offer them as add-ons. Such items include vegetation guards to prevent the operator accidentally damaging plants, wheels for moving the heavier models, adjustable strimmer heads, and translucent fuel tanks.
Making the Purchase
Having decided what the strimmer is required for, the characteristics that it must possess, and the amount of money that is available to make the transaction, it's time to check out exactly what is available on the market. It may be worth considering buying secondhand, as some excellent bargains can be had. A good place to start is eBay, as there are always an enormous number of machines for sale, both new and used. However, before allowing any money to change hands, more research is required. In such circumstances, it is often wise to consult friends and family on their experiences with strimmers. When the decision has finally been made, it's time to look for the best price. It may well be found in the bricks-and-mortar stores, but to make 100 per cent certain, go to a site like eBay, to hunt down the best bargain.
Finding Strimmers on eBay
Go to the eBay homepage, hover on the Home & Garden tab in the left-hand menu and click on the Home & Garden link that appears in the sub-menu. Next, hover on the Garden tab in the left-hand menu and click on the Power Tools & Equipment link that appears in the sub-menu. Then, click on the link for Strimmers in the left-hand menu. That brings up the first page of strimmer listings. These can be viewed in the order in which they appear, or the search can be refined by checking suitable characteristic boxes in the left-hand menu. As an alternative, the specific item required could be entered in the search box at the top of the page including brands like Black & Decker.
Conclusion
A strimmer is a very powerful tool that can help any gardener to achieve very good results in a short space of time. Everyone's requirement is different, depending upon what needs to be strimmed and the area it covers. While there are many aspects to consider before making a final purchasing decision, it shouldn't be difficult to find a strimmer that's suitable for the task, as there is a huge choice on the market, both new and used, and at all prices.