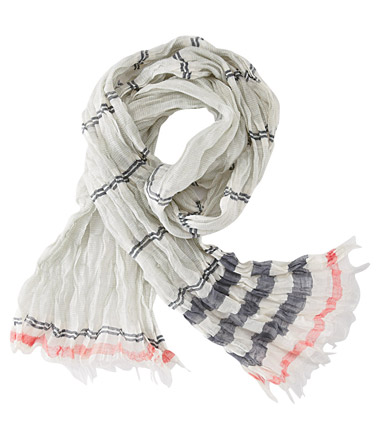 A lightweight summer scarf is the perfect accessory to round off an outfit. Aside from adding a little bit of colour or sophistication to the wearer's look, a summer scarf is handy in a chilly air conditioned office or in the evening. The right summer scarf can add an element of fun to an outfit without adding a bulky layer that is too hot for the season.
Consider the weight and type of fabric used for the scarf and find the right size to dress an outfit up or down. Colours and prints can be subtle for a more elegant look or bold and bright for a summery feel. The colour chosen should suit the wearer's skin tone without creating a washed out look. Finally, learn how to tie the scarf for the best effect. Summer scarves are available from fashion and department stores and online from sources like eBay.
Summer Scarf Fabrics
A summer scarf should be lightweight and not as warm as a winter scarf. Breezy fabrics are perfect for summer as they look and feel appropriate for the season. Popular summer scarf fabrics include silk, chiffon, polyester, acrylics, cotton, silk/cashmere blends, lightweight knits, linen, and rayon. Natural fabrics, such as silk, cotton, and linen, tend to breathe better than synthetics, keeping the wearer cooler in hot or humid conditions. Chiffon and rayon can be used for a romantic, floating look. Keep the wearer's preferences and dress style in mind when choosing a summer scarf and select a fabric that suits her favourite outfits.
Scarf Fabrics for the Occasion
Fabrics like silk and chiffon are more suited to formal occasions, while cotton gives an outfit a more casual feel. Chiffon, silk, and rayon tend to snag easily and are delicate. Cotton, linen, and polyester are more durable and tend to last longer. Similarly, a sleek scarf is generally considered more elegant than a scarf with a fringe or tassels.
Caring for Scarf Fabrics
When choosing a fabric, always keep laundering in mind. Some fabrics are more delicate than others and require additional care. For example, cotton is more durable and easier to launder than silk. Synthetics are usually stain and crease resistant, but stains are difficult to remove from some fabrics, like polyester. Choose a fabric that is the wearer is willing and able to care for properly.
Summer Scarf Sizes
Summer scarves are available in a range of sizes, with some large enough to double as shawls. Generally, the smaller and more delicate the scarf, the more formal it is. A thin, small silk scarf can be worn with a dress blouse, while a larger cotton scarf would overwhelm the outfit and make it look more casual. Formal scarves can be used to turn a casual outfit into a smart-casual one, while casual scarves can be used to dress down smarter or more formal ensembles. Finally, take into account the wearer's personal preferences. Some people may find a larger scarf cumbersome or irritating, while others may not like the look of a smaller one. This also applies to the length of the scarf, with some people preferring a shorter scarf to a longer one.
Summer Scarf Colours and Prints for the Wearer's Skin Tone
Summer scarves come in a variety of colours and prints. Solid pastels and bright colours are popular during the summer season, as are floral and graphic prints. Traditional autumn or winter designs, for example red tartan, is not suitable for summer wear. Bright colours convey a sense of fun and exuberance, and can be used to add a splash of colour to a plain outfit. Similarly, graphic prints can be added to make a plain outfit more summery. Neutral colours and light pink are popular choices, but the tone should complement the wearer's colouring.
The right colour scarf makes the wearer's skin and hair look healthy and complements her eye colour. Imperfections are downplayed, reducing the need for make-up. The wrong colour makes the wearer look drained, highlights imperfections, and overwhelms the face. Those who are unsure of the wearer's colouring should take note of the colours of her favourite clothing and the effect that they have on how she looks. Most people know what colours make them look good and tend to be drawn to these shades without necessarily knowing why. Taking note of the prevalent colours in the wearer's wardrobe is also an excellent way to choose a scarf that is versatile and complements a number of outfits. Colouring is categorised according to the four seasons.
Scarf Colours for Winter Skin Tones
Women with winter colouring tend to have dark hair, darker eyes, and pink or blue undertones to the skin. Bold, cool colours work best with this colour group, and orange and gold should be avoided.
Scarf Colours for Summer Skin Tones
Women with summer colouring usually have light brown or naturally blonde hair, with pale eyes and pink undertones to the skin. Cool colours and pastels look good with this type of colouring, but black, white, and bold colours should be avoided. Bold colours can overwhelm summer colouring.
Scarf Colours for Autumn and Spring Skin Tones
Women with auburn or dark red hair, dark eyes, and skin with golden undertones fall into the autumn category. Those with strawberry blonde hair, light blue or green eyes, and light skin with freckles fall into the spring category. Women with autumn and spring colouring have similar golden skin tones and look their best in warm colours. Autumn colouring allows for bolder colours, but both look good in camel, brown, green, and gold.
How to Wear a Summer Scarf
A summer scarf can be worn in a variety of ways and does not require a special knot. The scarf can be knotted loosely to resemble a long necklace or knotted closer to the throat. A longer scarf can be looped around the neck a number of times to create a full, layered look. A scarf knotted under the collar of a blouse creates a neater, more formal feel. Adding a brooch, pin, or other decorative item personalises the scarf and adds sparkle.
Summer scarves can also be worn as belts, headbands, or hair accessories. A long, thin scarf tied in a knot or bow works best as a belt, while a similar scarf can be rolled up into a headband. It can be tied at the base of a ponytail to give a severe hairstyle a feminine, summery touch. A larger scarf can be folded and worn like a bandana, or can double as a wrap and worn across the shoulders in cool weather. This look works well with a rectangular scarf or a square one folded into a triangle. Larger scarves can further double as tops or sarongs on the beach.
Buying a Summer Scarf on eBay
Buying a summer scarf on eBay is easy. Simply type a keyword or search phrase, for example "flower print summer scarf", into the search bar that can be found on every page to see the available listings. Select the most appropriate category and item characteristics to narrow the search results. For more control over the number and type of listings displayed, use the advanced search function to refine your search.
Evaluate the Item and the Seller
Before you buy on eBay, evaluate the item and seller. All the information that you need to do this can be found on the item listing page. To access this page, simply click on an individual listing. Here you will find everything that you need to know about the item, including its description and any photos, the buying options available, postage and packaging costs, the seller's accepted payment methods, the seller's returns policy, if any, and the seller's feedback. If you have any questions about an item, contact the seller by clicking on the "Ask a question" link.
eBay's seller feedback feature is designed to let buyers see what previous customers have had to say about specific sellers' products and customer service. Detailed seller ratings supply additional information about the seller's communication, whether the item description was accurate in the listing, whether the postage and packaging costs were reasonable, and how long the seller took to dispatch the item.
Conclusion
A summer scarf can be used to pull an outfit together, with the benefit of keeping the wearer warm on cooler days. The fabric chosen should be lightweight and not too warm. A heavy scarf makes the wearer uncomfortable and fidgety, and constantly pulling at the scarf lessens its overall effect. Silk, linen, cotton, and other natural fabrics and blends tend to breathe well, keeping the wearer cool. Floatier fabrics such as chiffon and rayon create a romantic look. Remember to take the fabric's durability and ease of care into account while shopping.
Summer scarves are usually available in bright or pastel summer colours, in solid, graphic or patterned designs. The colour chosen should add an element of fun to the outfit and be appropriate to the season. The colour and pattern should also complement the wearer's colouring. Women with summer and winter colouring generally look their best in cool colours, while those with spring and autumn colouring look best in browns, greens, and golds. Summer scarves do not require special knots to be worn. They are versatile and can be used as belts, hair accessories, and even in place of traditional clothing. To find the perfect summer scarf, browse through the huge selection available from eBay sellers.