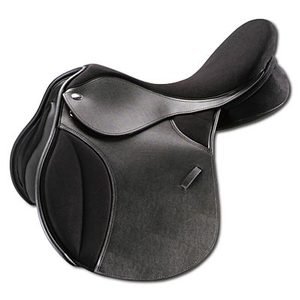 Horse riding is ever a popular sport, and over the last few years saddles materials have been moderated. Saddles are traditionally made from wood and leather, but many riders are choosing to buy synthetic saddles for a number of reasons. Synthetic saddles have a number of advantages which new and experienced riding are discovering every day.
This guide aims to explore the different types of synthetic saddles available on eBay, and how to go about buying one. A good synthetic saddle will open up a world of new riding for new and experienced riders alike.
Parts of a Synthetic Saddle
Synthetic saddles differ only a little from traditional leather saddles in the parts they are made up from:
| Part | Description |
| --- | --- |
| Tree | The 'back bone' of the saddle, this is not visible as it is covered with synthetic suede like material and padding. Some synthetic saddles are 'treeless' which is a feature selling point. |
| Gullet | This is the curved 'tunnel' under the saddle, this fits over the horse's spine but does not touch it, as this is to avoid unnecessary pressure. A gullet on a synthetic saddle may be removable. |
| Pommel | The highest point of the saddle at the front. |
| Seat | The curved part where the rider sits, some seats in synthetic saddles are removable for each cleaning and for adjustment. |
| Cantle | The back of the saddle which is higher than the seat to give the rider some stability. |
| Kneel Roll | This is the padding at the front sides of the saddle to give the rider some comfort when riding. |
| Stirrups (various parts) | These hold the riders feet securely to the saddle by means of a metal foot rest which is attached to the saddle. Stirrups with synthetic saddles aren't made from leather. These are adjustable depending on the rider's height. |
| Saddle flap | The large leather flat on which the stirrups rest, but under the saddle flap is where the girth is placed. |
| Girth | The leather strap by which the saddle is secured to the horse. It is buckled into place under the saddle flap. |
Some synthetic saddles come with both leather and synthetic parts, but this will be detailed in the description of the listed item.
Types and Sizes of Synthetic Saddles
Synthetic saddles make a fantastic choice of saddle for riders of all experiences because they are found to be much cheaper than traditional leather saddles. When budget is a concerning factor in choosing a saddle, the synthetic saddle presents many advantages such as easy to clean and maintain. On eBay it is easy to view the different types of synthetic saddles. Different disciplines within horse riding require different styles, these can be:
General Purpose Saddle- these are an mix between a saddle that is used for flat work as well as more vigorous activities like hacking and jumping.
Jumping saddle- jumping saddles often have more padding in the knee area and the seat is often more forward to allow the rider to get into jumping position more easily.
Dressage-dressage saddles have long leg flaps to accommodate the longer leg position required of the rider.
Western style-distinguishable with a 'horn' at the front for the rider to hold onto.
Treeless Saddles- these treeless saddles are a new type of saddle which does not have the wooden curved frame found in traditional leather saddles.
Below is rough guide of what saddle size to get for adults based on height and size. Before purchasing a saddle on eBay, it is advisable to go see a synthetic saddle in person and try different styles and sizes to see which feels most comfortable.
| Rider Height | Ladies (dress size) | Men (waist size, inches) | Suggested saddle size |
| --- | --- | --- | --- |
| 5'2 | Below 6 | Below 28 | 17 |
| 5'4 | 6-8 | 28-30 | 17/17.5 |
| 5'6 | 10-12 | 32-34 | 17.5 |
| 5'8 | 14-16 | 36-38 | 18 |
| 5'10 | 18-20 | 40-42 | 18.5 |















The size of the saddle is based on the width and length of the saddle. The width is measured by the width of the 'gullet'. This measurement is:
Narrow (space for a clenched fist with no space.)
Medium (space for a clenched fist +2 cm either side.)
Wide (space for a clenched first +3cm either side.)
The length of the saddle is measured from the middle of the 'cantle' to the metal stud on the 'skirt' of the saddle, the size is measured inches rather than cm. The table above gives a rough indication of what size saddle to look for the rider.
Advantages and Disadvantages with a Synthetic Saddle
Synthetic saddles have many advantages:
Price of synthetic saddles means a rider can try new styles of saddles for reasonable price, rather than spending more on a single general purpose leather saddle. Riders who enjoy eventing can have a range of saddles to suit different disciplines.
Synthetic materials on the saddle do not need the same care as a leather saddle, simply wiping down with a damp cloth after use.
Synthetic saddles with removable gullets are ideal for fitting a saddle well to the horse. Some synthetic saddles come with spaces to allow for padding which can help with horses with high withers or odd shaped backs.
Synthetic saddles can come in a wide range of colours which is appealing to riders who like to customise their tack.
The disadvantages to a synthetic saddle are not many but are worth considering:
Synthetic saddles are often more ideal for day to day use, but for eventing traditional leather saddles are often the preferred choice for professional horse riders. It also depends if the synthetic saddle is accepted for certain disciplines. It is advisable for the rider to check these rules before entering a competition with a synthetic saddle.
Synthetic saddles don't have as long a life span at leather saddles, which with proper care can be passed down in families. Synthetic material may wear and rub after a long period of time and cause some discomfort for the horse.
How to Buy a Synthetic Saddle
To begin a general search for a synthetic saddle to browse the variety of brands, go to the eBay homepage and type 'Synthetic Saddle' into 'Sporting Goods'. The range of item subtypes is seen down the left hand side of the page, and from this a variety of options may be selected.
Ideally with the above information used, a specific size of saddle could searched for to bring down the range. Search 'Synthetic saddle 17"' to bring up a range of saddles in that size. The various subtypes on eBay under 'Equestrian' in 'Sporting Goods' are:
All-purpose saddles
Dressage Saddles
Endurance Saddles
Jumping Saddles
Eventing saddles
Western saddles
Treeless saddles
With the help of the subtypes, the selection process can be narrowed down to the correct saddle needed. If entirely unsure of what use the saddle maybe for, a general purpose saddle is a good option to begin with. Saddles can also be selected by brand. The most popular ones are listed at sub types, and many experienced riders feel comfortable with a certain brand. As is often with the case of equestrian goods, it is advisable to research brands on the internet and see which ones are most reliable.
The buying options vary with the type of seller, whether private or an online store selling through eBay. 'Buy it now' and 'bidding' with vary with the type of seller. Bigger sellers are more likely to have positive feedback and better returns policy for trying the saddle. Good sellers should offer to exchange a saddle as buying one from eBay means the buyer cannot see how the saddle looks and decide if it is a good fit.
Two main factors to think of when buying a saddle is the condition. The condition of the saddle can be listed as 'new' 'used' or 'unspecified.' Buying a used saddle is an option often under taken by new riders who wish to try a different style of saddle without going out of their budget range? There are several points to consider when buying a used synthetic saddle:
Is the condition of the item good?
How much use has it had?
Will the saddle need any repair work or extra parts buying for it?
For someone buying their first saddle on eBay is would be advisable to find out the exact measurements of the saddle needed and what width is suitable for the horse. A synthetic saddle is an ideal choice for a new buyer, as well as for an experienced horse rider willing to try a new style of saddle.
A used saddle is an excellent option for an experienced rider wishing to try out an new type of saddle. It is advised to carefully look over the condition of the saddle and made a purchasing decision based strongly on how it looks. There should be no obvious faults, if there are then the seller should provide pictures showing any damage and state it in the description.
When also buying a used saddle, consider the distance to travel if the item cannot be posted or sent via courier. Search for listings in the same postcode area to reduce disappointment if an item is too far away.
Accessories and Caring for a Synthetic Saddle
Many synthetic saddles don't come with stirrups so it is suggested to have a look at the range of stirrups available for synthetic saddles. The safest types of stirrups are the ones which are open at one side, so the chance of being dragged is drastically minimalized. Synthetic stirrup leathers can be bought from the same sellers who stock a range of synthetic saddles. If unsure of which type to purchase, contacting the seller and asking questions can clear up any doubts.
When storing a synthetic saddle a normal saddle rack is ideal. These can be purchased on eBay for varying amounts in new and used conditions. To search for an ideal saddle rack type in 'saddle rack' in 'Sporting Goods' to view a wide range. Saddle racks can be free standing or fixed to walls for maximum storage options.
For cleaning a synthetic saddle it is best to avoid using too much water as the moisture may stay locked in the fabric for a long period. After each ride wipe the saddle down with a damp cloth. For heavier stains use some soap and water with a damp sponge to gently remove the worst dirt and mud. Look to dry in a shaded place rather than in full sunshine.
Conclusion
For the rider wishing to explore new saddle options, eBay is the ideal buying platform to use. Looking for synthetic saddles is easier and the option to narrow down listing depending on brand and condition etc. is the perfect way for a horse riding enthusiast to find the perfect synthetic saddle.
Inexperienced riders may make a purchase on eBay with a reputable seller knowing that the synthetic saddle will be exactly what they are looking for. eBay has reduced the need to travel to specialist saddles shops and the buyer will not be pressured into a purchase they are not comfortable with.
The pleasure of horse riding can be enjoyed for a long time to come with the perfect synthetic saddle which has been bought with every confidence.