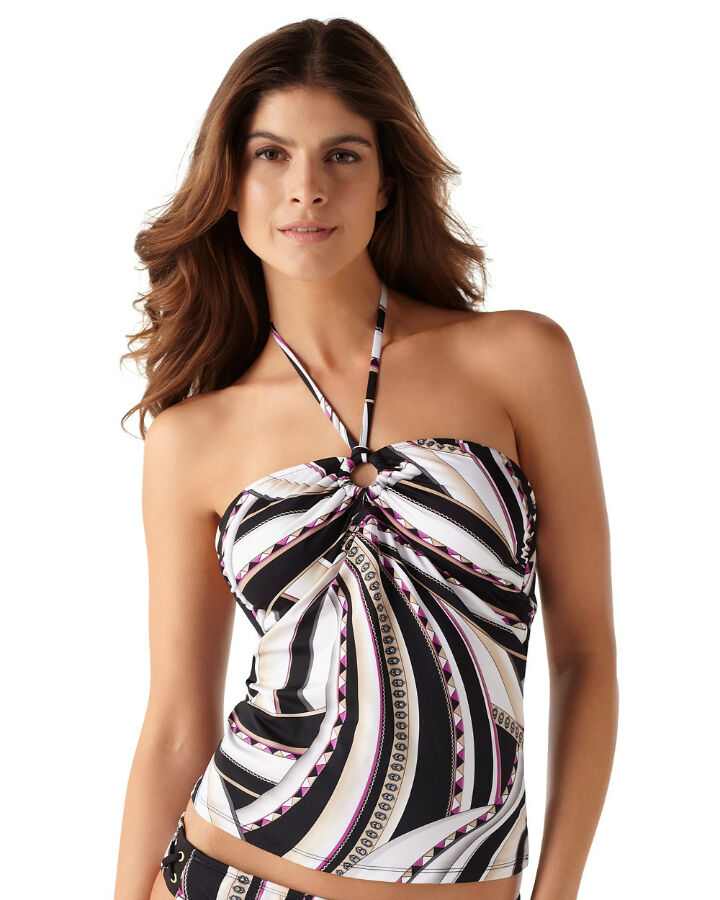 A tankini is the perfect solution if you want the coverage that a one-piece swimsuit provides, but you want to reveal a little more skin than the traditional one piece. A tankini is a two-piece swimsuit, but it doesn't show as much as a bikini. Tankinis can be flattering for women of all body types, if you select the style that accentuates your figure and body type. Many brands make tankinis, and they come in various styles, colours, and price ranges.
Once you determine which tankini style is right for you, selecting one you like is simply a matter of personal preference. Make tankini shopping easy on eBay and skip the stores and harsh glare of the dressing room lights. Purchase the perfect tankini from the comfort of your home and get more bang for your buck. Tankinis are the perfect middle ground between bikini and one piece for you summer swimwear choice. Tankinis are the perfect solution for women that aren't interested in the full coverage of a one piece, but want to cover more than a bikini; there are several varieties that will flatter every body type.
What to Consider Before Shopping for a Tankini
Before shopping for a great tankini for your body type, consider sizing. If you've had a swimsuit in the past then you probably know what sizes fit you best. Since a tankini top is similar to a bikini, it may be helpful to know your bust measurement when shopping for a tankini, and even your waist and hip measurements, too. Take a soft tape measure and record the numbers after you've measured, to use them as a guide while you're tankini searching.
Keep a price point in mind when you're shopping, if you're on a budget. If you are looking for a more affordable tankini, stick to brands that are known for being good quality swimsuits at low prices, such as Marks & Spencer tankinis.
Different Types of Tankini Tops
Tankinis do not just come in one type; they come in an array of various styles, cuts, and colours. Find the right tankini for you to emphasise your most positive body qualities and make you feel comfortable, confident, and beautiful on the beach. There are tankini tops that will help lift larger breasts and offer support, or add cleavage to smaller bustlines.
Halter Tankini Top
A halter style tankini top has wide, thick straps and fastens around the neck. This can be a good choice for women with large breasts, as the straps will be very supportive. The halter top provides support and coverage for big bustlines, and a tankini top with an underwire will give much needed lift for the breasts. A halter tankini top can come in several neckline styles, such as a straight cut horizontal neckline, a deep V neckline, or a shirred neckline, which can add drama.
A shirred or ruched neckline can also add something to a smaller chest and make the chest look a little bit larger if desired. A halter tankini top can work well on any frame, but is extremely flattering for a medium to large bustline. A halter top is perfect for plus-sized women.
Push Up Bra Top
A push-up tankini top is akin to a fabulous push up bra. It can support what you do have, and give you what you don't. This is a good bet for small chested women that want to appear to have an hourglass figure. Added padding gives a boost to the chest, and an underwire can provide lift and support. Push up tankini tops offer a little more in the way of sex appeal, if that's something that interests you.
A push up top will create fabulous, sexy cleavage and lift it, too. It gives the illusion of a fuller bust for women that are lacking in the chest area. A push up tankini top is generally made with a strap on either side similar to a bra. Ruching around the bust area can also add to the effect of a larger chest. Some tankinis have removable padding; so larger women could still wear the top comfortably without the extra additions of padding.
Plunge Tankini Top
A plunging neckline on a tankini top oozes sex appeal and is only for the confident wearer. This style make work best on women with small to medium chest size, and a plunge tankini top should have an underwire and support so breasts don't fall out or become uncomfortable. For a more conservative look, small busted women can enhance their look with a plunge top, but larger breasted women may need more support that a deep plunge neckline simply may not offer.
Slim women can add embellishments to their tankini top such as ruffles or bows to create more of a shape; larger women should stick to clean lines and no fuss when it comes to a tankini.
Different Types of Tankini Bottoms
Tankini bottoms, or bikini bottoms, range from modest and flattering to extremely sexy and body bearing. Wear the type of bottom that feels good to you and flatters your curves without emphasising the parts you don't feel as good about. There are three common styles of tankini bottoms.
Purchasing a tankini top separate from the bottom allows the buyer to create the perfect tankini, if that option is possible.
String Bottom
The most revealing type of tankini bottom is the string tankini bottom, which is the type of bottom that offers very little in the way of coverage and support. It's tied on each side with strings, and this type of bottom really only works on very slim women. String bikini bottoms can be uncomfortable on very curvy women, but on women that have a boyish, lanky, or more athletic figure, or very petite women, they can be very flattering. Select this type of bottom if you are in one of those categories; otherwise, you may need a tankini bottom with a bit more coverage for your bottom.
Some string bottoms have rings on each side or tie with large bows. These accoutrements should only be added to bottoms for women that are very small in that area because they will draw attention and add bulk to the figure.
Low-Rise Bottom
Still sexy but not as minimal as a string bottom, a low-rise bottom provides more coverage but is still revealing. If you don't have issues with your belly, wear a low-rise bottom. If you do, they really do not offer anything in the way of tummy coverage, and they are comparable to a pair of bikini underwear. Low-rise bikini bottoms can also fold over for a different look.
A woman with a fuller figure can wear a low-rise bottom, but the top of the tankini should be long enough to meet the bottoms so no unflattering bulges are seen. A low rise bottom can be great on a woman with a larger bottom, because the way the bottom sits on the hips can create a slimmer line on the bottom half of the body.
Mid-Rise Bottom
A great mid-rise tankini bottom hides a problem tummy. To camouflage this area more if it's a problem for you, select a mid-rise bottom that has a bit of ruching to it. One great style of mid-rise bottom for women that aren't comfortable baring their tummies is the boy short. Boyshort bikini bottoms are fun, cute, and they offer more coverage on the stomach and bottom area, creating a more satisfying shape.
Skirted Bottom
A skirted tankini bottom is the perfect solution for a woman that's not comfortable with her hips or thighs. This adorable bottom perfectly hides those areas and can also offer extra coverage on your bottom for a more comfortable and supportive fit. Draw the eye upward with a brighter colour on top or a flattering pattern or choose a neckline that will create confidence. Skirted bikini bottoms aren't dowdy anymore; they often have little drawstrings, bows, or ruching that allows you to control how low the skirt goes and make it look a little cuter and more flattering.
If you're small busted, create a cute tankini by wearing a push up style top and a skirted bottom for the most figure-flattering look for a bottom heavy woman.
How to Buy Flattering Tankinis on eBay
Show some skin but still remain modest in a tankini. Tankinis are not just for a certain type of women; there are endless options for women of every shape. They are a lot more forgiving than a bikini, and will provide the support and comfort you need while still looking sexy and ready for the beach. To find the perfect tankini for you on eBay, search tankinis. Narrow the search to Women's Clothing, and from there, you can customise your search by selecting Tankini Sets, Tops, and Bottoms. Create your own set by mixing and matching tops and bottoms, or purchase a set that already looks amazing. Search by size, brand, cup size, or colour until you find the tankini that's right for you.
Only purchase a tankini from eBay's Top-Rated Sellers, and check their feedback to make sure you can purchase with confidence. Look for sellers that are local to you, and see if you can arrange a personal pickup for your tankini. This will alleviate shipping costs and create a more personal buying experience. See if the seller has other items you can bundle with your tankini, such as other tops or bottoms or swimsuit cover-ups. Bundling items from one seller together into one shipment can often reduce the cost of shipping.
Conclusion
Don't think that just because you don't feel bikini ready that means you can't be sexy and confident in a swimsuit. A tankini is the answer for women that don't want to bare it all but still want to look beautiful on the beach or at the pool. Create lovely cleavage in a push up tankini top, or add support to your large chest with wide halter straps. Choose flattering colours or prints to create the best tankini for your body type. There are many options when it comes to purchasing the perfect tankini, and instead of dealing with a million stores and horrible dressing room lighting, make the tankini shopping experience less painful by searching for your new tankini on eBay.
Whether you're small and boy shaped, or curvy and busty, there is a great tankini for you that will emphasise the positive, and de-emphasise the negative. Purchase a couple of different tops you can wear with one pair of bottoms, or mix and match several different styles that you want to try. With the low prices on eBay, it will definitely be tempting to try more than one tankini.