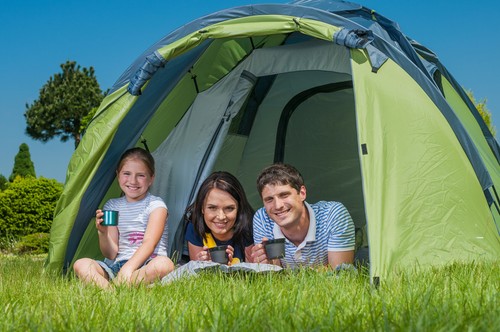 Tarpaulin, often colloquially referred to as 'tarp', is a strong sheet waterproof material which has a wide range of uses, in camping and beyond. Tarpaulins have been used to protect furniture from paint, secure transported goods and even to hide graffiti on trains. In camping, tarpaulins are often used both as ground sheets to keep water out of tents, or as versatile, self contained shelters.
Tarpaulins can offer an inexpensive, useful tool for many kinds of camper, whether as part of a larger, heavier tent, or as a shelter by itself for campers concerned with the weight of their pack. Whatever a tarpaulin is needed for, one can be found in the wide range offered by eBay.
Tarpaulin Materials
Whether a tarpaulin is to be used as a groundsheet or as a shelter, they must hold up to conditions like any other camping equipment. It is important that the material should be waterproof; indeed keeping campers and equipment dry is perhaps the primary function of a tarpaulin. Tarpaulin also needs to be sturdy, and able to withstand the great deal of wear and tear that it will inevitably face. This strength has the added benefit that tarpaulin can provide shelter from wind, which is important if the tarpaulin is to be used as a shelter. As a general guide, the higher the GSM (Grams per Square Meter) of a tarpaulin, the stronger and more resilient that tarpaulin will be.
A variety of materials are used in camping tarpaulins, such as canvas made waterproof with wax. Plastic is often used in modern camping tarpaulins, such as laminated polyester. Many of the less expensive kinds of tarpaulin are woven entirely out of plastics such as polypropylene, a plastic used so widely in tarpaulin that amongst some it has come to be known as 'polytarp'.
This more inexpensive material can be heavier for its size, though all tarpaulins are generally among the lighter equipment a camper may need to carrier. Tarpaulins are often available in a wide range of colours, including patterns such as military camouflage. The particular colour a camper may choose is a personal choice, and has little impact on the utility of the tarpaulin.
Another key defining characteristic of tarpaulin is the presence of holes, or 'eyelets'. These are holes uniformly space around the edges of the tarpaulin, usually reinforced with metal grommets in order to maintain the structural integrity of the material. These eyelets allow for the tarpaulin to be secured, be it into the ground with pegs or suspended as a shelter with the use of equipment such as guy ropes.
Groundsheets and Footprint Tarpaulins
Groundsheets are used to keep water out of tents, and to ensure that campers and equipment remain dry. Waterproof and strong, tarpaulins are widely used for this purpose. Size is important to consider here, and a groundsheet tarpaulin should match the size of the tent. If a groundsheet is too large, there is a risk that the surplus material could catch rain water and bring it into the tent. If it is too small, it may not provide adequate protection from the wet ground.
While modern tents often include a sewn in ground sheet, tarpaulins may still be useful. Using a tarpaulin in this situation enhances the protection from the elements, whilst also protecting the sewn in groundsheet from being damaged by sharp objects in the ground. It also prevents the sewn in groundsheet from becoming dirty, which can be a convenience as it means there is less washing to be done once the trip is over. In this instance, the tarpaulin is often referred to as a footprint tarpaulin, or footprint groundsheet.
Tarpaulin Shelters
Many campers prefer the comfort a fully enclosed tent provides, and are willing to deal with the extra weight a full sized tent adds to their pack. For some, such as ultra light backpackers, who aim to carry the minimum of equipment, weight is an important issue. Others simply prefer to camp in a more open shelter.
For them, tarpaulin shelters offer an excellent alternative to a full tent. Tarpaulins and the pegs and rope required to create the shelter are lighter than full tents, meaning less weight needs to be carried. Tarpaulins are also cheaper than tents, and it is safer to light a campfire at the opening of a tarpaulin shelter, or to cook under one. For those who want to travel light, or feel closer to nature, a tarpaulin shelter may be a good choice.
There can, however, be situations where tarpaulin shelters may not be appropriate. While the lack of enclosure can bring a sense of being closer to nature, it also affords no protection from insect life. If a camping trip may go through areas with a great deal of insect life, a full tent may be a more appropriate choice. This is also the case if camping in busy campgrounds, or in very bad weather.
With a tent, the design of the shelter has already been done, making the job of setting it up an easier one. This is not the case for tarpaulin shelters, and it can take skill and practice to correctly set up a tarpaulin shelter. It can also be more important to take environmental considerations into account when establishing a tarpaulin shelter, such as taking advantage of dips in terrain or natural windbreaks, which provide protection from the wind.
Tarpaulins are available in both square and rectangular shapes, and in a range of sizes. While different shaped tarpaulins may be more suitable for certain kinds of shelter, both can generally be used for any kind of tarpaulin shelter set up. The suitable size can vary depending on the number of people who will be using the shelter. While more experienced campers can get more use out of less material, approximately 8'x 10' is considered to be a good size for a typical, single person shelter.
If the additional weight is not an issue, it may also be worth considering taking an additional tarpaulin to use as a groundsheet, to protect against damp ground.
Additional Equipment
To get the full use out of a camping tarpaulin, a variety of additional equipment may be useful:
For groundsheets or shelters, a supply of metal tent pegs will be a necessity, and a mallet to hammer them in place may also be useful.
Guy ropes may be needs to secure a shelter. Alternatively, bungee shock cords may be used. These can be useful as they allow for more give in the event of a strong gust of wind, which reduces the stress placed on the reinforced holes in the tarpaulin.
For tarpaulins made of plastic, waterproof tape may be useful, as this can be used to quickly repair any rips in the tarpaulin material. It can be important to do so quickly, as any tears in the material may allow water through the tarpaulin.
To repair broken eyelets, or make additional ones in the tarpaulin, an eyelets kit may also be useful, particular in instances where the construction of a shelter may require more eyelets than are already present in the tarpaulin.
Finding a Tarpaulin on eBay
eBay offers a wide variety of camping equipment, including a range of tarpaulins which can be used for a variety of purposes, including use as groundsheets or shelters. The entire listing of available tarpaulins can be found under Camping in the Sporting Goods section. Here, tarpaulin can be found in Accessories. The listings can be filtered, arranged by distance to seller, location of seller, condition, and price.
Key specifications of a particular tarpaulin are generally prominently displayed on an item listing. This includes specifications such as the size, material and whether it has a specific intended purpose such as for use as a ground sheet. This makes it easier to quickly ascertain whether or not a particular item meets any important requirements. It is also possible to access further information on a particular item's page, along with information about the seller such as customer feedback and item reviews. This ensures a purchase can be made in confidence. On this page, it is also possible to ask the seller any questions about a specific item.
To find a specific tarpaulin, be it by colour, size or any other required specification, it may be easier and more effective to use eBay's search function available at the top of every page. Searching for a tarpaulin here will bring up the closest available matches to what is needed. For further information on effective use of the search function, visit the Search Tips page.
Conclusion
Tarpaulins are a versatile, useful addition to any camper's equipment. They provide a light, waterproof and sturdy material which can be used to keep equipment and campers dry, and warm. As a groundsheet or footprint, tarpaulin provides an additional layer of protection from damp, muddy ground and adds relatively little in terms of weight to what a camper has to carry. Tarpaulin can also be used as a versatile shelter, which is useful in a variety of situations and can be swiftly set up by an experienced and skilled camper. Tarpaulin has many potential uses, and a range of different tarpaulins are available on eBay.