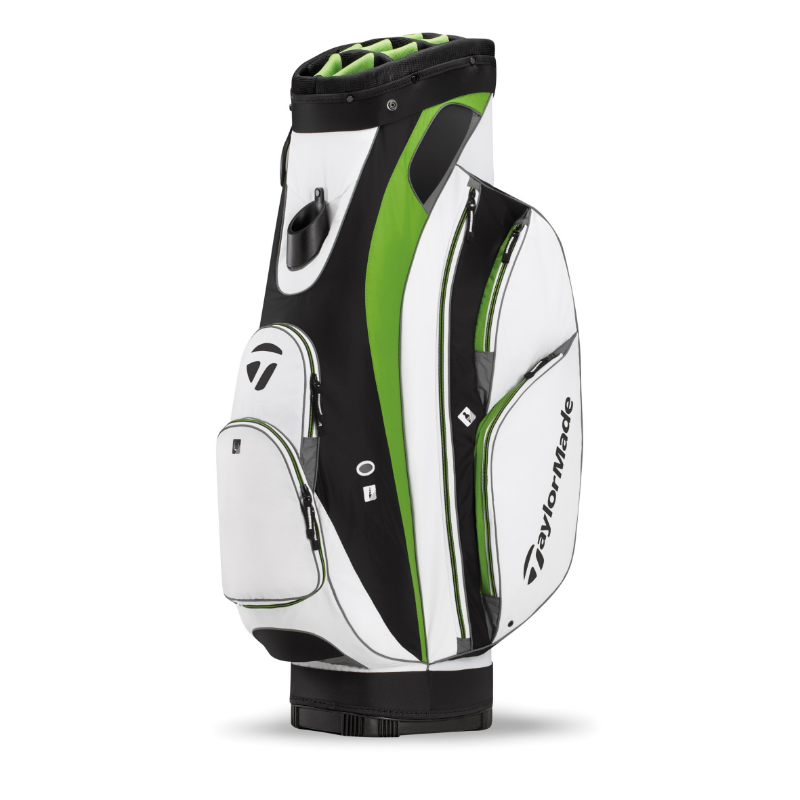 TaylorMade is one the most recognisable golfing brands in the world, having big sponsorship deals with renowned professional players and exposure at all the leading tournaments. From its beginnings in the late 1970s, the company has progressed from only selling specialised metal drivers to having numerous golfing products on the market. This guide will concentrate on one of these products, the golf bag, and how to obtain one from eBay.
eBay is the leading auction marketplace on the Internet. Its simple nature allows users to browse through the extensive collection of items efficiently and potentially find something for lower than the market average. The eBay Safety Centre provides all the information needed to safely complete a transaction on the site.
What is a Golf Bag For?
Professional players are allowed to use up to 14 clubs on a course at one time; this isn't achievable without a suitable bag to carry them in. For amateur players who won't require this amount of clubs, bags are still needed for the range of shots that they may come up against. Drivers, irons, wedges and putters are all an imperative part of a player's game.
They come in a variety of styles and are made from different materials, although nylon and leather are two of the most popular substances used for modern bags. They can include a number of pockets and compartments to help with transporting equipment, as well as the main section used to store the clubs.
Golf bags at the higher end of the market will have more refined design features, such as full-length dividers to prevent clubs from entangling. Sleeves or pockets will also allow clubs to be easily removed from the bag, allowing the player to concentrate more on their game rather than messing around with their equipment in between shots.
Types of TaylorMade Golf Bag
When shopping for TaylorMade golf bags on eBay, the results page allows you to choose the type of bag required. This table below will look at these and also provide an example that has been produced under the TaylorMade brand.
Golf Bag Type

Description

TaylorMade Examples


Carry Bag

The carry bag is the traditional kind of bag used by amateur players, intended to be carried by the player themselves around the course. It is the simplest type to use, often with two straps fitted to even out the weight over the shoulders. Most modern models have a slim line and light design to make transportation of equipment as easy as possible.

- Pencil bag

- Quiver bag


Stand Bag

A smart enhancement to the carry bag comes with the stand bag version. It is able to support itself if required, with retracting and foldable legs that allow the bag to remain upright when not being used. This feature makes it much easier to find and replace clubs and also keeps the bag from getting dirty against the floor.

- Pure Lite bag

- Stratus bag

- Micro Lite bag

- RocketBallz bag

Cart Bag

For players who play on large courses, cart bags are manufactured to attach to golf buggies or carts. Because of this, they have less concern with minimising weight or maximising comfort for the user. More features, pockets, covers, etc can be incorporated though into the sturdy design. Cart bags are often known as trolley bags also.

- Juggernaut bag

- Catalina bag

- R1 bag

- Triton RBZ

Staff Bag

A lesser-found type of bag with amateur golfers is the staff bag; it is generally professional players and their caddies that use them. They are generally much larger than other bags with much room for every type of club and other accessories. They are sometimes referred to as a tour bag.

- R11S bag

- TMX bag

- Apollo bag
TaylorMade Bags for Women
TaylorMade also manufacture bags for women golfers, a market which has improved considerably from the start of the century. They are tailored to suit the body shape and physical ability of a female, as well as having more feminine colour schemes and designs.
Stand bags are a popular choice for women to relieve some of the pressure during a potentially long and tiring golf round, such as the female PureLite model. Other TaylorMade golf bags can be found in female versions, although they are not as common as men's.
Buying Consideration
Now the various types of golf bags have been reviewed, there are still some more buying considerations to think about before committing to a purchase.
The initial aspect to look at is whether the bag is actually needed in the first place. For example, if only playing golf sporadically and at a recreational level with friends, simply carrying the bare minimum of clubs around the course is achievable. Likewise, perhaps even sharing clubs or a golf bag with playing partners could be an option as well.
The majority of players will not adhere to this, however, and feel much more comfortable with their own clubs and bag when playing. With this, think about how often you regularly play golf and which type of bag is needed to assist with the course played at most often.
By doing this, a reflection on how much to be paying should also be considered. Due to the quality of TaylorMade bags, other kinds of bags can be found for less but may not fulfil your expectations and may even need replacing at a later date. Simple carry bags can be found for around £35 at the lower end of the market, whilst stand bags can reach figures up to around £200. Larger staff and cart bags sometimes stretch over £300 for top of the range models.
Consider what type of player you are also. Some golfers like to have the option of using a variety of clubs for different shots. This means that easy access into the bag is required on a regular basis without them tangling together. Look out for TaylorMade bags with full-length dividers or those with 14 way dividers too for more enthusiastic players.
Many bags will come with different sections and compartments that can help players carry around equipment much easier. It isn't only clubs that are needed for playing golf; spare balls, tees, scorecards, pens, towels as well as any food and drink are also useful for golfers over the eighteen holes. Look out for bags with additional storage space. Also, TaylorMade covers can prevent the bag and items inside from rain during wet conditions.
Shopping in sports or specialist golf stores gives the advantage of viewing the TaylorMade bag first hand and seeing how it fits on your body. Using the Internet, however, can be more beneficial in the sense that an increased variety of choice can be compared. Prices are generally lower too, especially if buying on eBay, and items will be delivered to the front door.
Using eBay to Buy a TaylorMade Bag
To perform a search on eBay, type in a word or phrase into the search bar at the top of any eBay page. In this instance inputting "TaylorMade golf bag" will bring up the most favourable results.
The left hand side of the page will show a menu in which refinements to the search can be made. Golf bags will fall into the 'Golf' section of the 'Sporting Goods' category. By selecting this and then 'Golf Bags' from the next screen, irrelevant results will be eliminated and also bring up further preferences to choose between.
Some of these include the type of golf bag needed, be it a carry/stand or cart/tour bag, for example. If selecting one of these then a further option appears to select the amount of dividers and pockets the bag should include. Think about how many clubs will be realistically needed, along with the amount of personal possessions and equipment required, and pick out the appropriate selection.
The condition of the bag can be selected too. Naturally, better deals may be found with used items so select this if you are okay with buying a second hand item. Bringing up the Auction only listings as opposed to the 'Buy It Now' ones can also help with this. If a price budget has been set then eBay also allows users to set a maximum limit – TaylorMade bags under £100, for example.
After considering the appropriate preferences noted above, you should be ready to check out individual bags and review them in more detail. Read their description as carefully as possible, especially for used items, as some bags may be worn out or even faulty. Contact the seller if unsure about any of its details, as well as the postage and payment requirements. Paying with PayPal is the recommended way to complete a transaction also.
Conclusion
eBay is a quick and easy way to purchase a TaylorMade golf bag, a manufacturer with an esteemed reputation in the golfing world, who will guarantee a high degree of quality in their products. Narrowing down the listings on the site will present more desirable results and allow you to find the perfect TaylorMade bag in line with some of the aspects noted in this guide. For more information on how to improve your skills when hunting for golfing products, be sure to check out eBay's Search Tips page.