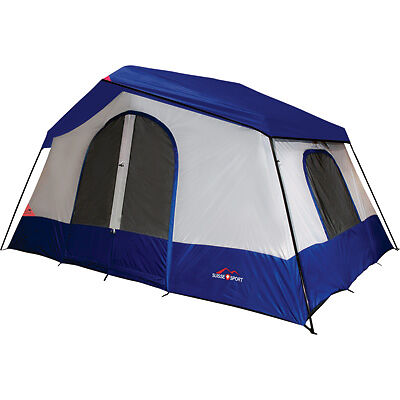 The most important consideration for extreme weather camping is the capacity to be protected from the elements. In cold conditions, heat preservation is crucial and in excessive conditions can even be the difference between life and death. Lighting open fires for warmth inside the tent is not an option.
This guide will detail how to buy a tent for colder climates and also give some tips on how to stay warm when the temperature drops. eBay has many different kinds of tents suitable within its online marketplace to supply the UK market.
Main Components of a Tent
Here are some of the different parts that make up a tent; knowing each one can help with buying and also setting up a tent easier.
The poles of a tent are used purposely for support and keep the tent upright when set up. Poles can be either rigid or foldable so keep this in mind when coming to buy. If the tent being considered is big, are there means in place to transport the larger poles if they are not foldable?
The main body inside where people will sleep is called the inner tent. Their purpose is to provide warmth and keep out precipitation.
Some inner tents are assisted by flysheets which are used to keep out rain. It is waterproof on the outside and collects condensation on the inside. It should not be in contact with the tent it is covering which will keep it completely dry.
To provide support on the floor and protection from the potentially wet surface, a groundsheet is necessary for comfort. Some tents come with a capable groundsheet already equipped whilst others need to be bought separately. If buying individually, be careful of where they are positioned as they can allow excess water to seep into the tent if encroaching outside its perimeter.
To attach the tent to the ground and assist with support, pegs or stakes are required. They also help maintain the tent's shape. For larger tents, some pegs may require a mallet to hammer them into the ground. This may be compounded by the fact that, in cold weather, terrain may be extra hard. Take this into consideration when planning a journey.
The vestibule is a part of a tent which is not necessary but can be extremely useful when planning more advanced trips. It provides cover outside the inner tent for equipment which will keep it safe from the elements and also provide more living space inside.
There are plenty more accessories that can come with a tent such as air vents, pole tensioners and sleeves, ground straps and also reflectors. Checking on eBay will show all of the available first and second hand pieces of equipment for tents.
Considerations for Cold Weather Camping
Camping in colder conditions requires a bit more preparation than more regular trips might require. Planning the journey beforehand can make the difference between an enjoyable and a disastrous trip.
- Firstly research the route and carefully check the weather forecast for any severe warnings.
- How long will it take overall and are there manned bases nearby?
- Camping with others is a good safety precaution to take that can increase safety.
- The sleeping bag is majorly important. Check out the details of it and whether it has an extreme temperature indication. It is best to be too warm rather than too cold.
- Make sure the ground-mat is as comfortable as possible to place under the sleeping bag.
- Wear suitable clothing and footwear. Putting on different layers of waterproof materials can help keep you warm in certain climates.
- Finding areas to pitch the tent that have natural wind protection is a shrewd way of keeping strong winds away from the tent.
- If camping in snowy conditions then consider the chance of avalanches.
- Don't buy a tent that is too tall as it is best to keep your body filling up as much space as possible to generate heat.
- Can it be set up easily in cold conditions? If the tent requires a lot of effort to pitch the cold weather may make this a lot harder. Set the tent up beforehand in the garden or park as to be sure it is easily pitched.
- How many people are going to be sleeping inside the tent? Will there comfortably be enough room? Perhaps a vestibule will be required as to move bags and equipment outside the inner area to provide more space.
Features of Cold Weather Tents
The main characteristics for cold weather tents are designs that keep it warm inside and safe from any excessive weather. They usually have a low profile and steeper sides. Pole structure is as hard as it can be.
Look into the different materials that make up the parts of a tent, some are better to deal with colder weather than others. For example, PVC coated nylon groundsheets are heavy and can provide more comfort on colder, tougher surfaces. Also think of the flysheets and the fact that some materials, such as silicon coated nylon, can provide more protection from precipitation. Even if these cost more it still might be worth spending extra to guarantee a safer and more enjoyable camping trip in cold conditions.
Potential strong, icy winds can be dispelled with tent wind barriers. These are known as windbreaks and form a protective barrier around the tent that can help resist storms which can form in freezing climates.
As protection from the elements is the key aspect when coming to buy a tent for cold weather conditions, it may be tempting to overload the outer walls with protective materials and flysheets. However, one of the biggest annoyances with tents is the excess of condensation that can occur inside; make sure the tent has enough vents and mesh panels to deal with this. Although sturdy yet well ventilated tents may be more expensive, it will enhance a colder camping trip tremendously. Check on eBay if some of these higher-end brands are available at a more affordable price.
Tent heaters are a valuable accessory for heating up a tent and are safer than gas appliances which can produce carbon monoxide.
Ratings of Tents
Some tents come with a season rating as to assist with the purchase. There are four season ratings that tents can be labelled but for cold weather camping then 'Season 4' type tents are the safest bet when coming to make a purchase. They are sometimes classified as mountaineering tents where the climates are potentially more dangerous.
They are made of more durable materials than the other types of tent. They will predominantly have at least four poles which will be made to withstand tough winds. Dome shaped tents are common. The pegs are designed to stay more firmly attached into the ground.
Where to Buy Cold Weather Tents From
Tents can be bought easily enough from sports shops with camping sections or from specialist outdoor stores. It is best to get first-hand advice from experts who know what they are talking about. Don't feel pressured into making a purchase in store however if unsure of anything. Check online and read the opinions of other campers who may have used the tent in question.
There is nothing wrong with trying to get the best deal possible for the budget set. Buying from eBay provides the best chance of this happening as it has plenty of second-hand tents from other trusted sellers. Professional tent outlets also list on eBay which may provide more detailed analysis of the tent within the item's description.
All the recognised tent brands are available within its listings such as Vango, Gelert, Coleman, Outwell and Sunnycamp. Decently made tents can last for years so it may not necessarily matter if they have been used before. eBay also provides the option to ask the seller a question so be sure to do to ensure a more confident purchase.
Be safe when using eBay and read the description of the item carefully. Check out the seller's history and feedback rating to ensure a safe transaction. PayPal is a trusted payment method to use also.
Conclusion
Cold weather camping can still be enjoyable if the preparation is done beforehand. There are many different designs of tents on the market such as frame, ridge, dome and pop-up tents. Look into each of them and consider what is best for the intended journey. Some will be more suitable than other; a lightweight pop-up tent will not be able to sustain high winds for example.
As the tent will be the difference between a successful camping trip, spending too little to save a few extra pounds may not be wise. Shoddy poles or an insufficient flysheet may not protect at all from the weather and can potentially even be fatal. However, just because a tent is pricey doesn't mean it will be the best option. Analyze what it will be used for and how often and adjust the budget accordingly.