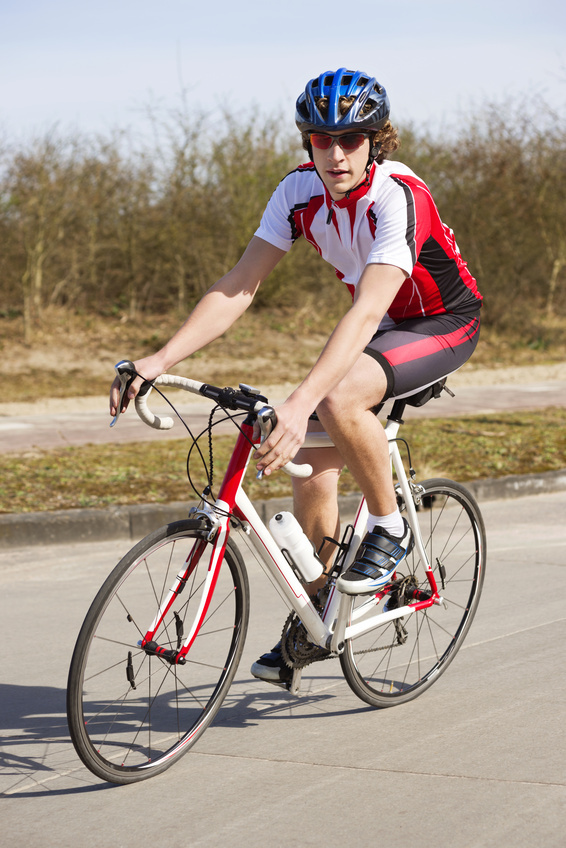 Cycling jerseys are jerseys specifically designed to offer optimal comfort when riding a bike. These lightweight pieces of clothing can offer a number of features to cyclists, keeping them warm in the winter, or cool in the summer, as well as being designed to handle moisture from sweat, and to avoid being caught on any part of the bike. Thermal jerseys are often designed with an emphasis on retaining body heat.
Bicycle jerseys are available in a range of types, styles and colours, and can be suitable for different cyclists. Bicycle jerseys can feature short or long sleeves, suitable for different weather, as well as zips, or pullover designs. Also available are jerseys made out of synthetic fibres, natural materials, or a blend of both, offering different properties. A wide variety of bicycle jerseys, as well as other cycling clothing of all types, can be found on eBay.
Types of Bicycle Jersey
There are a number of different types of bicycle jersey that are widely available. These can be more suitable for different riding conditions, while different cyclists may find different types of jersey more comfortable.




| | |
| --- | --- |
| Long Sleeved | Long sleeved jerseys feature full-length sleeves, which cover the whole of the cyclist's arms, typically up to their wrists. Many thermal jerseys feature long sleeves, and these jerseys can be more suited for colder weather, or rain. The long sleeves may catch on parts of the bike, or add additional wind resistance, unless the jersey is of a tight fit. |
| Short Sleeved | Many jerseys are available with short sleeves. These can often be more suited to warmer weather, as they leave a larger part of the cyclist's arms free. Some cyclists prefer this type of jersey as they find them less restrictive. Short sleeves jerseys are available in a wide range of colours and styles, and are among the more popular types of cycling jersey. |
| Sleeveless | Sleeveless jerseys take a similar form to vests, and have no sleeves at all. These can be most suited to hot weather, and can also offer less wind resistance. However, uncovered arms are left exposed to the riding conditions. For example, sunscreen is recommended if it is a sunny, bright day. |
| Zipper | A popular type of jersey is the zipper jersey. A zipper jersey can be easier to take on and off, particularly if the jersey is of a tight, form fitting design. Some jerseys may feature zips which go part of the way down the top, while others will include zips which go all the way down, making the design of the jersey like that of the jacket. Zips on a jersey can also add some ventilation, which can be helpful in warmer weather. |
| Pull Over | Alternatively, pull over jerseys are also popular and widely available. These jerseys do not feature a zip, and instead have to be pulled over the head to be worn. The lack of a zip means that there is slightly less ventilation, which can be helpful on thermal jerseys, if they are being worn in very cold weather. Tight fitting jerseys can be harder and less convenient to get on and off without a zipper. |
| Hooded | Also available are jerseys, which feature hoods. Hoods can be useful, both for keeping warm in cold weather, and helping to keep the head dry in rain, or snow. These jerseys are generally of a loose fit, and are more suitable to recreational and casual riders. The added wind resistance from the hood makes this type of jersey less suitable for athletic and racing riders. |
Thermal Bicycle Jersey Fits
Bicycle jerseys are available in three main different types of fit, which can be suitable for different types of cycling, as well as different weather.
| | |
| --- | --- |
| Relaxed Fit | Relaxed, sometimes called loose fit jerseys are similar in design to ordinary casual t-shirts. Some cyclists find this fit of jersey easier and more comfortable to get on and wear, though they are less effective at retaining body heat and dealing with moisture. These jerseys will also generate more drag, making them less suited to competitive and athletic cycling. |
| Club Fit | Club fit jerseys are those which have a tightness in between the looser relaxed fit jerseys and the more tightly fitting race fit jerseys. They offer a balance of aerodynamics and comfort, though can be harder to find. Club fit jerseys can sometimes be referred to as relaxed fit jerseys. |
| Race Fit | The tightest fit of all available cycling jerseys are race fit, sometimes referred to as 'tights'. This kind of jersey offers optimal aerodynamics, with no loose fabric, and also offers the highest efficiency in both dealing with moisture and in retaining heat. However, some cyclists find them uncomfortable, and they are not necessary for casual riding. |
Also available are jerseys that are designed to fit comfortably for different sexes. Jerseys are available to fit men and women, whilst unisex designs are also available. Additionally, children's jerseys are also widely available.
Cycling Jersey Materials
One of the key elements of a thermal bicycle jersey is the material out of which it is made. There are three main types of material that are commonly used in bicycle jerseys. Most jerseys feature material that is designed to offer a 'wicking' effect, where moisture, like sweat, is absorbed from the body. This works best on tighter fits of jersey.
| | |
| --- | --- |
| Natural Fibres | Some jerseys make use of natural fibres such as cotton, or wool. Some cyclists feel that these materials can be effective at allowing the body to cool itself through natural perspiration, though they may not be as effective at removing moisture, and some natural fibres could lead to the cyclist getting very hot in warmer weather. |
| Synthetic Fibres | Many modern jerseys make use of synthetic fibres, such as polyester or nylon. These materials are designed to be effective at removing moisture through the 'wicking' effect, by absorbing the moisture to the surface and allowing it to evaporate. This is particularly effective on tighter fits. |
| Blend | Some jerseys are made out of a blend of natural and synthetic materials. These can offer the properties of both synthetic and natural fabrics. |
Other Cycling Clothing
Many cyclists choose to combine a cycling jersey with other cycling clothing into a comfortable outfit that is highly suited to bike riding. Some of these include:
How to Buy a Thermal Bicycle Jersey on eBay
A wide range of cycling clothing, including jerseys of different types of fit, type and material, can be found on eBay. The full listing of available bicycle jerseys can be found through under Cycling, through the Sporting Goods portal. Jerseys can be found in the Cycling Clothing category. Items can be arranged by categories, such as brand, type and size, as well as by price and condition. The Auction and Buy it Now buying options are also available for selection, offering flexibility in how a bicycle jersey can be purchased.
Important information about a jersey will generally be prominently displayed in the item listing, making it easy to quickly establish if the item meets any requirements. Further information about an item can be viewed on the item page, along with information about the seller such as item ratings and feedback reviews.
This helps to ensure that a purchase can be made with confidence. If further information is required, it is also possible to ask the seller a question about the item here.
If a specific bicycle jersey is required, it may be easier and more effective to make use of the search function available at the top of every page. Searches can be made within a specific category, or to return results from across the site. Further information on getting the most out of the search function can be found on the Search Tips page.
Conclusion
The bicycle jersey is a highly useful piece of cycling clothing for all types of cyclist, be it a casual cyclist who commutes to work on a bike, or an athletic or racing cyclist. Jerseys are designed to keep the cyclist dry and comfortable by helping moisture to evaporate, while thermal jerseys are available, which can be highly useful in keeping a cyclist's upper body warm during cold weather. A wide array of jerseys, as well as other cycling clothing, is available on eBay.