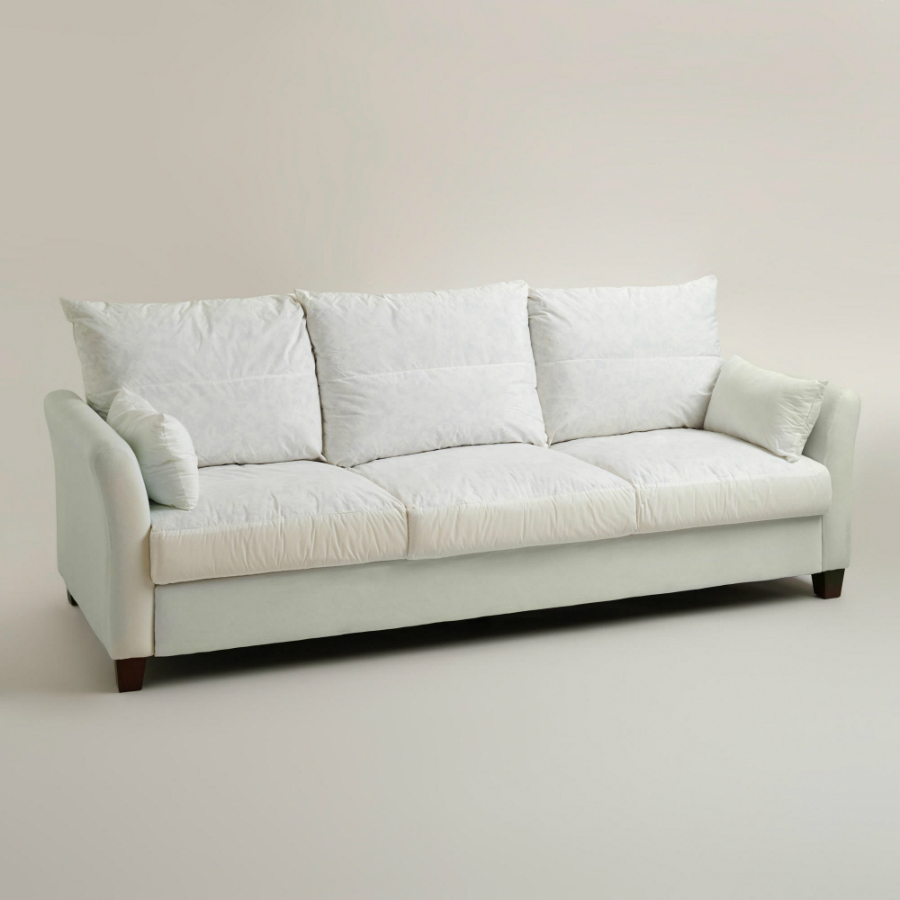 The sofa, now a ubiquitous element in home furnishing, first appeared in Europe around the turn of the eighteenth century. Production occurred on both sides of the English Channel, and the earliest surviving sofa is an English piece that dates to the 1690s. Although there are no surviving French pieces from that period, they dominated production, first developing the "canapé", a low-backed, lightly padded version. One merchant coined the word "sofa", after the Arabic word for cushion. Advances in both woodcarving and upholstering techniques made sofas more sophisticated and comfortable. They were marketed to modern households as objects for leisurely socialisation and relaxation, with advertisements depicting elegant women in casual reposes.
Today, sofas still serve the same basic functions as they have for centuries. They are available in a variety of different styles, from traditional to ultra-contemporary, and in many different sizes and configurations. Three seater sofas are wide enough to comfortably fit three adults. This makes them a great size sofa for living rooms: they are useful for entertaining, relaxing, and even sleeping. When choosing a quality three seater sofa, there are several considerations to keep in mind. Being informed of their choices helps consumers find a quality sofa in a style that is just right for them.
Take Accurate Measurements
One of the first steps to take when shopping for a three seater sofa is to measure the area where it will be. One good method is to spread old newspapers around the space planned for the sofa. This helps shoppers visualise how much room the sofa will actually occupy, and then measure width and depth accordingly. Another major consideration that sometimes gets overlooked is the dimensions of door frames and hallways, spaces through which the sofa will need to pass during delivery. Shoppers should measure those and keep the numbers handy when looking at different couches.
Deciding on a Style for a Three Seater Sofa
When shopping for a sofa, there are numerous styles from which to choose. Sofas are decorative focal points, so it is vital that buyers find one that harmonises with the rest of their decor. Whether contemporary, traditional, or vintage, deciding on a sofa style helps streamline the process from the beginning.
Contemporary Sofas
Contemporary sofas tend to have low backs, geometric shapes, and exposed legs in metal or wood. While they may be less cushy than more traditional, overstuffed varieties, their sleek appearance makes a sophisticated statement.
Traditional Sofas
Traditional sofas take their inspiration from past centuries, with high, buttoned backs, rolling arms, and decorative turned legs. They may be dainty or opulent, and their comfort factor is generally quite high.
Vintage Sofas
Vintage sofas are a great way to create an accent piece in the living room. Whether choosing a mid-century modern piece with an emphasis on form and function, or a French or Victorian sofa featuring decorative fabrics and an ornately carved frame, opting for a vintage sofa means finding a unique piece of furniture with an enduring style and quality construction. Collectors' pieces by famous designers may actually appreciate in value.
What to Look for in a Sofa Frame
Finding a quality frame is possibly the most important step in buying a sofa. The best frames are made from hardwoods like maple, oak, elm, beech, birch, elm, and walnut. The wood should be kiln-dried, which eliminates 93 percent of its moisture, thus greatly reducing warping or shrinking. Many less expensive frames are made from medium-density fibreboard (MDF), an engineered wood that is heavier and less durable than hardwood. Pine is also lower cost, but tends to warp after five years.
The joinery is also very important. Look for sofas that are double- or triple-dowelled and glued, which ensures a square frame, and corner-blocked, meaning that triangular pieces of wood have been inserted at the corners, which prevents the frame from twisting. Shoppers should ask the sales representative for written information about the sofa construction, or research the construction online if shopping over the Internet.
Cushion Options for Three-Seater Sofas
In addition to the frame, cushion construction is another important part of a sofa. The two major factors are support structure and filling material.
Springs
There are a few different structural configurations of the cushion support. They vary in price, comfort, and durability, as outlined in the following chart.
| Support Type | Characteristics |
| --- | --- |
| Eight-Way Hand-Tied Springs | Most expensive variety; springs should be close together; those that are tied to a jute base are the most comfortable and durable |
| Serpentine or Sinuous Springs | Pre-assembled wire curves in S-form through the cushion; comfortable, but may press on frame or lose shape over time; more affordable than hand-tied springs and appropriate for sleeker cushion profiles |
| No Springs | Web or mesh constructions; least expensive version; can be comfortable at first, but tend to flatten |
Experts recommend hand-tied springs, but also say that serpentine springs are a fine option if they fit shoppers' budget better.
Filling Material
Shoppers also have different filling materials to choose from. Down and feather are luxuriously soft, but require plumping and some guests may be allergic to down. On the other hand, foam firmly supports the back but usually compacts over time. Combination fillings, like down and polyester fibre, or foam wrapped in fibre, are a good option for mid-range sofas. Cushions on high-end sofas, as well as some antique or vintage sofas, may have a layer of horsehair encasing the filling. Horsehair is durable, and creates a firm yet plump shape.
Sofa Cover Materials
There are several choices when it comes to sofa covers. Choosing a cover material involves deciding on texture, durability, appearance, and price.
| Material | Characteristics |
| --- | --- |
| Leather | Highly durable; quality leather improves with age; look for aniline or semi-aniline; expensive |
| Velvet | Luxurious, plush fabric; does not wear as well as crushed velvet |
| Crushed Velvet | Good alternative to velvet as it wears better |
| Chenille | General term refers to tufted fabric; may be natural or synthetic material; soft; wears well |
| Silk | Natural, lustrous fibre; fragile, snags easily; requires dry-cleaning; expensive |
| Wool | Natural fibre; durable; may require dry cleaning; may be expensive |
| Cotton and Linen | Natural fibres; fairly durable; generally machine-washable |
| Microfibre | Polyester-based; soft; highly durable, stain resistant, and machine washable |
Buyers should consult with the seller about fabric care requirements before purchasing. Durable fabrics that can be easily cared for are best for sofas that get a lot of use. If opting for wool, cotton, or linen, look for tough, densely-woven fabrics. Also, woven patterns tend to wear less than printed ones.
Removable or Fixed Covers
Some sofas have removable covers that slip off for easy care. Sofas with fixed covers are more difficult to clean.
Where to Buy a Three Seater Sofa
Once consumers have decided on a size and style of three seater sofa, and have an idea of the fabrics they are considering, they can browse different models in their price range in shops and online. It may be useful to try out different models in showrooms, as well as consult furniture experts and customer reviews. New sofas are available at furniture shops, department stores, and online through Internet merchants and auction sites like eBay. Vintage and used sofas can be found at vintage shops and second-hand shops, and there is a large selection online through vintage dealers and auction sites.
How to Buy a Three Seater Sofa on eBay
If you've decided to buy your three seater sofa online, eBay has a wide selection of new and used items at competitive prices. To start, go to eBay's home page and type keywords like "three seater sofa" into the search bar. eBay lets you then refine your results by selecting factors like price range, seller location, item condition, and more.
Before bidding on an item, read the product description carefully: it should specify frame, cushion, and cover materials. Also look for details on construction. If you have any questions, you can contact the seller via eBay. Postage fees can be costly and are separate from what you bid, so verify shipping conditions. Some sellers may require local pickup.
Always check the seller's feedback rating and read comments left by previous buyers who have purchased furniture from them. This can give you an idea of how reliable and knowledgeable the seller is. Top-rated sellers have excellent track records in customer service.
Conclusion
Sofas are often the centrepieces of a room, both decoratively and functionally. Three seater sofas are a perfect size for entertaining, or stretching out for a nap. When shopping for a three seater sofa, there are several steps to take.
The first is to measure the area intended for the sofa, and keep the measurements handy during the buying process. Next, shoppers should decide what style sofa suits their decorative taste: contemporary, traditional, or vintage. Perhaps the most important part of the selection involves finding the best materials and construction within one's budget. Buyers should inform themselves about the best frame material and joinery, cushion structure options, types of fillers, and various cover materials. Sofas should be durable as well as attractive, so shoppers need to find a balance between those factors. Weighing their particular decorative and usage needs helps in this process.
By informing themselves about the different available options, buyers can find the perfect three seater sofa for their home.