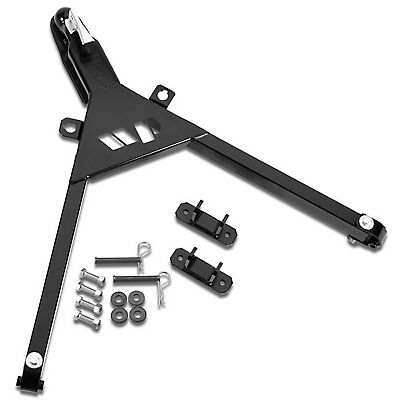 When it comes to flat towing a vehicle, a towing rope can be dangerous and cause a car to swerve on the road. It is much safer when towing to use a sturdy, heavy-duty towing bar. Towing bars are expensive items, but they are a worthwhile investment. A consumer can find a variety of towing bars for a reasonable price on eBay.
When a buyer is choosing a towing bar, there are a few important considerations to factor in. One is the shape and size of the towing bar and how it complements the vehicle that it will be placed on. The other is what types of vehicles the towing bar will be pulling and how much weight is involved. Most towing bars are adjustable, and this is a necessary feature for the consumer who plans to use the towing bar for various vehicles. A strong, sturdy towing bar is generally made of steel.
Some towing bars are meant for motorhomes and RVs, and some are perfect for smaller automobiles of various makes and models. A consumer is able to make pulling vehicles safe and easy with a towing bar, and find the right one from the various styles, shapes, and sizes of towing bars available to purchase on eBay.
Browse Towing Bars by Car Model
There are some manufacturers who offer towing bars made to fit specific models of cars, such as Ford towing bars or Vauxhall towing bars. They are specific to certain model years and makes, so a buyer should check carefully that the towing bar can work on the existing vehicle.
This is a simple way to select a towing bar for a consumer who is not familiar with the various types of towing bars, because the specific nature of the towing bar means that it fits the car model it is meant for, and it takes the guesswork out of selecting a towing bar by style or brand. Once a buyer has navigated to towing bars on eBay using the simple search bar, he or she can simply select the category of car to make looking for right towing bar simple.
Select a Towing Bar Style
For the buyer who is looking for a towing bar on eBay, they are generally divided into three categories. Flange and swan neck are the most common types of towing bars, which are fixed towing bars. However, detachable towing bars are rising in popularity. These are used when needed and provide versatility when towing bars are use less frequently. All of these types of towing bars are available on eBay, as well as towing bar accessories.
Flange Towing Bar
A flange towing bar is the most traditional type of towing bar that a buyer sees when shopping for a towing bar. A flange towing bar has a towing ball attached to it with two to four bolts. This is a permanent towing bar that cannot be uninstalled from a vehicle. The good thing about a flange towing bar is that it is quite versatile and can be used with a large number of types of vehicles.
This is also the least expensive type of towing bar. The way a flange towing bar is set up makes it easy to add other pieces of hardware to the bar that the consumer may need, such as a cycle carrier or blade-style stabilisers.
There are also a wide variety of accessories that can be purchased for flange towing bars, such as a towing balls, couplings, and jaws. The downside to flange towing bars is that they sometimes alert parking sensor activity. They are also easily seen and not as discreet as swan neck tow bars. A common brand is Witter. For a consumer who wants to look for a certain brand of towing bars, it is easy to select the brand from the brand list, or type in a specific search on eBay to find the brand desired.
Swan Neck Towing Bar
A swan neck towing bar curves out and has a towing ball already in place that is a part of the actual towing bar, no bolts necessary. A swan neck towing bar may not be as functional for as many uses as a flange towing bar, but it is not as much of an eyesore due to its more streamlined and compact appearance. It can be used with many types of vehicles, but the towballs cannot be customised as easily. The consumer should select this option on eBay to view only swan neck towing bars to see only the options in that category.
A swan neck towing bar also cannot be used with a bumper shield, so if that is an issue, a detachable or flange towing bar should be purchased instead. However there are upsides to using a swan neck towing bar, such as the fact that it does not trigger reversing sensors when the car is not towing another vehicle.
Detachable Towing Bar
The most expensive type of towing bar, but the most discreet is the detachable towing bar. This allows the consumer to remove the section of the towing bar that pulls the car when it is not in use, maintaining the aesthetics of the car. A popular brand of detachable towing bars is Brink. Look on eBay for an affordable detachable towing bar, and key in specifics for a more tailored search, such as "Brink detachable towing bars".
Detachable towing bars can be purchased in vertical or horizontal varieties, and come in either swan neck or flange styles, along with basic, general types of detachable towing bars. The swan neck style seems to be the most common.
For a consumer concerned about the appearance of the vehicle, a detachable towing bar is the best option. It is also fairly simple to remove and attach the towing bar. A buyer can communicate with sellers on eBay who are knowledgeable about towing bars, and ask questions before purchasing.
How to Choose the Right Towing Bar
When it comes to selecting a towing bar on eBay, there are several choices based on a buyer's personal preference. A buyer should consider all of the factors before purchasing a towing bar, including what kind of vehicle will be towed, whether he or she needs to be able to add items to a towing bar, such as a cycling carrier, and what the cost of the towing bar is. Towing bars on eBay include a wide price range and variety, and the buyer should purchase from Top-rated sellers for the best experience.
Type of Towing Bar

Towing Bar Features

Price of Towing Bar

Brands to Look For

Fixed Flange

Most common type of towing bar

Tows automobiles and cycles

Allows bumper shields

Can be adjusted to accommodate various heights

£

Witter

Detachable Flange

Has every benefit of a fixed flange, but with the added bonus of being detachable

Can be used with various towing accessories

££

Audi

Mercedes

Fixed Swan Neck

Sleeker, compact style

Does not trigger sensors

Compatible with a large number of vehicle models

£££-££££

Witter

Detachable Swan Neck

Can be used with a cycling carrier

Detachable for discreet look

Same sleek design as traditional swan neck

£££-££££

Standard Detachable

Comes in different sizes and styles

Fairly versatile and discreet

££££

Brink
A consumer should select the right towing bar based on these considerations, as well as the condition of the towing bar, if a used one is being purchased. A towing bar is a worthwhile investment that can be useful for years to come, and become a necessary component of easy travel for a buyer who needs to tow vehicles or cycles frequently.
Purchase Other Towing Bar Items
If the towing bar that is purchased on eBay does not come with installation equipment, a towing bar installation kit may be necessary to properly install the towing bar on the car. This type of towing bar kit includes hardware, the tow ball, electrical supplies that are needed, and bolts needed to secure the towing bar.
Other items that the consumer may want to purchase when buying a towing bar include bumper shields to protect the car's bumper from scratches or damage, a cycle carrier if a cycle may be towed, or a plastic cover to protect the towball and keep it safe from rust and grease. Find all towing bar items by searching for them, and easily purchase items such as towball covers on eBay.
How to Buy a Towing Bar on eBay
If you are looking for an affordable alternative to purchasing a towing bar at a retail outlet, shop for a towing bar and all of the necessary components on eBay. Do a keyword search for "towing bars" by using either the site's home page or any internal page of eBay, and check out all of the options.
Another option is to do a more specific search if you are looking for a towing bar by model, such as Ford Fiesta towing bar, or search by towing bar style, such as a flange towing bar. Check the seller's listing carefully to see what equipment comes with the towing bar, if you need to buy additional hardware. Also check that the towing bar is marked for passing safety standards, which means it has been EC or EU approved.
Look for eBay sellers who are local, so you can pick up your towing bar in person and alleviate shipping costs, and talk to the seller face to face about the features of the towing bar, and ask any questions you may have about installation or how to use a detachable towing bar properly. Communicate with the seller easily to ask questions about the towing bar, by clicking the "Ask a Question" button located on the seller's page.
Conclusion
Make shopping for towing bars less frustrating, easy, and affordable by purchasing a towing bar on eBay. There are different types of towing bars that hold various weights, depending on what the buyer is using the towing bar for. The right bar complements the vehicle used for the towing as well as the automobile or cycle that is being towed.
Towing bars vary according to how they look, how much they cost, brand names, and how versatile and functional they are. Buying a towing bar does not have to be a confusing, frustrating experience when the consumer can easily find the right towing bar for his or her needs on eBay. A buyer can easily compare different types of towing bars on eBay by price, brand, and features and select the perfect type of towing bar from a wide selection available.
For a buyer who does not know where to start, consulting the manual that comes with the vehicle is always a good place. The manual should list the weight recommendations for the vehicle, so the consumer knows how much the car can tow, and that aids in purchasing the perfect towing bar.