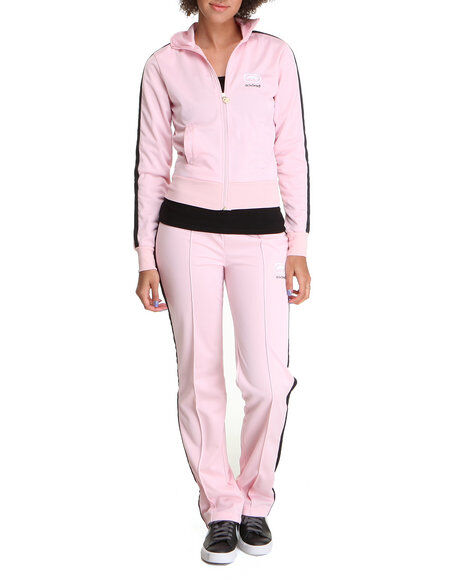 A tracksuit can serve as more than just regular, comfortable sportswear. It also provides protection from the weather and can reflect one's personality and style. Athletes wear almost every kind of sportswear tracksuits during practice. Any man looking to buy a tracksuit should choose wisely as some kinds of tracksuits may be more suited for exercising than being worn as casual outfits. For the active man who also values style, getting a quality men's tracksuit that fits well is a must.
On eBay, men's tracksuits are available in numerous brands, colours, types, and sizes. Finding a tracksuit on eBay is very simple, but for a buyer to find the best tracksuit for himself, he should know how to navigate eBay efficiently. A man's tracksuit is a basic fitness attire so it is important to know to how to choose the best one. In this guide, buyers can learn about some helpful features on eBay and how to search for the perfect tracksuit.
Important eBay Features
eBay houses a huge number of products of almost every possible type available, from clothes to toys, music, and more. As there are too many products sold on eBay, it can be difficult to find a particular tracksuit by browsing through random items. To help buyers shop for the items that they want, eBay has categorised each item according to its type. The following are some eBay features that make the online shopping experience easy for any buyer.
eBay Search Function
To search for men's tracksuits, one can either manually browse eBay's men's clothing section, which would probably take a long time, or search for tracksuits by typing the keyword into the search bar on the eBay home page. By typing 'men's tracksuit' into the search bar, all the items related to the keywords will appear, which the buyer can then browse through. On this page, the buyer can also further customise his search and refine his choices by choosing the colour or the brand of the tracksuit. To increase the chance of finding the perfect tracksuit, it is a good idea to use different combinations of keywords when searching.
eBay Shops
Another helpful feature for buyers is the eBay Shop. Each eBay shop is handled by a seller and sells certain types of items such as men's activewear, men's jackets, audio equipments, and so on. Looking at some eBay shops is a good way to narrow the options for a buyer as there is a better chance of finding a good tracksuit when browsing through a men's activewear shop. When one finds a particular shop that he likes, and wants to visit it again in the future, he can easily save the seller to his profile.
Seller Feedback Score
Each seller and buyer can be rated and has a feedback score. Sellers can be rated by their customers based on their service and product quality, and sellers who get a high number of positive ratings have a high feedback score. Therefore, when purchasing an item, one should look at the seller's feedback score which can be seen on the product page. Also displayed with the feedback score is the ratio of positive to negative feedbacks received. A high positive feedback ratio of above 90 per cent shows that previous customers are very satisfied with the seller. A seller's feedback score can help buyers make a decision when buying a product, including a tracksuit.
Getting to Know Tracksuits
A tracksuit is a two-piece garment comprised of a jacket and matching trousers. Often worn during sports or in the gym, it provides comfort and good mobility for any physical activity. Although tracksuits were originally made for sports, in the 1960s Adidas started their casual tracksuit line which attracted youths to wear them as streetwear. Traditionally, men's tracksuits were made in darker masculine colours but later, when they became popular attire among break-dancers and hip-hop fans in the 1980s, tracksuits of various colours became available. This further increased the popularity of tracksuits as not only sportswear but also casual wear. Now, men's tracksuits come in even more designs and colours to match any man's style and personality.
Tracksuit designs have remained somewhat the same over the years but now there are more styles and materials to choose from, making tracksuits suitable as active or leisure wear. Tracksuits generally include trousers with a long sleeve, crew-neck jacket.
Some tracksuits have hoods to protect wearers from sunlight, rain, and wind during outdoor workouts. Besides that, in recent years, hooded tracksuits have gained popularity as fashionable streetwear among youths. With one important feature of a tracksuit being to provide protection to the wearer from the elements, other types of specialised tracksuits have been produced, which are the rain and windbreaker tracksuits. Rain tracksuits are made of waterproof material and can protect the wearer from rain as well as sunlight and wind, besides keeping him comfortable and warm. Windbreaker tracksuits can be made of any material but are often synthetic to protect the wearer against chilly winds and light rain.
The trousers are also an important part of a tracksuit as they keep the wearer's legs comfortable and dry in rainy weather. Tracksuit trousers often have a slightly loose fit and are made of elastic materials to provide flexibility and mobility for any exercise. Besides having an elastic band at the waist, some tracksuit trousers also have elastic bands at the ankles. Just like tracksuit jackets, tracksuit trousers come in a few variations including the fashion and windbreaker versions. Fashion trousers generally look better than traditional tracksuit trousers as they do not have elastic bands at the ankles. Wind trousers are usually a part of a windbreaker tracksuit and they have the same function, which is to shield the wearer from cold winds and rain.
Tracksuit Material
Materials that are used to make tracksuits are cotton, nylon, polyester, velour and more. Tracksuits made of natural fabrics, such as cotton, are very comfortable and have good sweat absorbance. Those made of synthetic fabrics, such as nylon, fleece, and polyester, have a glossy look and can be waterproof. Synthetic fabrics are often used to make rain and windbreaker tracksuits. Another kind of tracksuit is the velour tracksuit. Velour is a knitted fabric, often from cotton but can also be made from synthetic fibres. Velour tracksuits are flexible and have a velvety finish, making them popular as casual wear.
Choosing a Tracksuit
For a man who wants a tracksuit purely for exercising, a tracksuit of any design and colour will do, but if he plans to exercise outdoors, it is best to choose a tracksuit according to the climate. If he will be outdoors only in clear, pleasant weather, a light tracksuit made of nylon or an absorbent tracksuit made of cotton may be ideal. If he plans to workout on rainy days or chilly mornings before going to work, choosing a warm thick fleece or windbreaker tracksuit is a good idea. Those who want a tracksuit which can function as exercise attire as well as a casual outfit should go for slim-fit tracksuits, hooded tracksuits, or graphic tracksuits such as those from 'Ecko Unlimited'. Choosing a suitable men's tracksuit is simple and by considering material, style, and purpose when selecting a tracksuit, the buyer will be satisfied with his purchase. Besides determining what the tracksuit will be worn for, colour and size are also necessary things to consider.
Buying a Tracksuit on eBay
If you know the type of tracksuit that you want, just type it into the search bar on eBay's home page. For example, if you search for 'men's hooded fleece tracksuit', you will be able to look at all the available hooded fleece tracksuits on eBay. By selecting a tracksuit that interests you, you can view all its details such as the size, colour, and delivery charges. Before you purchase it, make sure you take note of the size, condition, postage fees, and also the seller's return policy. If there is nothing stated about a return policy for the tracksuit, you can ask the seller about it.
On the product page, you can also view some of the seller's details including the feedback score. To view comments about the seller's services and products on their profile, just click on their name. After you purchase and receive your tracksuit, you can evaluate the seller too by visiting their profile. By giving your evaluation, you can help future customers make a decision on their purchase.
Conclusion
A tracksuit can keep any man comfortable and protected from the weather when hanging out at home or exercising outdoors. Many styles of tracksuits are available and some may be better suited for a certain environment than others. Rain tracksuits can offer proper protection when worn in moderate rain and windbreaker tracksuits can be worn in drizzle or on chilly days, although they may not offer sufficient protection from the rain.
When shopping on eBay, buyers should make use of the search function to make finding the perfect tracksuit easier. One should also remember to use different combinations of keywords when searching. Before the buyer purchases a tracksuit, he should make sure that he is satisfied with all the details of the product from the size to the delivery charges. He should also look at the seller's feedback score displayed on the product page or view more ratings by clicking on the seller's name. With all the features that eBay has to help buyers with their shopping, any man should have no problem finding the perfect tracksuit.