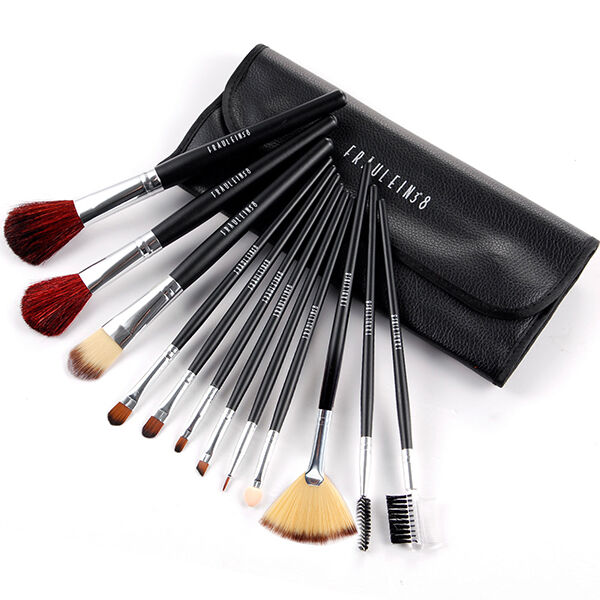 Make-up is a must-have when you are on holiday and the easiest way to take make-up away is to buy it in a travel kit. Today, more and more products are available in compact versions of their more regularly used selves and make-up is one such product that is great to buy in a more compact version.
Make-up comes in a variety of different forms - from eye shadows and mascara through to foundation and blusher - and all of these are available in travel versions.
Today it is common to buy make-up in a travel pack and as well as make-up, it is also possible to buy other handy accessories such as brushes. It is very easy to purchase a range of make-up via eBay and this is the perfect way to shop if you are searching for travel make-up kits to take on holiday but are short of time to go shopping. Here are some things that you need to think about when shopping for travel make-up kits online.
Choosing the Best Make-Up Kit
So, what does the perfect make-up kit look like? Everyone has different needs and is looking for something slightly different and as such, it is vital to look at a variety of options when it comes to shopping for a make-up kit. The best kit for some might have a variety of different types of make-up from make-up for the eyes through to lipsticks and creams, while other kits might concentrate solely on one particular area such as the lips.
The best kit will depend on a few things such as how long the make-up needs to last for and what type of make-up is needed. The best make-up travel kit will usually be made up from a selection of different types of make-up, so that there is a little bit of something for all occasions.
Make-up for Everyone
How much make-up people apply varies as well as the type and the application process. Finding make-up for everyone is easy online via eBay as there is make-up for all occasions that suit a range of different styles. Travel sized make-up needs to be easy to carry around and portable travel kits can hold enough make-up to last for more than one holiday.
Make-up available in a travel sized version includes:
* Mascara
* Eye shadow
* Eye liner
* Foundation (liquid and powder)
* Nail varnish
Blusher as well as creams and lotions also come in handy travel sized versions of their usually larger selves and make-up removers are also available in handy smaller versions. Lipsticks are also popular in travel sized versions and it is easy to find lipsticks in a range of different colours to suit all skin types and personal style preferences.
Travel Make-up for Sensitive Skin
Travelling with sensitive skin can be a nightmare and it is vital to buy the best make-up that has been formulated specifically for sensitive skin. Sensitive skin can mean different things to different people, with some suffering from outbreaks of spots and oily patches and others suffering from dry skin. Particularly high or low temperatures on holiday can play havoc with people's skin, and travel-sized make-up kits are the ideal solution to this problem.
Buying Affordable Make-up
The quality of the make-up is often reflected in the price and good quality make-up is often well worth paying out for. A travel kit should be robust as well as small, but being affordable is another important feature. It is vital that a travel make-up kit won't get easily damaged as the whole point of making it compact is to be able to carry it around. eBay sells a variety of make-up at affordable prices that is exceptionally durable and easy to carry on holiday and any good travel kit will be simple to pack in a bag.
Some make-up kits will be more costly than others and what is included in the kit as well as the quality of the make-up will vary the price. Buying travel make-up kits through eBay can be a really cost effective way to shop and there is no need to spend a small fortune on good quality travel kits.
Brushes
Make-up is often no use without good quality brushes. As well as make-up, eBay also sells a selection of different make-up brushes that can be used to apply anything from lipstick to eyeshadow. These brush sets are available in travel sizes making them easy to pack up and carry in a bag. They often come in a case that will fold up so it won't take up a lot of space and proper cosmetic beauty brushes should always be used when applying make-up to achieve the perfect end result.
Bags and Travel Kits
As well as buying make-up that is easy to carry around, it is also important to buy a bag to put the make-up in. A good make-up bag will be sturdy and supportive as it will need to protect the make-up inside from damage as much as possible. Special make-up bags and kits that come with bags can be found on the eBay site and paying out for a good make-up bag is a good way to protect your make-up from avoidable damage.
Eyes
Making the most of a beautiful pair of eyes is often the primary target for many make-up wearers. Eye make-up can help to transform anyone's appearance for the better and travel versions of eye make-up are easy to find via eBay. There is no need to take a full sized regular eyeshadow or eyebrow pencil in a suitcase and mini eyeliners are far easier to fit into a make-up bag than the usual sized eyeliner, so why not make life easier and invest in some travel make-up kits?
| | | |
| --- | --- | --- |
| Make-up types | Colours | Used |
| | Available in all colours with some of the most popular being shades of blue, pink, brown and green. | On the eyelid to add colour and definition to the eye area. |
| Mascara | Available in a variety of colours with black and brown shades being the most commonly used. | On the eyelashes to open the eyes up and to add volume to the lashes as well as colour. |
| Eyeliner | Available in a variety of colours with black and brown shades being the most commonly used. | On the inside the eye lid or above the eyelid to change the shape of the eye and to add new contours. |
| Eyebrow pencil | Available in a variety of colours with black and brown shades being the most commonly used. | To define the shape of the eyebrow or to alter the natural shape. |

Eye make-up is an integral part of many people's make-up routine and in order to keep up with the demand, eBay has a variety of travel sized eye make-up options to choose from. Eye shadows come in a variety of colours and it is important to have the right brush to apply eye make-up with, so make sure that any purchase is accompanied by buying travel brushes as well. False eyelashes are also easy to fit into a travel kit as they are small and simple to carry.
Foundations and Skincare
Having a good foundation on holiday is important as skin can be prone to becoming more oily or dry in hot or cold weather. A good foundation can make a huge difference to anyone's skin while on holiday and skincare items like foundation can come in liquid and powder form. Travel sized foundation and concealers are perfect for anyone who travels a lot on business or on holiday and travel sized foundation can be really handy to carry in a small handbag or purse.
How to Buy a Travel Make-up Kit on eBay
Buying a travel make-up kit on eBay is a simple process and can be done even by the most technophobic shoppers. Go to the eBay website and move the cursor over to the drop-down menu where a list of categories can be seen at the top of the page. Here, select the Health and beauty category and click to open a list of sub-categories. Then you are free to choose the type of make-up you are searching for such as mascara.
Alternatively, use the search toolbar that allows browsers to narrow the search down to more specific products such as eye make-up travel kits, brushes or bronzers. Because make-up is a vast field to search in, narrowing down the search with more specific criteria is often the easiest way to find what you want.
You can get hold of more in-depth information about using eBay by visiting the Search Tips webpage on the website.
Conclusion
For many people, make-up is something that is used every day, and just because you are going on holiday does not mean you want to go without your make-up. However, taking a whole case of regular sized make-up can be a logistical impossibility that can make packing for a well-earned break away even more stressful. Not only can they take up a lot of unnecessary space but they are also prone to getting damaged. With such a large variety of travel sized make-up options to choose between on eBay, there is no need to damage you regular make-up or take up your entire suitcase with products. Simply browse on eBay to find compact, travel-friendly and budget-friendly travel make-up kits.