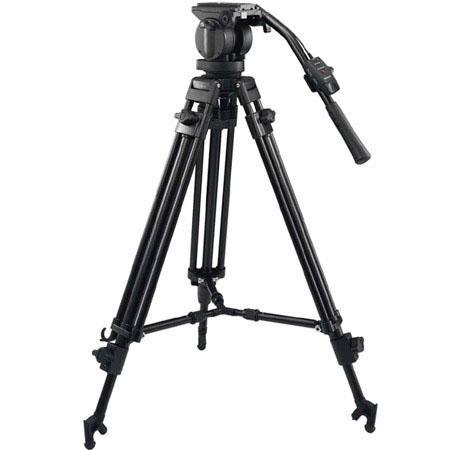 A camera can be extremely expensive, offer a vast array of impressive features and have fantastic picture quality, but none of that is important if a buyer wishes to be in his or her own pictures and does not have the capacity to do so. When paying for a camera, it is important to protect the unit from damage and dirt, so positioning a heavy, expensive DSLR, for example, on a wall in order to take a timed photograph is a terrible idea. Fortunately, tripods are a viable means of combating this problem and allowing pictures to be captured without the need for anyone to hold the unit.
About Tripods
A tripod gains its name from the – usually – three appendages extending from the central attachment unit, which connects to the camera or camcorder. They are available in a wide array of styles and sizes and serve as a base on which a camera can be mounted in order to leave it unattended while video capture or still images are being taken. This affords a good deal of stability to the camera.
Of course, the situation will necessitate what kind of tripod is required, as will the size and weight of the camera being used. Designers have put much thought into the kind of obscure situations that can make a floor-mounted tripod impossible to position, and thus there are a wide range of innovative tripod units available on the eBay marketplace.
What to Consider when Buying a Tripod on eBay
This table describes a number of considerations to make when looking to buy a tripod on eBay.
The Tripod Material

Manufacturers use a range of materials in the construction of camera tripods, so choosing one is not always simple. Common materials used include hardened aluminium, carbon fibre, and basalt.
Aluminium is favoured by some photographers, as the material is quite inexpensive to produce and purchase, compared to its counterparts. However, the increasing uses of carbon fibre, which is lighter than aluminum, means that an increasing number of buyers favour this material. Though aluminium is considered a light metal, it is actually one of the heaviest metals used in the production of tripods, and there are much lighter alternatives. One benefit of a heavier tripod is its increased stability and ability to absorb camera vibrations, reducing image blur.
Carbon fibre is lighter than aluminium and much less tedious to carry in the cold weather, where aluminium takes on the surrounding temperatures. However, when used in cold climates, these triopds have been known to show some fragility and even shatter if dropped heavily, though this is a rarity.
Basalt is one of the newer materials used in camera tripod design and contain an inner core made from glass fibre and covered with a layer of basalt. The only real advantage over other materials is the very low cost in comparison to aluminium and carbon fibre, with their functionalities such as rigidity being worse than the other two alternatives.

The main design considerations

Two important considerations when it comes to the design of the tripod are the legs and the head.
Different heads are suitable for different shooting styles, with ball and pivots heads available, as well as heads that detach and can be swapped out for others, and integral heads that are fixed into the unit and cannot be removed.
The legs of a tripod are another area where models can vary greatly. Some have detachable legs, which is particularly useful for transport and storage, whereas others simply fold together into a horizontal position, which can then be stored in a carry bag. Furthermore, some tripods only permit all legs to be adjusted at the same time, whereas others allow single legs to be adjusted independently. There are also tripods with bendable legs, which can wrap about objects off the ground.

Optional extras and functionalities

Some optional extras that can be included on a tripod are a spirit level, used for measuring how level a tripod is positioned in relation to the ground, and hooking mechanisms underneath the model, which can allow for weights to be attached. This rather obscure feature prevents turbulent winds from toppling the tripod, which can severely damage a camera or its lens.
Method of Sale and Purchase
As mentioned previously, the two different types of item listing that can be found on eBay are regular auctions, and buy it now sales. Some sales use a combination of both bidding types. Each type of sale listing has its own benefits and drawbacks for the buyer and the seller.
Auction Listings
Working in the same manner as an auction house, this function allows buyers to bid on an item while a timer diminishes, awarding the item to the highest bidder at the time of finishing. It can often result in a bargain compared to RRP high street prices, but this is obviously not advantageous to a seller looking to get the best price for their item.
Buy it Now Listings
These listings allow sellers to place an instant-purchase price on an item so that there is no need for a buyer to wait until the end of the auction timer if they accept said price. It is an effective means for a seller to obtain a quick sale, while allowing buyers to obtain an item without the fear that they may be outbidded by another consumer.
Which Seller to Choose
A range of factors can influence the choice of which seller to use on eBay. Reputation is one of the most important aspects to consider, and there is a feedback system in place on the marketplace to ensure that trustworthy members are rewarded for their good service and recommended for future business, while less reliable sellers may be avoided.
Due to the allowance of virtual eBay shops, spaces in which members may operate a business selling multiple items like a high street or online retailer, it is possible to locate a wide range of tripods to browse in one place. These shops are also a good indication of a reliable seller.
Getting an Item Delivered
Tripods are generally quite small, and even the larger models usually offer some degree of flexibility in terms of being folded for storage. This makes them relatively easy to send by post. They are also durable and unlikely to break if packaged correctly.
The cost of postage and packaging is clearly displayed besides the auction or buy it now price of an item both in the listing results and in the listing itself. This figure is not given by eBay based off any parameters such as item size or weight, but rather is decided by the seller in question, though eBay does provide guidance on calculating postage costs.
Finding Tripods on eBay
Tripods are used to position cameras for unattended shoots, and thus can be found within the same area of the eBay website as the other camera categories. Starting from the eBay homepage, buyers can click through the Electronics menu to find the Cameras & Photography subsection. This section includes links to a number of photography related categories. From here, buyers should choose the Tripods & Supports subcategory to find a wide range of seller listings for the aforementioned items.
An alternative means of locating these seller listings is to begin typing the search term into the eBay search box, which will provide a pre-determined search string for the item. By clicking on this string, the same results can be found.
Filters found at the side of the results page are an excellent means of narrowing down results in order to locate a desired model or place a cap on the maximum expenditure. These filters can narrow results by condition, price, buying format – such as auction or buy it now – and other parameters.
Conclusion
Tripods are units that attach to a camera in order to provide stability during a video or image shoot. They generally have three legs, which are positioned on the ground or other flat objects to give the camera a place to rest when footage is being shot. However, there are also different kinds of tripod that have bendable legs, so that they may be affixed to objects such as fences, poles or tree branches to give much more flexibility in different situations.
There are a number of things that should be taken into consideration when purchasing a camera tripod, such as the materials used in construction of the item, the specifications of the tripod legs, such as length and locking mechanism, and other optional extras and functionalities.
Camera tripods can be found under the Cameras & Photography section of the eBay website, more specifically the Tripods & Supports category.