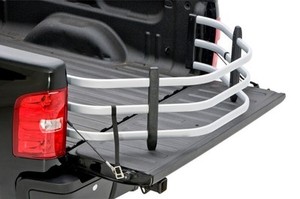 While pickup trucks have a longstanding reputation as heavy-duty utility vehicles, they are becoming increasingly popular for people from all walks of life. With their open beds and towing capabilities, they have long been a standard for farmers, ranchers, and boat owners, or anyone else who needs to tow or haul on a regular basis. Nowadays, truck manufacturers have incorporated luxury options of all sorts into their trucks, including heated seats, multi-zone air conditioning, and spacious seating for five.
It's true that pickup trucks are great for hauling all sorts of items; however, there are some things that are just too long to fit into the bed of even the largest pickup trucks. In the past, individuals were forced to rent larger vehicles, such as flatbed trailers, to move these items or let them hang off the back of the truck with the tailgate down, which is unsafe. With truck bed extenders, truck owners can now extend the length of their truck beds to transport all sorts of extra long items safely and easily. Truck owners will find truck bed extenders at auto parts stores as well as online, with the best selection often found on eBay..
Brief History of the Pickup Truck
The first pickup truck was introduced by Ford in 1925 and was based on the frame of the Model T Ford automobile. The truck featured a bed in the back and a passenger cabin in front. The truck also had a heavier duty suspension than the Model T to allow for hauling of heavier payloads in the truck bed. Chevrolet was the second automobile manufacturer to produce a pickup truck, and the others, including Dodge, soon followed suit.
Within a decade or so of the introduction of the pickup truck, most vehicle manufacturers had a full line of pickup truck models, including both two and four-wheel drive trucks. The popularity of pickup trucks increased dramatically following World War II, and many manufacturers began producing models that were not based on car designs. In addition, manufacturers began adapting military-use vehicles for consumer use. It was during this time that Ford introduced its F series, a series of trucks that is still in production today.
While pickup trucks have always offered heavy duty suspensions to support their heavier payloads, many truck manufacturers steered clear of the frills often found on cars and other automobiles. In the past few decades, as pickup truck and SUV use has gained in popularity, manufacturers have started to incorporate luxury options and trim packages into some of their models.
Brief Explanation of a Truck Bed
The term bed as it relates to trucks refers to the open portion of the truck that is located directly behind the cab, which is where the passengers sit. Most truck beds are the same width as the truck cab, but the length varies depending on the size of the truck and how many passengers it can accommodate. Trucks that have extended cabs to transport more than two to three people usually have beds that are five feet in length whereas trucks with smaller cabs have longer beds, typically between six and eight feet in length. When shopping for trucks, consumers will typically take into consideration the length of the truck bed, the number of passengers the truck can carry, and the total payload, which means how much weight the truck can haul. Gaining bed length and payload typically means losing passenger space, so buyers often have to determine which features are most important to them and make their decision based on that.
The length of the truck's bed is typically only important for individuals who wish to transport long objects without purchasing a trailer. While some items, such as long lengths of wood or piping can be secured on top of the tailgate and allowed to extend beyond the length of the cab, this is only practical when hauling a few such items because too much weight may break the tailgate. Additionally, other longer items cannot be transported in this way safely, such as motorcycles, ATVs, and dirt bikes. These items require the use of a truck bed extender to keep the objects safely secured during transport.
Types of Truck Bed Extenders
There are three main types of truck bed extenders, each of which has its advantages and disadvantages. When deciding which type of bed extender to purchase, truck owners must first consider what types of oversized objects they will be transporting as this information will have a big impact on which bed extender style to buy.
Tailgate Bed Extender
As the name suggests, a tailgate bed extender allows the bed of the truck to be extended to include the tailgate. These extenders are gates, usually made of metal bars that lock into place toward the back of the tailgate to hold extra-long cargo. Although there are many shapes and sizes of tailgate bed extenders, there are two main styles: a fold-down style and a swinging style. The folding style actually folds up when not in use and rests against the truck's tailgate. The swinging style tailgate bed extender swings into the truck bed when not in use, but does not fold up. The fold-down style takes up less room when not in use; however, the swinging style can be used to secure smaller cargo against the side of the truck bed when it is not needed to extend the bed length.
Load Extender
A load extender is essentially a series of metal bars that mount to the truck's trailer hitch and provide a platform for longer loads to rest on beyond the truck's tailgate. These extenders are intended for transporting longer items such as lumber, which must be secured to the load extender to ensure it doesn't slide out if the driver were to brake suddenly. Ideal for individuals who frequently haul long pieces of wood or other items, load extenders can provide even more length than tailgate bed extenders; however, they can only transport specific types of longer cargo. Additionally, since load extenders mount to the truck's hitch, truck owners who want both a trailer hitch and a truck bed extender would need to switch between the two.
Loading Ramp Extender
Truck owners who frequently load dirt bikes or motorcycles into their truck beds may want to invest in a loading ramp truck bed extender. This style of extender is both a loading ramp and extender in one unit, which means truck owners will no longer have to struggle with loading their bikes into the back of their trucks. These extenders function just like tailgate bed extenders, but the sides fold flat to serve as a loading ramp as well.
Shopping for Truck Bed Extenders
Truck owners may find a few types of truck bed extenders at local auto parts stores or through dealerships that specialize in trucks; however, they will find even greater variety by shopping for truck bed extenders online. Prospective buyers should browse the listings on eBay as well as auto parts websites to find the truck bed extender that best suits their needs. Before making a purchasing decision, buyers should decide on a specific brand and model and check online to find out if the item can be purchase for less through eBay or some other website.
Though most truck bed extenders will work with most pickup trucks, individuals should confirm that the truck bed extender they are considering buying is compatible with their truck so there are no surprises once the extender arrives.
Buying a Truck Bed Extender on eBay
If you want to see the list of truck bed extenders currently available through eBay, type the phrase "truck bed extenders&" into the search box on the homepage. Once the search results are displayed, you can narrow down the results by price range or truck make and model. If you only want to see a specific type of extender, type that information into the search box to narrow down your search results. For example, typing in "tailgate bed extender&" will show you listings for only that style of bed extender.
Before making a purchasing decision, buyers should read the listing carefully to confirm that the truck bed extender being sold is actually the one the buyer wants. Prospective buyers should also take a look at the shipping options and the seller's return policy to determine whether the item can be returned in the event the buyer is not happy with the extender when it arrives.
Conclusion
While truck bed extenders can give truck owners the extra space they need to transport larger items, truck owners need to make sure to use them properly so that any cargo they transport is hauled safely without endangering themselves, their truck, or other drives on the road. Truck owners who purchase truck bed extenders should be sure to read the instructions thoroughly and use the extenders safely so they don't pose a danger to anyone.
Because truck bed extenders come in a range of styles and shapes, prospective buyers should take a look at a few different models to determine which shape and style is best for them. Once they have decided on a general shape and style, it's a good idea for prospective buyers to check prices on eBay to make sure they're getting the best possible price.