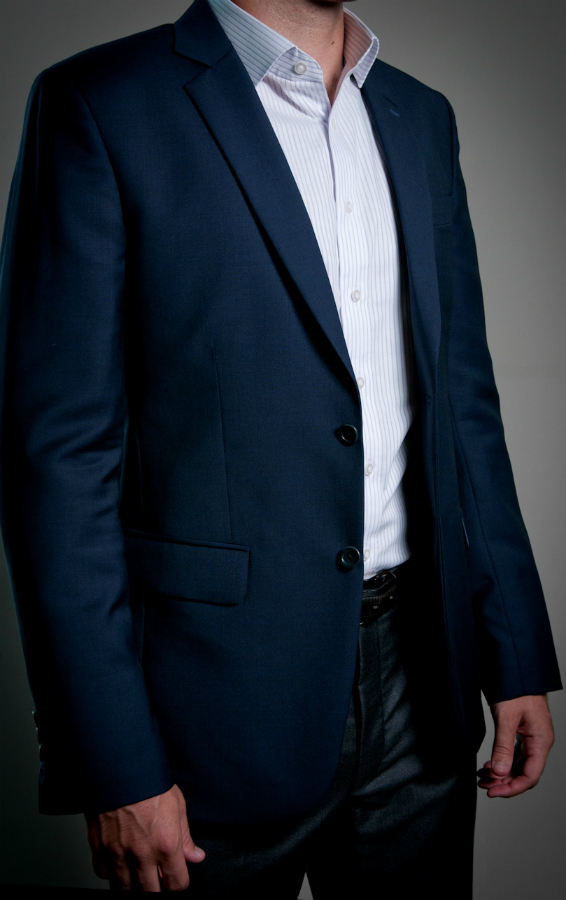 The blazer jacket originated in 1825 as part of the uniform of the St. John's College rowing club of Cambridge. Because of this nautical sporting background, the blazer has always has association with athletic and boating events since its development. The blazer also has been adapted to use in military circles as well as formal articles of clothing that identify school and club allegiance.
The blazer occupies a unique position in the fashion world because it is one of the few articles of clothing that can be two different things at once. The blazer is both a formal and casual garment at the same time. It finds use in formal applications such as business meetings and elegant dinner engagements as well as casual luncheons and tea. This guide explores the common styles of blazers and the material they are made from, what to look for in a used blazer and how to purchase one online through eBay.
What Is a Blazer?
A blazer is a type of coat that features the formal qualities of a suit jacket along with the more casual wearability of a sport coat. Blazers are unique in that they can be worn with many different styles of trousers from faded blue jeans to slacks. They can be worn with a polo shirt, or a button down shirt and necktie, and they are an ideal accompaniment to any business casual look. Blazers are made of solid colours and more durable fabrics than lightweight sport coats, making them ideal for wear in cooler climates and for outdoor events. Unlike the suit jacket or sports coat, the blazer will usually always have buttons that stand out in appearance. Most buttons are brass or gold, but many are custom designed to depict the organisation or club of which the blazer is part of the uniform of membership.
Different Blazer Styles
There are several different styles of blazers from traditional cuts all the way to extreme variations of colour and material. The most common type of blazers are more traditional styles that are either single or double breasted. There are basically three different variations of the traditionally styled blazer and each one has a different cut and appearance. At one time, blazers were tailored according to the style of the geographic location in which the tailor was located, but today, the various styles of blazer are equally popular all over the world.
The English style blazer can be a single breasted or double breasted design usually with three buttons.. The English blazer features flat or upward sloping shoulders that create a slightly more formal appearance. The English blazer will usually have double vents in the rear of the jacket to facilitate ease of movement. Double breasted blazers will feature peaked lapels and the single breasted will have notched lapels.
American style blazers are usually a single breasted two button style jacket that features softer and more downward sloping shoulders than their English counterpart. American blazers usually feature a single centre vent in the rear of the jacket to allow ease of movement and the lapels on an American blazer will usually always be notched.
The Italian style blazer features a much less structured appearance than either the English or American style blazers. The shoulders on the Italian blazer are very flexible and softly made that allow them to have the appearance of floating on the wearer. Italian blazers can be single or double breasted and it is not uncommon to see both vented and unvented Italian blazers. They also can have either two or three buttons.
Common Blazer Materials
Contemporary blazers are made with various materials to suit the personality of the wearer. The blazer has the unique ability to have both formal and casual applications and can be worn with slacks or denim jeans.
Camel
Camel hair is a classic material for blazers that is ideal for more casual occasions that still require dressing up. Camel hair is excellent for colder weather climates and the light brown colour of the blazer with many different colours of trousers.
Like the camel hair blazer, corduroy is good for casual dress up functions that are not meant to be formal but require the wearer to be dressed in smart attire. Corduroy goes well with several different trouser styles and colours and is a great accompaniment to button down shirts.
Velvet is a unique material that is used in more specialised blazers for specific occasions. Velvet blazers create a more formal appearance and can be well suited to holiday gatherings or more indulgent social affairs in which less conservative attire is fashionable.
Linen is a lightweight material that gives a more formal appearance to a blazer. Its lighter weight makes it ideal for use in warmer climates or indoors.
Navy worsted wool is the original material of the classic navy blazer. This material is most often associated with a nautical appearance and goes well with nearly any colour trousers. Navy blazers are most often found with gold buttons.
What to Look for in a Used Blazer
A double breasted blazer will have different use characteristics than a single breasted jacket. When searching for an ideal used blazer, the intended use of the jacket will guide the direction of which type to choose. Double breasted blazers are more formal than single breasted and have direct association with the jackets nautical roots. Single breasted blazers will be more appropriate across a wider range of fashion applications, but are not as well suited to more formal events.
Fit
Blazers should fit in the same fashion as a suit jacket or a sports coat with the sleeves extending to the wrist with a small portion of the shirt cuff visible when the arms are hanging loosely at the sides. The shoulders should be roomy enough to allow a full range of arm movement but not be so overly large as to hang out over the shoulder when the arms are at rest at the sides. The jacket should fit snugly in the front but should have enough room to be buttoned comfortably and still allow mobility. There should be vents in either the side or the back of the blazer and the bottom part of the jacket should be below and completely cover the backside. The best way to determine the proper size before purchasing a used blazer is to get professionally fitted in a tailor shop and try on several different brands to test which style fits best.
Colour
Blazer colour is another variable that depends upon the type of occasions the blazer will mostly be used for and the type of fabric that is preferred. Camel and corduroy fabrics will tend to be more commonly found in tans and brown colours where traditional wool will most frequently be navy or grey in colour. Linen blazers can be made in many different colours and velvet blazers will be most common in reds, greys, or black colours.
How to Buy a Used Blazer on eBay
When shopping for a used blazer, it is important to access a wide variety of styles and colours to best match what you are intending to accomplish with your wardrobe. One of the best ways to accomplish this is to utilise the powerful search tools available to you on eBay.. You can begin your search by going to the eBay homepage and typing a keyword such as "mens used blazer&" into the search box. A number of available auctions will be listed that are relevant to that particular search term. You can browse through the various listing until you find the blazer you are looking for or you can enter a more specific keyword into the search box that is more directly related to what you are looking for. If you know the brand or colour you want, you can enter that word directly into the search box to narrow the results and return only auctions with that keyword in them.
Once you have settled on a particular used blazer, the next step is to make sure that the seller has positive feedback before proceeding with the purchase. The eBay community utilises buyer feedback to rate the seller's performance on all transactions that occur on eBay. A seller with a positive feedback rating can be relied upon to conduct the transaction in a professional and honest manner.
Conclusion
The blazer is a must have article of clothing to complete any mans wardrobe. From its origins as a uniform for a rowing club, the blazer has occupied a place in the fashion world where formal and casual wear mingle. The blazer can serve to dress up a pair of denim jeans or it can be used over a polo shirt and a pair of slacks where more formal attire is required but a suit is too much. There are different styles of blazers and different fabrics that allow the jacket to be utilised over a broad spectrum of fashion applications, limited only by the creativity of the wearer.
When searching for a quality used blazer to purchase, buyers should make sure to get professionally fit prior to selecting their next blazer to ensure they narrow their selections to the proper size and brand. While many great deals can be found in various shops, the smart shopper will take advantage of the excellent deals that can be found on used blazers online on various auctions sites such as eBay.