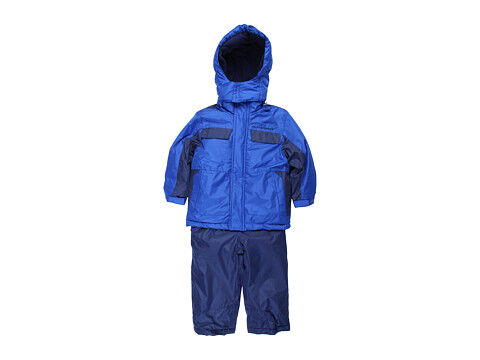 Keeping children warm in cold weather and snow is not the easiest thing to accomplish. Active families who enjoy winter outings are often faced with the challenge of suiting their youngsters up against the cold weather conditions. Infants are too young to be active in the snow, so they must have the proper clothing to keep them warm while inactive. Toddlers that are old enough to be active in the snow require a different type of protection against the winter chill, and young boys who play hard all the time can get into trouble fast if they don't have the proper attire to play in cold environments. Snowsuits offer parents a great way to make sure that their young ones stay warm and comfy regardless of the weather conditions outside. Parents who are searching for an ideal snowsuit for their young boy should consider the advantages and disadvantages of one or two piece suits, understand which fabrics perform best in the cold, and how to save money by purchasing a used snowsuit.
Advantages of a Used Boy's Snowsuit
The biggest problem with buying children's clothing of any type is that kids grow out of things so quickly. Purchasing clothes that children wear every day are a necessity and parents tend to get their money's worth out of them because the kids will usually wear them out before they grow out of them. Specialised clothing, such as snowsuits,, are a different story because most children will wear them only occasionally during the cold season, and more often than not, only while on holiday. This means snowsuits might be worn for one or two seasons before the boy grows out of them, and it can expensive to purchase a new snowsuit every year.
The solution to this is to shop for a used boy ' s snowsuit.. Many people find themselves in similar circumstances each year and are forced to buy a new suit. Rather than throw the old ones away, they sell the slightly used items to help offset the cost of a new snowsuit. If parents know where to look and they have the proper research tools available to them, they can save large amounts of money by picking up these used snowsuits for a fraction of the cost of new ones. This allows them to constantly upgrade their children's snowsuits without the awful feeling of buying an expensive item that will only be worn a few times and then be discarded.
One Piece or Two
When deciding on the type of snowsuit to purchase, there are advantages and disadvantages that need to be taken into consideration prior to making a purchase. There are basically two different types of snowsuits to choose from and regardless of the one chosen, the important things to remember are not to buy a snowsuit that is too big or too small. Many parents buy a snowsuit a size larger than is needed hoping that it will last for at least two seasons, but this can be a bad idea because a suit too large will be too bulky for a boy to wear and can make it difficult for him to move in. Likewise, keeping a suit for an additional season that is too small for a boy will make it difficult to move in and reduce its effectiveness against the cold. Before selecting a particular type of suit, parents should realistically identify the types of situations the snowsuit will most likely be used in. Quick trips to the market and back will call for a lighter weight suit that is easy to get in and out of, whereas prolonged exposure to colder temperatures will demand a thicker and more heavily insulated outfit.
One Piece
A one piece snowsuit is a complete article of clothing that has the legs, jacket, and hood all attached in one outfit. One piece snowsuits will have a means of closing up the suit, which will usually be in the front. Some suits have open feet and others have attached booties that completely cover the feet and make the suit even more resistant to the cold.
The advantage of the one piece suit is it's inherently warmer than a two piece outfit because the boys body heat has less openings to escape through. One piece suits, especially ones with the feet attached, are better at keeping out snow should the boy want to play. If used for a baby or a toddler exposed for longer periods of time to cold weather, a heavy one piece snowsuit is the best type to get because it offers the most protection.
The disadvantages of the one piece are that they are difficult for a child to get out of in order to go to the bathroom. This is not a problem for infants and small toddlers who will be in nappies,, but a small boy might find this a difficult issue to deal with. One piece suits might also be overly warm for active boys because they are built for ultimate insulation, and if an active child should get snow into the suit it has no place to go and is not easily shaken out. One piece suits also cannot be removed in parts to allow a boy to cool off if overheated, so they are most appropriately used for small infants and toddlers who are not yet active, but need extra insulation.
Two Piece
A two piece snowsuit features a pair of trousers with a bib in the front that runs up the chest much in the same manner as a set of overalls. There is a separate jacket that usually has a hood attached to insulate the head. The bib pants are attached with suspenders that connect over the shoulders to prevent the trousers from falling down. The trousers will have open feet that can fit over snow boots..
The advantage of the two piece snowsuit is that it is much easier for children to regulate their body temperature while playing. They are also easier for a child to get out of to use the restroom because they can simply remove the jacket and unhook the bib. If children get overheated in a two piece, they can remove the jacket and allow heat to easily and quickly escape, and the two piece allows parents to utilise layers to better insulate a child against the cold. Two piece suits are ideal for more active boys.
The disadvantage of a two piece snowsuit is that since there are more areas that can open to the snow, it is easier for a boy to get snow into the suit and expose him to cold. Another disadvantage is the fact that boys that play hard can remove their jackets to cool down and not put them back on, creating a potentially dangerous situation that can lead to hypothermia if not addressed. As with all cold weather activities, parents should always constantly monitor their children to make sure cold weather clothing is being properly worn.
Size Chart
It can be tricky when shopping online in that, the wearer doesn't have the opportunity to try on the snowsuit before making a purchase to ensure a proper fit. However one of the biggest benefits to online shoppers is a size chart. This size chart can help to determine which is the correct size of a boys snowsuit to purchase.
| | | | | | | | | | | |
| --- | --- | --- | --- | --- | --- | --- | --- | --- | --- | --- |
| Size | 4 | 5 | 6 | 7 | 8 | 10 | 12 | 14 | 16 | 18 |
| Waist | 52-54 | 54-55 | 56-57 | 58-59 | 60-61 | 62-63 | 64-65 | 65-66 | 66-67 | 67-68 |
| Hips | 61-62 | 63-64 | 65-66 | 67-68 | 69-70 | 71-72 | 72-73 | 74-75 | 80-81 | 82-84 |
| Weight | 15-17 | 17-20 | 21-25 | 25-29 | 29-32 | 32-34 | 34-36 | 36-41 | 41-43 | 43-48 |
When the proper measurements are known, they can then be compared to the size chart to determine the correct size. Knowing the measurements and getting the correct size will help to save from any future returns due to a snowsuit not fitting correctly.
Fabrics for Boys Snowsuits
There are several different types of fabrics that can be blended together to form will insulating snowsuits. The following fabrics are generally the most commonly found materials in todays snowsuits.
| Fabric | Properties |
| --- | --- |
| Nylon | The most common fabric used to make snowsuits; water resistant; usually coated for waterproofing;; quick drying; lightweight; inexpensive |
| | Used to make outer shells as well as insulation; does not breathe, which make it good for retaining warmth; water resistant; lightweight; inexpensive |
| Flannel | Soft and retains body heat well; frequently used as lining in jackets and snowsuits; |
| | Very soft and comfortable; lightweight and breathable; excellent insulation characteristics; inexpensive; used as lining and insulation; |
| Down | High insulation characteristics; used in between inner and outer linings for optimal insulation against the cold; more expensive; rare |
| Taffeta | Insulates well and is comfortable to wear; can be made from natural or synthetic fibres; lightweight; more expensive |
While there are other fabrics that can be used to construct snowsuits, the above fabrics are what a parent can usually expect to find in an affordable used snowsuit. Parents should make sure that regardless of the outer material chosen, it is properly treated to resist moisture.
How to Buy a Used Boy's Snowsuit on eBay
Once you realise the savings that can be achieved by selecting used boy's snowsuits, the next step is to utilise specialised search tools like the ones available on eBay to find that next snowsuit. Start by navigating to the eBay homepage and entering a keyword such as "used boy ' s snowsuit&" into the search box. A list of auctions will be displayed that relate directly to that keyword. You can choose to browse through each listing until you find the suit that meets your needs, or you can refine the search by selecting various categories that will narrow the number of auctions to the selected criteria. If you already know the type or brand of suit you want, you can enter that keyword into the search box and eBay will display all the auctions that relate to it.
When you have settled on a particular suit to purchase, make sure to check the sellers feedback rating prior to committing to the purchase. The feedback system used by eBay allows buyer to rate the experience they had with the seller on each transaction. This valuable information is used to rate each seller and display that rating for future buyers to inspect prior to dealing with the seller. A seller that has good feedback can be relied upon to conduct their auctions in a professional and trustworthy manner.
Conclusion
Snowsuits are a must have item for any parent preparing to take their boy out into the snow for some fun and relaxation. Regardless of their age, every child needs to be properly equipped to handle the cold weather, and a one or two piece snowsuit is the ideal article of clothing to make sure they have a safe and warm playtime in the snow. Parents should take some time to understand the various advantages and disadvantages of one and two piece snowsuits and make an informed decision on which type will be best suited to their particular child. Once they have settled on a particular type, finding a lightly used snowsuit is a great way to save a considerable amount of money, which allows the parent to upgrade to a different used snowsuit every year to keep up with their child's growing.
Parents should make sure to shop around in the local shops and thrifts to find good deals on used snowsuits. Another excellent way to research and find great deals is to check out various online retailers and auctions sites such as eBay, where great deals on used snowsuits can often be found.