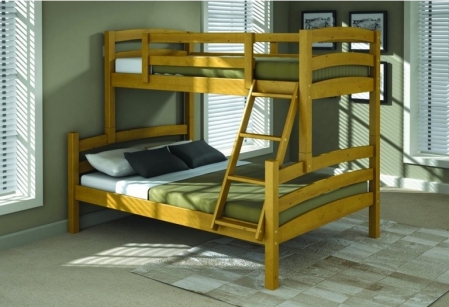 The bunk bed has come a long way from its previous rough-and-ready utilitarian image as a cheap way to accommodate people, whether in youth hostel dorms or in military barracks. Today, forget M.A.S.H; think creatively stylish, flexible bedroom furniture.
Bunk beds are the ideal solution for growing families when two children have to share a room. Freed-up floor space is a boon, and most younger children are delighted with the arrangement. All should be well, provided big enough, well-designed beds have been purchased, correctly erected, and any safety warnings heeded.
Small ads in local newspapers or on community notice boards can be sources when seeking a used bunk bed. There is always the possibility, too, of coming across a used bunk bed at a car boot fair. Online, small ad websites contain such listings, and the auction site eBay can be relied upon to have the full gamut of different bunk bed types in its listings, at any particular time.
To make an informed choice of a used bunk bed, shoppers need to acquaint themselves with the many configurations, sizes, materials, additional accessories, and safety advice, before committing themselves to a particular set of bunks.
Aspects to Consider When Choosing a Used Bunk Bed
With a substantial number of different materials, sizes, configurations, and prices, bunk beds can present the prospective purchaser with a dilemma. Working out priorities and preferences in advance helps buyers because it brings greater clarity and should simplify the search.
Bunk Size
By far the biggest consideration prior to any bunk bed purchase is size. How large are the occupants? If one is a much larger individual than the other, then buying two identical beds may be a bad decision.
Adult bunk beds are strongly advisable for teenagers over 134 cm in height. This way there is no danger of the sleeper who occupies the lower berth bumping his or her head when sitting upright. The overall height of an adult set of bunk beds is usually around 165 cm.
At the other end of the scale, for smaller children, full-height bunks are not appropriate. Two shorter-than-standard single beds which can be fitted one atop the other, or left separate on the floor, are the first bunks that many families purchase. These small bunks, usually 170 cm in length also have shorter vertical posts, so that the overall height is lower, at around 145 cm, and hence, less daunting for a young occupant. If space allows, it can be a good idea to use the two beds separately on the floor initially, until a time in which one of the children is mature enough for elevated sleeping.
Material
The demands made on bunk beds mean that they need to be sturdy; secondly, they need to have no sharp edges to minimise the possibility of accidents. These aspects, notwithstanding, of stylishness and child-friendliness mean that manufacturers work with various materials when constructing bunk beds.
Tubular Steel
Tubular steel bunks are often the most economical variety of materials for the bunk bed structure. The ladder is often built into one of the bed posts, and in some cases, two ladders are provided. While grey or silver are very commonly the colours that manufacturers use for steel bunks, some can be in bright hues to counteract the furniture's rather cold appearance. It is worth checking whether the two beds can be separated, which is not always the case with these designs.
Pine
The classic look of pine bunk beds is preferred by many, complete with spindles both at the head end and at the foot end. Untreated or varnished, the softwood is a sturdy and timeless material
Maple Wood
A less knotty, rather more expensive wood for bunk beds, maple can look stylish and tends to feature in sleeker, more sparing designs.
Painted Wood
For freshness and an uncluttered look, the popularity of white-painted wood for bunk beds is unsurprising. Usually pine underneath, the painted finish, whether gloss or matt, is easy to wipe clean. Used bunk beds can often benefit from a fresh coat to brighten them.
Safety
Purchasers of bunk beds for children need to be aware of the requirements for all such beds to comply with British Safety Standard number BS EN 747:1993, formerly BS 6998:1998. The main criteria for this standard concerns the danger for an occupant of becoming trapped or caught in any gaps. For this reason, certain parameters exist for the sizes of gaps. The table below shows each of the regulation gap allowances.
| Maximum Gap Allowance (cm) | Area of Bunk Bed Gap Concern |
| --- | --- |
| 7.5 | Permitted distance between slats of bed base, beneath mattress |
| 30 | Opening for access, where ladder meets top bunk bed |
| 13 | Distance between top of mattress and top of guard rails of top bunk |
| 20 - 25.5 | Distance between ladder rungs |
| 6 - 7.5 | Minimum and maximum gaps permitted throughout all other parts of structure, such as between guardrails |
Additionally, as with any bed, children's fingers or even a child's head can be trapped between the mattress and the bed sides, so it is important always to buy the correct size of mattress that corresponds to the bunk's base.
Types and Configurations of Bunk Bed
Used bunk beds are a commodity frequently put up for sale. As children grow, smaller bunk bed sets give way to larger ones, as the occupants need greater room. In other cases, when families move on or extend their homes, they are able to give teenagers the privacy of their own room. Either way, the beds, after months or years of use, are ready for new owners, and are sold either with or without mattresses. There are a few widely accepted classifications of bunk beds.
The Standard Bunk
A standard bunk bed is, as the name suggests, the most common and widely available configuration, and for many purposes, the standard bunk bed, a single over a single, is the bunk of choice. Children from the age of six can begin occupying this size of bed, and can, if necessary, continue until their teens with the same arrangement. Usually a very affordable option, used standard bunks appear frequently on sale.
The Triple Sleeper Bunk
In cases where one of the two sleepers of a bunk bed is a larger individual, or where there are three sleepers who need to be accommodated in one room, an imaginative solution is available: the single over double bunk configuration, otherwise known as the single double bunk. This, as the name suggests, amounts to a custom-made set, comprising a double-width bed below, and a single above. Sometimes also known as a triple sleeper, with certain models, the option exists to position them to form an L-shape. On balance, the majority of the designs of triple sleepers on sale are not separable beds.
The High Sleeper Bunk
A high sleeper bunk bed provides a sleeping bed for just one person, but allows the floor space below to be utilised. This is done by means of a configuration that elevates a standard or small single bed on posts and has, built into the lower section, other compact furniture, such as a seat, small chest of drawers, and a desk or dressing table. With high sleepers, a really small single bedroom becomes viable accommodation. Alternatively, in a single-size room, a pair of high sleepers enable the two occupants each to have some storage, working, and playing options.
The Mid Sleeper Bunk
The lower height version of a high sleeper is the mid sleeper, better suited to the smaller child, as the clearance from floor to underside of the bed is approximately 74 cm. The design, as with a high sleeper, is usually known as a cabin bed and allows for storage below, sometimes for sale with the bed, in the form of one or more drawer units and a cabinet. Alternatively, the space below can instead be a play area, for which, at extra expense, an exciting canopy can be purchased to enclose the space, similar to a tent.
Buying a Used Bunk Bed on eBay
Trawling through the many used bunk beds listed on eBay can be a very fruitful pursuit. If you are fairly clear about what your requirements are, then you can narrow down the search by typing one or more of your demands into the search bar, for example: kids' pine bunk. Sellers of large items of this kind sometimes require collection in person, so buyers should check the seller's location before proceeding with a purchase. If delivery is offered, look closely at the terms, or write to the seller to request details regarding the proposed delivery method and cost.
Assembled, used bunk beds can sometimes be purchased, saving on labour, but dismantled bunk beds are considerably easier to load, unload, and transport, with a corresponding saving on costs. It is important to be aware, as a safety precaution, that the assembling of dismantled bunks requires assembly instructions. Ascertain from the seller whether these are missing, and if so, seek professional advice when it comes to assembling the beds.
In some cases, used bunks come with mattresses, saving the hassle of obtaining these separately. However, it is best to have the opportunity to select the required degree of softness for the individual sleepers, always bearing in mind the safety advice about preventing entrapment of limbs.
Conclusion
Growing children and shrinking space provide strong motives for a used bunk bed purchase. Even where a child is fortunate enough to have a room of his or her own, there is often a preference for a high sleeper or a pair of bunks, in order to accommodate an occasional friend. Children love customising bunks, whether by requesting to have them painted in their favourite colours, by adding tied-on decoration, from bunting to strings of fairy lights, soft toys, or even canopies that cover the sides.
Fairness and equality of treatment are often behind decisions to purchase bunk beds, but there are also often pressures to permit an older child greater privacy and independence. Striking the right balance, especially in larger families, can be difficult. It is helpful that a plentiful assortment of alternative bunk styles and shapes have come to exist, making the purchase of a used bunk not necessarily a compromise, but in fact a positive choice.
There is often great camaraderie between siblings who share bunk beds, but attaining the age when parents decree that bunk bed sleeping may now end, and each sibling may, henceforth, occupy their own area of bedroom space, is also a milestone. This time is when a family may well sell a used bunk bed, and so the recycling story continues.