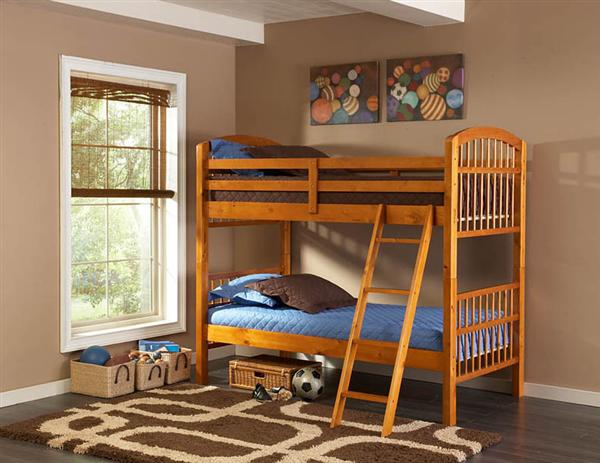 There are a lot of options available to those who wish to purchase a bed frame without a mattress. Whilst there are many regular sized beds made to fit certain sizes of mattress, the likes of cabin beds can be purchased without a mattress included.
Cabin beds with ladders are a prevalent type of bed in children's bedrooms. They are valued by children for the fact that they allow for extra space in the bedroom, as well as for the fact that children find the whole experience of sleeping on a cabin bed to be an enjoyable one.
Beds of this nature are widely available on the likes of eBay and the following guide is written with the purpose of guiding prospective cabin bed buyers through the choosing and buying process.
Cabin Bed Materials
When buying cabin bed, it is wise to know the material of the bed frame that is best suited to the room it is being placed in. This is due to spatial and design issues. The material that the bed is made of also determines its value on the market; so knowing which materials are available also helps those distinguish a budget limit. Here are the materials used in the making of cabin beds:
| Cabin Bed Material | About |
| --- | --- |
| Wooden Cabin Beds | Wooden cabin beds are extremely popular for cabin beds of all styles and types. It is robust, sturdy and is available in a variety of different colours and tones to suit all room designs and sensibilities. Whilst wooden cabin beds are popular amongst both the children that wish to sleep in them and the parents making the purchase, they are considered heavy in comparison to cabin beds made from other materials. They are also fairly big in size, as the wood needs to be robust enough to support the weight of a child securely and sufficiently. Pine is a commonly used wood in the production of cabin beds and beds made of pine are readily available from auction sites such as eBay for affordable prices. |
| Metal Cabin Beds | Metal cabin beds are often favoured for the fact that they are more reasonably priced than wooden cabin beds. This is mainly down to the nature of the material that is being used. Whilst wooden cabin beds may take a certain level of skill to both produce and assemble, those made from metal can be easily put together and taken apart. This is not to say that metal cabin beds are disadvantaged because of this. They tend to have thinner frames that take up less space and are light, for easier transportation. It is a popular feature of metal cabin beds to have a futon or desk situated underneath the bed itself. Whilst this feature does also feature amongst wooden cabin beds, those made from metal are more commonly known for it. |
| Other Cabin Beds | There are also cabin beds available that are made from other materials. These include cabin beds with plastic frames. However, these are not as popular as wooden and metal cabin beds. There are also cabin beds available without mattresses that are a combination of materials. For example, there are those that can be purchased made from both wooden elements and metal parts. |
Additional Cabin Bed Features
Whilst there are standard components to every cabin bed, there are other features that come with the buying of a cabin bed that are not necessarily exclusive to every single one. The standard components of a cabin bed include:
Framing: the basic frame of the bed. This includes bedposts and the general shape of the cabin bed.
Railing: this is a safety measure to prevent those sleeping in a cabin bed to prevent them from falling out whilst sleeping.
Ladder: the ladder is a common fixture in any cabin bed as it provides a means of climbing up to the bed itself.
The features of a cabin bed that are not included in every purchase are as follows:
| Additional Cabin Bed Features | About |
| --- | --- |
| Storage Units | Some cabin beds are available for purchase that feature means of storage underneath the bed itself. This is one of the biggest advantages of the raised part of the bed. These storage units range in size from small shelves for books or toys, all the way up to cabin beds that have wardrobes and chests of drawers that can be used instead of buying individual storage units for the bedroom. It is a popular for cabin beds made of wooden materials to feature wardrobes or at least a chest of drawers underneath the bed and this is extremely advantageous for those looking to decorate a room with certain budget restrictions as the cabin beds that do feature storage units are not necessarily less affordable than those without. |
| Slide | Again, slides are not a common fixture on cabin beds. However, they are a popular feature amongst both parents and children who wish to create a safe and enjoyable way of exiting the bed. When buying a cabin bed with a slide fitted it is worthwhile noting that extra space will be required, as a slide will affect the space that the cabin bed will take up in the room. |
| Chair or Futon | There are a number of metal cabin beds that are available with a chair or a fold out futon fitted as an added extra. These fixtures are appreciated for the fact that they provide extra sitting and relaxation space without having to purchase an individual fitting of the same nature. Children also appreciate a fold out futon as it provides a sufficient means of allowing a friend to sleep over without taking up a lot of space within the room. |
| Desk | Desks are also a common additional feature to cabin beds. With the desk sitting below the raised sleeping area, the addition of a desk provides a space for which the user can take part in activities such as homework or arts and crafts. Again, much like the other additional features mentioned, the permanent desk fixture on a cabin bed means that the buyer does not have to worry about purchasing an individual desk for the room. A cabin bed with a desk underneath is an affordable and space-saving feature that is readily available on sites such as eBay. |
Cabin Bed without a Mattress Considerations
Before buying a cabin bed without a mattress included in the purchase, there are a number of factors that should be considered before the search begins:
Mattress: the best way of ensuring that a mattress is not included in the purchase is by typing 'no mattress' into the keyword search bar once in the correct section of eBay. See the Buying on eBay section below for further details. If one already has a mattress for use in the cabin bed, measure it to make sure a cabin bed is found with a suitable frame for the size of the mattress. When looking at products take note of the specifications and measurements that should be provided to ensure that the transaction is a sensible one.
Additional Features: if there are any additional features desired such as a desk or futon, then a keyword search may also be beneficial. Be sure to read the product description too to make sure that the product matches up to preferences.
Space: as well as measuring the mattress section of the cabin bed and the mattress, it is recommended to measure out the space available in the room that the bed is to be placed. Remember to allow for extra room for a bigger, wooden frame and additional features.
Buying a Cabin Bed Without a Mattress on eBay
Using an auction site such as eBay to purchase a cabin bed without a mattress is a secure way of getting a product that matches specific requirements whilst also being affordably priced.
Visit the Home and Garden category of eBay and click Bedroom option. From there, choose the Beds and Mattresses link from the drop down menu. Then, use the keyword search bar to look for 'Cabin Beds No Mattress/Without Mattress' to find suitable listings.
Once a product has been found it is best to do some research on the seller. Check their selling history to see what feedback others have left them, and make sure that the comments suggest a safe and reliable seller. After checking the product description for measurements and the images of the product for an indication of the bed's condition, the transaction should commence.
One can make use of the Bidding, Buy It Now or Best Offer facilities, depending on the options that the seller has made available. If there are any queries or problems regarding the transaction, contact the seller directly.
Conclusion
With the main requirement of this sort of sale being that there is no mattress included in the purchase of the cabin bed, the best way of ensuring that this is the case is by performing a thorough and specific search. Be sure to include the terms 'no mattress' or 'without mattress' in the keyword search bar and check the product description thoroughly to ensure that this is the case.
Take into consideration the components included in the cabin bed and tailor the search to meet these requirements. Being knowledgeable on the type of cabin beds available should ensure that a transaction is made that is as close to your requirements as possible.
Before settling for a purchase, be aware of both eBay and PayPal's terms and conditions.