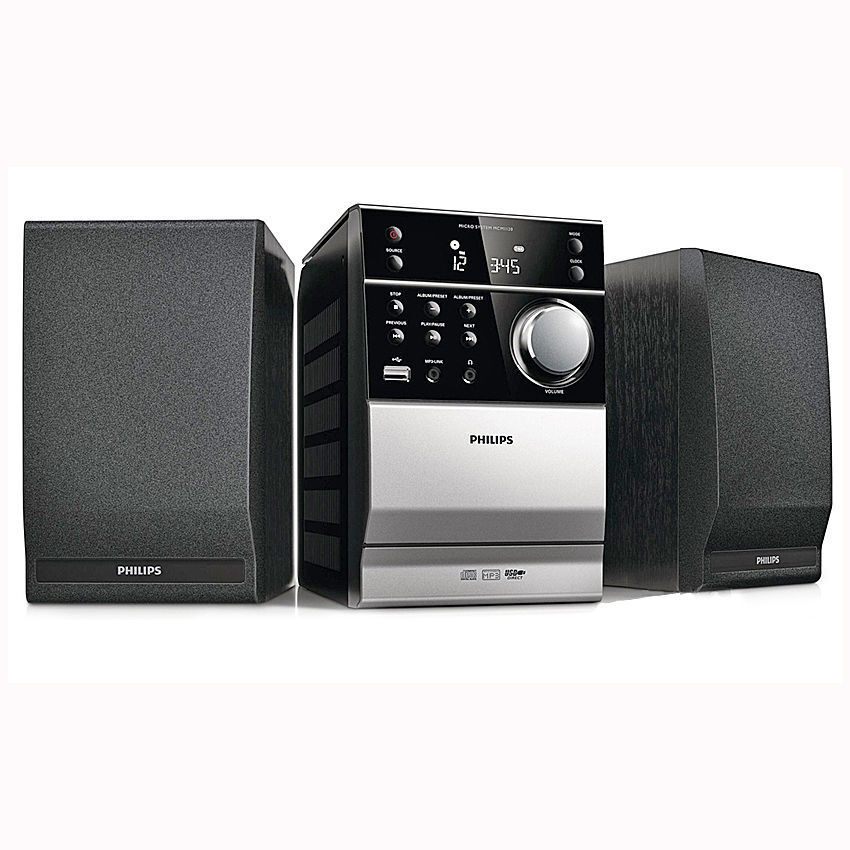 Compact stereos typically have CD players, radio tuners, and iPod or MP3 player connections. They are typically less expensive stereos and their compact design means that they are portable and easily moved from place to place. They can fit into small spaces and don't detract from other features of the room, making them perfect for smaller rooms as well as the living room. Compact stereos are also easy to set up and install as they are typically a single unit without multiple separate components that need to be connected and optimised.
Choosing a Used Compact Stereo
Choosing a used compact stereo involves various decisions about its functionality. Choose a compact stereo that has all the connections required at present and in the future. Check out the sound quality from product reviews, forum websites and the stereo's specification. Buying from a reputable brand ensures that certain standards of quality are attained with regards to sound quality. Consider also where it can be placed and the style of stereo that appeals.
Used Stereos
When it comes to budget, buying a used compact stereo has obvious advantages over buying a new system. It is often possible to find great bargains on second hand audio equipment, and second hand compact stereos are no exception to this. Always read the product description carefully to check for any cosmetic damage or other issues, for example with the display; the item offered for sale should be in full working order unless otherwise stated. Check the compact stereo still has a remote, if it originally came with one. Check any seller or manufacturer feedback or reviews which can inform the purchase. Used compact stereos are not necessarily that old; many people choose to upgrade their stereos on a regular and frequent basis to take advantage of the latest technological advancements, so recently manufactured second hand stereos are fairly easy to find. On the other hand, vintage and retro compact stereos are often in demand, especially among those who enjoy listening to older music formats.
Playable Media and Connections
Almost all current and recently manufactured compact stereos will be able to play CDs. Some may have multiple CD holders. Some stereos also have support for CD-R (Compact Disc-Recordable) and CD-RW (Compact Disc-ReWritable). CD-Rs allow once only recordings, while CD-RWs allow recordings to be made over each other. CD-R support gives the option to play MP3 files which have been downloaded, decoded and written onto a CD-R. CD-Rs can hold a far higher number of MP3 files than CD tracks; typically they can hold around 150 songs, which has obvious benefits for storage. Older systems may also have tape decks and/or minidisc (MD) players. One of the significant advantages, in fact, of buying a used compact stereo is that it is possible to find older systems which support these older music and media formats. This is useful for people wanting for example to play cassette tapes or to transfer tracks from tapes to other formats. Older systems often have two cassette decks, enabling one to be played and the other recorded.
Most compact stereos have a radio tuner that can play FM/AM radio. Compact stereos may also have digital audio broadcasting (DAB) radio capability. DAB gives a far wider range of radio stations and is a great feature for those that enjoy listening to radio and want to experience a greater variety of shows and music. DAB arguably also has better sound quality than analogue FM, with the sound more akin to that of a CD track without any interference. It is possible to pause, record, and replay DAB programmes. Check out the connections for hooking up an MP3 player or iPod if these devices are to be played through the stereo. MP3 players and iPods can be connected via AUX IN ports or sometimes USB flash drives.
An alternative to the traditional compact stereo is an iPod dock which can charge iPods as well as playing music through them; many also have CD players and other functions such as radio and alarm clocks. More comprehensive or advanced systems may also have DVD playback functions, allowing the system to be connected to a television set and DVDs to be enjoyed with high quality audio. This means that a separate DVD player is not required and is an excellent space saving option. Some systems may also have Wi-Fi capability that allows the user to stream music directly, with the option to transmit it wirelessly to speakers in different rooms. A router and broadband connection may be needed for this. Bluetooth is another option for wireless music streaming, and most modern devices such as smartphones and laptops have Bluetooth technology.
Sound Quality
Compact stereo systems, especially those from leading brands, typically have excellent sound quality quite satisfactory for home listening and enjoyment. Speaker quality can be partly assessed by the wattage, so check this out on the specification. Power output is expressed in watts RMS (root mean square). A higher power output usually indicates better sound quality. Power output varies from around 1 watt RMS upwards, and higher quality stereos have a power output around 10 to 20 watts RMS for each speaker. Besides looking at the specification and power output, it can be helpful to visit product review websites and forums to gain recommendations on particular stereo brands and models. Compact stereos are set up for optimum sound quality for general listening, so there is generally no need for the user to play around with complicated controls and settings to obtain great sound. However, many compact stereos, especially higher end stereos, do include various controls for sound processing, such as equalisation, that can be optimised for different types of music by the user. Some systems have extra speakers, such as a subwoofer, to project sound in the different frequencies more realistically. Subwoofers project sound in the lower frequencies, meaning that the resulting audio is deeper and richer. Again, this is typically a feature of higher end compact stereos. It may be possible to add extra speakers or upgrade the current speakers if necessary.
Find a Used Compact Stereo on eBay
There are many used compact stereos available for purchase on eBay, of all different types. To find one, visit the eBay homepage and navigate from there using the tabs to the left of the page. Begin by opening the Electronics & Technology tab to navigate to the Sound & Vision page. A further set of tabs appear, from which the link for Home Audio & HiFi Separates can be selected, followed by that for Compact/Shelf Stereos. Scrolling down the next set of tabs and selecting Used , under the heading Condition, will bring up all second hand compact stereos. There are a number of further options to refine the search, including by brand, specific features, playable media, playable file formats and price. Alternatively, the search function at the top of the eBay homepage can be used to search for second hand compact stereos. Type in terms such as "used compact stereo", "used compact hi-fi" or "used compact stereo MP3" and press Search to browse appropriate listings.
Conclusion
Compact stereos are an alternative to stereo systems with multiple components. Single convenient units, they usually have CD players and FM/AM radio tuners as well as AUX IN connections for MP3 players and iPods. Depending on the system, they may support other media. Compact stereos from good brands provide excellent sound quality, and higher end models include various controls for optimising audio. Buying a used compact stereo can be an excellent alternative to buying a new system, especially for those on a budget. The right compact stereo is the perfect addition to any contemporary home.