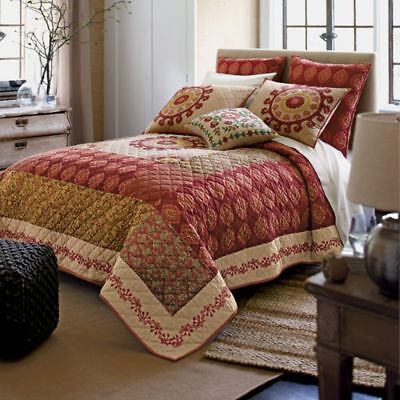 Quilts can add a cosy, comfortable touch to a home. Whether they are draped over a couch, hanging on the wall, or placed on a bed, quilts look rustic, old-fashioned, and recall cosy nights by the fireplace. Lend a homey touch to any room with a decorative quilt. Buy used decorative quilts on eBay for a great price, and put a beautiful quilt in a nursery, guest room, or a sitting room.
Since decorative quilts are mostly meant for home décor purposes, they don't have to be especially thick or made of a certain material, and the buyer is free to shop with only aesthetic purposes in mind. Some buyers may want a more traditional homemade decorative quilt, while others may want a more modern quilt to add some décor to the home. However, quilts that are decorative can also be used as bed coverings, and if this is the case, the buyer should also keep comfort in mind; the softest quilts are made from 100 percent cotton or yarn. No matter what type of quilt is needed, there are a few different factors to consider before purchasing a decorative quilt for the home such as quality and style.
What to Consider When Buying a Used Decorative Quilt
Before buying a decorative quilt, consider what type of quilt is needed. Does it need to be practical at all, or merely decorative? If the consumer is looking for a handmade quilt, the price of the quilt might be a little higher than purchasing a store bought quilt. Set a budget before quilt shopping to help narrow down affordable options. The consumer should keep in mind quilt colours, if the quilt is going to be placed in a specific spot, as it should match existing décor and enhance the room it's going in. Quilts can be all one colour, or they can be multi-coloured and match practically every kind of other decor. It all depends on the buyer's preference.
Decorative quilts can lend a shabby chic touch to a bedroom, or an old-timey, folk art feel to a family room. Deciding where the quilt will go and what type of quilt is desired will help the buyer select the perfect used decorative quilt that will provide years of enjoyment. The perfect quilt might be a good addition to a child's bedroom, a teen girl's canopy bed, or a guest room that could use a little enhancement.
Common Types of Decorative Quilts
There are a few different styles of quilts, but they all fall under the umbrella of two main types. Choosing a quilt depends on budget and personal style, and the quilt should reflect the personality, home, and aesthetic sense of the buyer. Though decorative quilts are mostly meant to look pretty, they can be used functionally if necessary.
Handmade Quilts
Buyers may know someone that quilts, though it is now a dying art. Quilting, or piecing squares of fabric together to create a unified design, is a tradition that dates back many years. Special quilts are made to give as gifts to a couple getting married, or perhaps when a baby is born. Quilts all have unique designs and many colours, so choosing a used handmade quilt will be interesting and fun. Handmade quilts are beautiful and one of a kind, and will add something to any home.
Handmade quilts can be created of squares, triangles, diamonds, designs, or other patterns and can use several colours or many colours, depending on who made the quilt. A handmade quilt can even be created with hearts or have characters sewn into it for a child. With so many types of material offered in today's market, quilts that are handmade can be very versatile. They are also made of cotton and very comfortable, and will work as a cosy throw on the couch, or a beautiful wall hanging. They also look quite pretty covering a bed.
Manufactured Quilts
Quilts that are manufactured won't have the same one of a kind quality that handmade quilts have, but they are still lovely and can come in many styles and designs. Quilts are thinner than a regular duvet or comforter. Most manufactured quilts are either solid coloured, or come in a patchwork style design. Some manufactured quilts are called quilted comforters, and these are essentially bedspreads or duvets.
For decorative purposes, these types of quilts may not be as beautiful hanging on the wall, but they can definitely be a conversation piece when used as a throw in a living or sitting room, or as a bedspread in a bedroom. They are made by many different brands, such as Laura Ashley or Marks & Spencer, and for the most part, they are made from 100 percent cotton so they will be quite soft after a few washings. Manufactured quilts may also offer an extra layer of padding or a lining that a handmade quilt won't have, so this could be a plus of purchasing a quilt that's not handmade.
Knitted/Crocheted Quilts
Knitted or crocheted quilts, also called throws, are also a unique décor item to have in the home. Since they are also handmade, they are varied in how they look. These are too fragile to be hung for a decoration, but they look gorgeous over a couch or chair, and can also be used as a light bed covering. They are warm, but not as thick as a traditional comforter so may not be enough to keep the consumer warm during the cooler months of the year.
Knitted quilts can be created from one colour of yarn or several, depending on how talented the knitter is and what the design of the quilt or throw is. Keeping knitted and crocheted quilts clean can be tricky, as they can't be put into the dryer and must be gently hand washed in cold water when needed. Some crocheted quilts have a border that makes them look more finished, and some are made of crocheted squares, called "Granny squares", that are stitched together to make one quilt, similar to a cotton patchwork quilt with its handmade cloth squares. These are stunning additions to a home and quite cosy, too.
How to Buy a Used Decorative Quilt on eBay
When you're looking for a decorative quilt on eBay that's used, search quilts. From then you can narrow the search based on what type of quilt you would like, whether it's Bedding or Home Décor. Tailor the search further by selecting Used to see what comes up. Or, you can do a more specific search to garner results you may like more, such as crocheted quilt or handmade quilt. Search by colour or price. When you're buying a used quilt, check the seller's specifications to see what kind of shape the quilt is in. Any rips, tears, or stains should be noted. Look at photos of the quilt, and ask the seller for more if need be.
Purchase used quilts for decorative purposes from highly rated sellers. Perhaps you can find a local seller, and you can meet them in person to pick up the quilt. This offers a unique buying experience you can only get on eBay. It will also lower shipping costs. Buy more than one quilt from a seller, and see if he or she will arrange a special bundled shipping deal for you. Purchase the perfect quilt for your home on eBay, and you may also find other items, such as throw pillows or other home decor to go with it.
Conclusion
When decorating any type of home, it needs a cosy, homemade touch. The perfect solution to that issue is to buy a decorative quilt. There's just something about a quilt that says home, even if the style of a home is more modern. There are so many types and styles of quilts to choose from, that there is probably one that will go with a buyer's existing home décor perfectly. Whether a soft, TV-watching quilt is needed for the living room, or a beautiful handmade quilt would be perfect hanging on the wall, a decorative quilt is a great enhancement and addition to a home. Women used to quilt together all the time, and they would make beautiful handmade quilts. Support this long standing tradition by purchasing a used quilt or crocheted quilt to look beautiful in the home.
Quilts may not be as thick as the standard blanket or duvet, but their soft cotton fabric makes them extremely comfortable to sleep or lie under. The more a quilt is washed, the softer it becomes, but a quilt shouldn't be washed too often, especially a handmade one. Purchase a quilt for every room of the home. Quilts look beautiful in a rocking chair in the nursery, and buying a decorative quilt for a bride-to-be is still a welcome and fun tradition. Make a home complete with the addition of a gorgeous used decorative quilt, which is functional and beautiful at the same time.