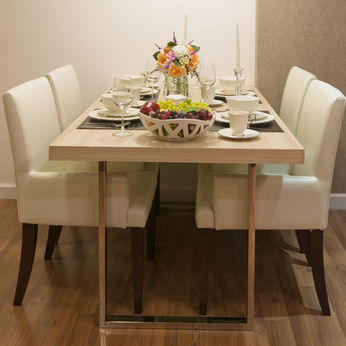 A dining room in a home is the place where a family may gather on a regular basis to share a meal and where guests are entertained on special occasions. Whether the dining space is in a separate dining room or part of an open plan living area, it needs to be flexible enough for both of these functions. A significant factor that allows this flexibility is the choice of a dining room set that includes chairs and a table. A well-chosen dining room set fits within the physical space and accommodates the functions associated with casual or formal dining, depending on its use.
Purchasing large furniture items of this type is not something that most people undertake regularly. A dining room set that consists of a table and chairs is a long term investment that is very likely to be put to use for several years to come. The purchase of a used dining set provides great value, as it can save money for the buyer. An understanding of the facts about used dining room sets can enable a potential buyer to make an informed decision, and eBay can help in this process.
Decide the Purpose of a Used Dining Room Set
Planning to purchase a used dining room set involves careful consideration of how the set is to be used. Is the set required for everyday use or for more formal entertaining purposes? If it is for everyday use, a smaller round or square table can accommodate most family dining requirements. Smaller tables can fit into a corner space in most kitchens and provide a great place for family meals. For formal dining, the number of guests typically invited to occasions may have an impact of the type of table that is chosen. This can also impact any particular style choices such as the material used for the table.
Size and Shape Options in a Used Dining Room Set
The easiest trap to fall into when choosing a used dining room set is to purchase a set that is not the ideal size for its intended use. A dining room set should never be purchased for its looks alone.
Take Careful Measurements
Careful consideration should be given to the dimensions of the room where the used dining set is to be located. The space taken by other furniture such as sideboards and cupboards should also be accounted for.
Measuring the dimensions of the dining room is always a good idea. It is important to know exactly how much space is available for a used dining room set. Remember to allow room for additional furniture such as cupboards and sideboards as well. If buying online, it might be difficult to envisage a potential purchase and how it can fit in a particular room. If clear measurements are given, create a template out of newspaper that is the same size as the table and the chairs. This can then be used on the floor in a dining space to see how well the used dining set fits.
Make sure there is at least 91 cm between the back of the chairs and the walls in dining room to enable diners to sit at the table comfortably.
Round vs. Square and Oval vs. Rectangle
For smaller numbers of diners and a smaller dining space, a round table is appropriate, as this allows easy movement around the furniture when it is not in use. Rectangle-shaped tables lend themselves particularly well to groups of four people or more.
Number of People

Square Table Size

Oval/Round Table Size

Up to four people

71 cm to 100 cm square

91 cm to 122 cm diameter

Four to six people

71 cm by 117 cm to

147 cm by 198cm rectangle

145 cm to 198 cm diameter

Six to eight people

91 cm by 152 cm to

123 cm by 183 cm rectangle

91 cm by 152 cm to

123 cm by 183 cm oval

Eight to 10 people

91 cm by 152 cm

122 cm by 234 cm rectangle

91 cm by 203 cm to

91 cm by 233 cm oval

10 to 12 people

91 cm by 243 cm

122 cm by 274 cm

not recommended

14 to 16 people

91 cm by 315 cm

123 cm by 2320 cm

not recommended
Oval dining tables are better when space is in plentiful supply, as they require more space to accommodate the same number of people. Oval tables also require additional space to allow movement around the table.
How to Style a Used Dining Room Set
A used dining room set can be purchased to fit in with existing styles of furniture or as the centerpiece of a new, refreshed look. If the set is to be part of an existing look, then focus should be given to the material the set is made from. Look at the colours of the materials and fabrics used to ensure that they complement rather than clash with existing curtains and rugs and other pieces of furniture.
Purchasing a used dining room set is an opportunity to restyle the entire dining room, and it can be used to make a statement about a person's style. Sophistication and ambience can be created by choosing modern fabrics and materials in tones that blend together across soft and hard furnishings, and this is easily achieved in a formal dining room. A less formal environment can also be created in a conservatory to make use of light and space. Furniture made from glass or more unusual materials such as rattan is especially useful in these circumstances.
Materials in Used Dining Room Sets
Used dining room sets can come in a variety of materials. The choice of a used set depends on the purpose of the set and whether or not a specific type of material is suitable for that purpose.
Solid Wood
Solid wood is a luxurious and substantial material that a used dining room set may be made from. The natural beauty of well-preserved timber can change over time as the wood is treated and cleaned. A mature dining room set made from wood is a thing of true beauty. Soft woods such as pine are widely available and can be found in a range of colour finishes from bleached to antique. Hard woods such as oak or teak are also widely available.
Wood Veneer
A wood veneer tabletop can cost a fraction of one made from solid wood. Thin layers of real wood are applied to less expensive materials to recreate the impression of solid wood. Tabletops made in this way save considerably on cost but may not be as hard-wearing as their solid wood counterparts.
Wood Effect Furniture
Wood effect furniture is made to resemble both the look and feel of real wood, but a used dining room set made of this type of material costs considerably less. Man-made materials lend a colouring and surface texture that gives this furniture the same appeal as real wood. The furniture also offers the advantage of being easy to clean; often a simple wipe with a damp cloth is all that is required, making it ideal for families with younger children.
Melamine
Melamine furniture is MDF (medium-density fibre) board that is coated with a particularly hard-wearing covering. Scratch and stain resistant melamine is often seen in white. A used dining room set with a melamine table may be used for more formal dining by laying a suitable tablecloth over the top.
Glass
A used dining room set with a glass table can be used to create space and openness in a dining room. Even when smoked glass is used, the neutral colours blend well with existing furniture, making them particularly useful if here is a need to avoid completely restyling a dining room. Tempered glass, in particular, is manufactured to be much tougher and makes a much safer addition to a dining room.
Dining Chairs
Whilst focussing on the size, shape, and materials that a dining table is made from, one must keep in mind the dining chairs that can complement the table. Dining chairs are normally made from solid wood or some form of metal such as chrome or steel and can be found in a variety of styles. In terms of styling, the greatest choice lies in the type of fabric used to cover the seat. Fabrics such as chenille give a touch of luxury to a formal dining room, while cotton is a soft fabric that may be used in more casual sets. Leather and suede make an impact and are hard-wearing. These materials are available in faux formats for those who wish to avoid using animal products.
Buying dining room chairs and a table separately can provide a greater choice and flexibility in designs and styles. However, care should be taken to ensure that there is about 30.5 cm of space between the seat of a chair and the underside of the table.
Buying a Used Dining Room Set on eBay
eBay is a great source for a used dining room set. On the eBay homepage, simply type in "used dining room set" and you are presented with a list of items matching your description. You may also enter "dining room set" and choose to filter by condition. If you cannot find what you are looking for, you may use eBay's suggestions for other similar searches that may get you closer to what you are looking for. Searches such as "dining room furniture", "dining room suite", and "dining table and chairs" are some examples of what you may see. It is also easy to create your own used dining room set by searching for table and chairs separately.
You also need to consider how your new used dining room set is sent to you. Determine if the eBay seller offers a courier service and, if so, what it costs. If the seller is located close to you, then you may be able to collect the items yourself.
Conclusion
Managing to be successful when buying a used dining room set is about finding a wide range of sets to choose from. Used dining room sets on eBay are offered in a wide variety of styles, sizes, and materials, increasing one's chances of finding something that is suitable for the purpose. Owing to the fact that it is an online auction site, eBay offers a wider choice of used dining room sets than a traditional retailer. The list of items is always changing as sellers add new items on a daily basis. If the item needed is not listed, checking back the following day, or even later the same day, may generate new listings. The regular addition of new items is something that traditional retailers are not able to beat.
With its numerous listings as well as easy-to-use search functionalities, eBay makes a great destination for buying a used dining room set that can enhance the look of a dining area.