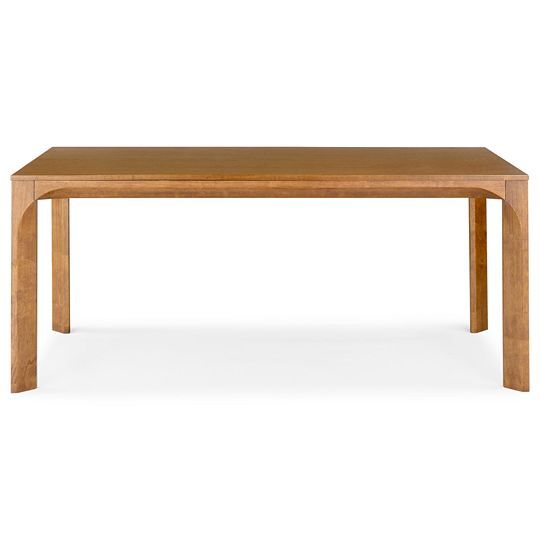 A dining room table is one of the most important pieces of furniture in a home. The table quite literally sets the stage for both formal dinner parties and intimate family meals. For many families, the dining room also doubles as a work area, with the table serving as a place to homework, pay bills, or play board games. The right table, therefore, is not only a major part of one's interior design: it is a matter of functionality as well as aesthetics.
A good-quality table is a beautiful and useful piece to own. Unfortunately, a first-rate dining room table that is purchased new can also be prohibitively expensive. Buying used is a great way to find a good price without compromising on quality. Anyone in the market for a dining room table should consider a number of practical tips and suggestions on how to choose the right dining room table for a particular family's needs, as well as how to spot quality, especially when buying used and even online.
Dining Table Styles
There are a great many specific styles of table created by specific manufacturers as part of their furniture collections. This range of choice can be simplified by grouping tables according to shape, function, or broad stylistic categories such as modern or contemporary. Once a buyer has a good idea of what he or she is looking for, choosing a specific design will be much easier. When completely redecorating a dining room, one should start with the table and use it to set the tone and style of the room. When replacing the table in an existing dining room, there are a number of options. If one likes the current look but simply needs an update or upgrade on the table, he or she can buy a table that matches the original style. On the other hand, one may wish to buy a table that contrasts with the other pieces in a way that redefines the look of the room.
Formal, Casual, and Rustic
One of the first decisions to make is what the overall feel of the table should be. A formal table calls for a fairly conservative, classic design. High-quality wood veneer with a rich, dark stain is a good choice for material. Veneer means the use of thin sheets of wood bonded to a solid wood or particle-board core. While this method can be used to create a beautiful surface, low-quality veneer is simply a way for manufacturers to lower their costs. A formal look demands quality, so if high-quality veneer is too expensive, one should choose solid wood or some fine material.
For some, a more casual or rustic feel is preferable; families with children may prefer a casual table as the more the more practical choice to double as a work or play surface. Wicker, glass, or metal elements, often with a wooden frame, will give a table a more casual, relaxed feel. Solid wood is also more casual than is high-quality veneer. Heavier, rough-hewn construction is also casual, but in a more rustic way: a piece of furniture that would look at home in an old farmhouse. Heavy, solid wooden tables are often more durable than their more elegant counterparts, and they have the advantage of improving with age. Even signs of wear add to their charm. Moreover, any table can be dressed up with a table cloth.
Round, Rectangular, and Oblong
The shape of a table is a big part of both its style and its function. Round, rectangular, and oblong tables are all fairly traditional, with rectangular and oblong shapes considered more elegant. A small round table facilitates conversation, since everyone at the table can see each other easily. At larger sizes, however, round tables become impractical: adding more seats to a round table requires increasing its diameter, and a table more than about two metres across will have a dead space in the middle that nobody can comfortably reach.
Rectangular tables are usually supported by legs at the corners, and sometimes additional legs along the sides. Round and oblong tables are usually supported by a single, central leg and therefore have more of a tendency to wobble.
Tables with Leaves
Some tables have extra sections that can detach or fold or slide out of the way when not in use. This ability to change size makes setting a table for an unusually large dinner party much easier. Such a table can also adapt to changing circumstances. A family can move from a small flat to a larger home without having to buy a new table if the table can expand; conversely, when it is time to buy a new dining room table, the old one can fold down for use as a side table in another room. If the leaves detach from the table, make sure to store them flat, not upright, to prevent warping.
Even a table without leaves can be enlarged by placing a large sheet of plywood on top. It is advisable to protect the table underneath by laying a table protector cloth between the two layers and a tablecloth on top. No one is likely to notice the plywood under the cloth.
Traditional, Contemporary, and Unique
Traditional tables are most often wooden and may include decorative carvings on the legs, although the overall design is relatively simple. Contemporary tables usually include more than one material, for example, metal legs and a wooden top. Lines are clean and simple, with few decorative elements. Both contemporary and traditional designs come in a range of shapes. While traditional styles are by definition from an earlier time, both traditional and contemporary styles are still current. Aside from these, there are more creative styles, some quite unique: table surfaces made of driftwood or thin slices of unmilled logs' supporting legs woven of wire or twisting tree branches. There is no limit to the options.
Common Dining Table Material Options
There are several different materials used in tables, the most common of which are wood, glass, metal, and stone. Each material offers different options for style and function and has different care requirements.
Wood
Wood is the most common material for tables. Of course, there is more than one type of wood. Oak and maple are both popular for tables, as are several other species. Tropical woods are fairly common in Asian-made tables, although these can sometimes suffer damage such as splitting in colder climates. In any climate, wood must be cared for properly so that it does not dry out or warp. Other considerations for wood include the colour and type of finish. Bamboo, veneer, and wicker are also forms of wood.
With wood, quality is one consideration, but source is another: one should not buy wood products from manufacturers that do not harvest wood sustainably. A great table is not worth the loss of forest in another part of the world. Of course, when buying second-hand, the source of the wood becomes less important.
Glass
Glass is a relatively common table-top material, though usually the frame a glass table is either metal or wood. Elegant in appearance and easy to clean, glass also resists scratches and other minor forms of wear. The drawback, of course, is that glass can shatter, which may limit its uses. Standing on a glass table in order to change a lightbulb, for example, is not an option.
Metal
Certain metals, especially stainless steel and zinc, are popular in the frames or legs of glass- or wood-topped tables. Some tables are made entirely of metal. Most metals will oxidise over time unless coated with wax or some other protective finish, though many people like the look of weathered metal. Some types of metal scratch easily or can be damaged by heat.
Stone
Granite, marble, and slate are all widely used materials for table-tops, with a look that can vary from rustic to elegant, depending on the cut and polish of the stone. Stone-like composite materials are also available. Stone is durable and strong but not impervious to damage. Different types of stone require different types of care.
Size and Quality
Once basic decisions about style are made, it is time to start looking for an actual table. Choosing the right size is important, as well as finding a table of good quality. When shopping online, the issues of both size and quality are complicated since there may be no opportunity to personally inspect the table before buying.
Choosing the Right Size
A dining room table must be the right height for its guests as well as a practical width and length. Almost as important, a table must be small enough to get into the house. Some tables are designed to be taken apart for shipment and reassembled once they get to the dining room, but such tables are not as durable as those with solid, permanent joints. Before buying, one should measure all the doors and hallways through which the table will have to pass before committing to purchase. It may be worthwhile to create a cardboard mock-up of the table as a test, especially if one will have to move through tight or strangely shaped spaces (such as a spiral stairway). A cardboard mock-up is also useful for figuring out how a table of a given size and shape will actually fit in the dining room.
If the buyer already has a set of dining room chairs, he or she can use the height of the chairs to calculate the table height necessary to provide enough clearance over the chairs. For round or square tables, one should avoid anything much more than two metres across unless the plan is to put a large centrepiece or a lazy susan in the middle. For rectangular or oblong tables, the table must be wide enough to accommodate a centrepiece and serving dishes.
Checking for Quality
Most tables look good when they are new; the difference in quality, especially with wooden tables, shows up with age. Checking (small, squarish cracks) and separated joints are common in low-quality wooden tables. A well-made and well-cared-for table may collect some scratches or dents over time, but there should be no cracks or separations. If the finish is strong, even scratches should be rare. Badly-made veneer can separate, and any wood can warp or burn if badly cared for. Low-quality veneer is very thin, and scratches or other minor damage can expose the core material underneath, another bad sign.
A buyer should look for wooden tables, made in the United States or Europe, that have all surfaces finished. Unfinished under-surfaces do not show, but will absorb moisture and warp. Hand-rubbed finish, rather than sprayed-on finish, will both look better and be easier to touch up. All tables, regardless of materials, should have well-made joints and should not wobble or have spots of damage: chipped glass, for example, is both unsightly and dangerous. For metal tables, one should beware of any signs or corrosion or damage while remembering that a metal table in the process of developing an attractive patina will sometimes go through an intermediate phase of simply looking stained. Such a table is not damaged and will improve in time.
How to Buy a Dining Room Table on eBay
Buying online creates the added difficulty of not seeing the table until after it arrives. When possible, it is helpful to find a similar table to inspect in person in order to check out the size and style; if a friend or a family member has a nice table of the right size, using it as a model for shopping online is a good idea.
Finding a dining room table on eBay is fairly simple; just search for "dining room table", and then narrow down the results with the menu options. At least two stages of narrowing may be necessary, the first stage to filter out tablecloths and other related items that are not tables, and the second stage to filter the results by style, colour, and condition. Be sure to read through the product listings carefully before buying, otherwise it is possible to buy the wrong item by mistake. Address any questions to the seller, asking about size, condition, and materials. For a major purchase such as a table, always look up the details of the seller's return policy and ask the seller to insure shipping. It is a good idea to look up the seller's feedback score as well.
Conclusion
The dining room is often the heart of a house: a place for sharing meals with family and socialising with guests as well as a place for playing and working. The dining room therefore does a lot to set the mood and function of the house, and the dining room table, whether formal or casual, wood or glass, oblong or rectangular, sets the mood and function of the dining room.
With a piece of furniture that plays such a pivotal role, it is important not to compromise on quality. On the other hand, it is also important not to break the bank. Buying a used table offers the best of both worlds, providing a good way to buy quality at a reasonable cost. For a good dining room table, a few years of history will not diminish the beauty or function at all. If anything, an older table may be even more valuable, and will quickly become a treasured part of the home.