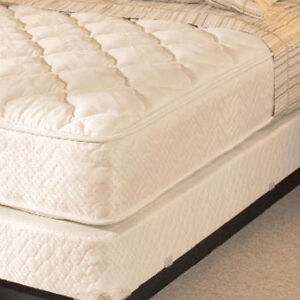 Buyers can find a used double mattress that has plenty of life left in it and offers the proper level of support. This is a great way to save money by buying a mattress that is a fraction of the cost of a new one. It is important to consider the mattress type and is advantages and disadvantages. Buyers also need to establish what level of support they need, from very soft to extra firm. There are a number of aspects of the used mattress that should be examined to make sure that it is of good quality, such as signs of wear and tear, stains, and bed bugs. Finally, a buyer should know how to clean a used mattress to ensure that it lasts for a long time.
Used double mattresses can be bought from private sellers in the local area or second hand shops. eBay also has a range of used double mattresses of all types and levels of support.
Types of Double Mattress
There are several different types of double mattress to choose from. Each mattress has different benefits and drawbacks. Buyers should know the difference between mattress types to be able to successfully buy the one that is most appropriate.
Open Spring Double Mattress
An open spring mattress has a series of identical, interlocked springs. These mattresses are the least expensive. Although they last for a long time, they do not offer as much support as other types of mattress. The body weight of the sleeper is distributed right across the bed, so when they shift, not only do the springs beneath them move, but so do all the others that are connected to them, which pulls still further on more neighbouring springs, creating a rippling effect. This can cause annoyance if there is a partner in the bed, so this effect of an open spring mattress must be considered before making a purchase.
Pocket Sprung Double Mattress
A pocket sprung mattress contains springs that are individually contained within a pocket of fabric and filling. These mattresses are popular because they are very durable. As the springs are in single units, when one person moves the other person in the bed does not feel the motion of the springs. Pocket sprung mattresses are able to react freely to the movements and body weight of a sleeper, offering a better, more focused level of support.
Memory Foam Double Mattress
Memory foam mattresses are the most expensive type. Their structure means that they can feel very strange at first for buyers who are not used to them, but most people find them extremely comfortable and very beneficial in the long run. Memory foam supports the body in a unique way, removing pressure from key areas by distributing the body weight fully. Memory foam mattresses cradle the body gently, creating a very soft, but supportive sleeping surface. Their dense foam construction means that these mattresses feel considerably warmer than other types.
Firmness of the Used Double Mattress
Double mattresses are available with different levels of firmness and support. Some people rest better on a soft mattress that they sink into; that cradles the body gently and offers minimal rigidity and support. Other people find that soft mattresses make them uncomfortable, so they require a firmer mattress. Firm mattresses offer a higher level of support and help to keep the body properly aligned during sleep.
What to Look for When Buying a Used Double Mattress
Buying a used double mattress is a great way to purchase a high quality mattress without spending a small fortune. For those on a budget it is ideal, allowing them to buy a double mattress that offers the correct level of comfort and support. An affordable alternative is to buy the cheapest new double mattress that can be found, but this may not offer the best level of support. To make sure buyers are purchasing a good quality used double mattress, there are a number of features that need to be look for.
General Wear and Tear of the Used Double Mattress
Buyers should sit or lay on the mattress, if possible. This gives them an indication of the level of support they can expect from it. This also allows the buyer to make sure that they cannot feel the springs through the top of the mattress. If any springs can be felt when sitting or laying on the mattress, then it is near the end of its life and should be avoided: a mattress with springs poking through and digging into the sleeper is likely to cause discomfort and a poor night's sleep.
Look for any threadbare or especially thin patches on the surface of the mattress. This tells buyers that the mattress has been well used, and is ready to be traded for a new one. A sagging mattress with any loose stitching, splits, or misshapen parts is of no use and should not be purchased.
Stains on the Used Double Mattress
Stains are a common occurrence on used mattress, and some are innocent, innocuous stains from spilled drinks like tea and coffee. These stains may seem to have damaged the mattress, but they can be removed easily with the right stain remover. Some stains, such as blood or other body fluids are much more difficult to remove safely and may be off-putting. If the stain is local to a small area and not too severe, then it may be possible to remove it with the appropriate cleaning products and techniques.
Bed Bug Infestation in the Used Double Mattress
Bed bugs are very problematic and feast on human blood, or even on the blood of household pets. These tiny creatures feast voraciously on four times their own bodyweight in blood in a single meal that typically lasts less than 15 minutes. Buyers should not run the risk of introducing bed bugs into their homes. Signs of bed bug infestation include small specks of black-red faeces, or pinprick size droplets of blood. The bed bugs are small, flat, and very difficult to see. They tend to hide in folds and crevices. If a buyer finds a mattress with no obvious signs of infestation, but is still concerned, it is possible to have the mattress professionally treated just to be on the safe side.
How to Clean a Used Double Mattress
Many people who purchase a used double mattress choose to clean it before they use it for reasons of hygiene. It is also a good idea to maintain a cleaning regime to prolong the life of the mattress. Many people choose to use a vinyl mattress protector beneath the sheets, to create an effective and hypoallergenic barrier.
To remove as many dust mites as possible, vacuum the mattress thoroughly. Use the small nozzle attachment and vacuum both sides of the mattress to pull out as many mites, dust, and shed skin cells as possible.
When cleaning a used double mattress, it is important not to let it get too wet, as mattresses take a very long time to dry. Moisture in the mattress can cause mildew growth and unpleasant odours. First try a soap detergent mixed with warm water. Whisk the solution until lots of suds appear, then apply it to the mattress with a damp cloth. This can be left for five minutes then cleaned off with a fresh damp cloth. Upholstery shampoo can also be used, if simple detergent does not work.
How to Buy a Used Double Mattress on eBay
eBay has a wide range of used double mattresses. Buyers can search for a double mattress from the eBay homepage and then narrow down their search results using the filters that are available. These filters allow the buyer to see only used mattresses: all the new ones are excluded. The location filter is useful when buying large items as the cost of delivery may be expensive. By using the filter, the buyer can choose to limit the miles that the seller is from any postcode. This can prevent buyers bidding on collection only items in Scotland when they live in Devon. If the buyer has any questions about delivery options or any features of the mattress, such as the size or type, then they can contact the seller using the "Ask a question" link.
Feedback
Choosing a seller with positive feedback can ensure that the transaction goes smoothly. Feedback is left for sellers once their transaction is complete. Sellers who have a large percentage of positive feedback have proven to be able and trustworthy sellers who other buyers would recommend.
Conclusion
Used mattresses are widely available, and provided they are in good condition, they can be a viable purchasing option. Buyers should decide on the type and firmness of the mattress that they require. Inspect the mattress or photos of the mattress to ensure that there is only light wear and tear. Some light stains are acceptable as they can be cleaned away with soap and water. Tougher stains may be more difficult to remove, so the buyer should consider this before making a purchase. There should be no signs of bed bug infestation at all. After purchase, buyers are advised to give their used double mattress a thorough clean before use. Vacuuming the mattress on both sides and cleaning any stains is a great way to start the new life of the mattress. Buyers can also purchase a mattress protector that acts as a hypoallergenic barrier. eBay sellers have used double mattresses at great prices that will ensure a good night's sleep for everyone, regardless of sleeping habits or budget.