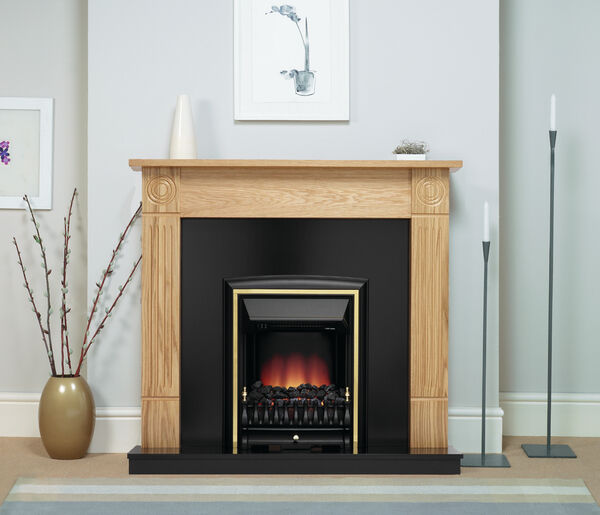 Installing or updating an electric fire suite can really bring together the decor of a room and give it a finishing touch. Electric fires are versatile, stylish appliances that are cheaper to buy than gas fires, easier and less costly to run, and more efficient. They are particularly good for households with children and animals. Depending on the style, make, and model of electric fire desired, the cost can vary widely, and if a model is bought second-hand, the cost can be even less. The possibilities are almost endless with an electric fire, so finding the desired product second-hand on eBay is a resourceful way of saving money. However, do sufficient research beforehand, either elsewhere online or in stores on the high street. Follow our tips below to buy a suitable used electric fire for the home.
Why Purchase an Electric Fire
There are many reasons why electric fires are highly sought after and used in many homes. They cost a lot less than gas fires in general, but the best models can look as impressive as a real flame. Electricity prices in the UK are far lower than the price of gas, a trend which shows no hint of reversing at any point soon, so an electric fire is a wiser choice for the household that wishes to save money. There is also no need to employ a professional to undertake an annual maintenance check on an electric appliance as there is with a gas one, which also lowers the running costs. Electric fires are also more efficient than gas fires. The fuel (electrical supply) is converted directly into heat in the appliance, whereas with a gas fire, combustion materials are produced which need to be vented externally. A good electric fire will also have an average lifespan of 15 years compared to the 10 years which is expected of a gas fire of similar cost and specification. As an electric fire does not burn fuel, it also does not become hot. This is particularly useful in houses occupied by children and animals, as it means they cannot be harmed by a hot appliance. Yet at the same time, many electric units come with a built-in 'flame effect', which mimics the look of a real flame without any potential injury to house occupants or visitors. Prices of second hand electric fires will vary according to the make, model, and style. For example, wall mounted electric fires can cost more than flush models, so make sure to do enough research into a reasonable price before buying.
Things to Consider when Purchasing Second Hand Appliances
Before making any purchase, first consideration must be given to where the fire is intended to go. Suitable and sufficient measurements of the space must be taken, as obviously this will massively influence the choice of purchase. If the product comes as part of a set with a fireplace, the space where that will fit must also be measured. Great care must be taken when considering purchasing a second hand electrical item.
Previous Usage Considerations
Unlike a brand new product, the appliance has obviously been in use at some point, so enough information about the unit's past should be gained before buying. Look for listings on eBay that give plenty of information about the previous usage, and as many photos as possible. Appliances that have been PAT (Portable Appliance Testing) tested by a qualified professional will be of better quality, however this cannot be guaranteed simply by a label.
Consider Ex-Display Units
A useful money-saving option for second-hand electric fires is ex-display units. These products would have been on display in a showroom, and in use, but without the day-to-day exposure to a family. This kind of gentle usage is preferable to heavy family usage in the home. Older units will usually have had more usage, however. Ask the seller how long the unit has been used for, as this will indicate the general wear and tear on the appliance.
Doing Sufficient Research
Always do sufficient research before making a purchase of a second hand electric fire. Better brand names are more likely to stand the test of time and give more efficient usage than a less reliable brand names. Ask for recommendations from professionals or friends, who may have a good idea into what type of electric fires last a long time and will suit the household in question. Different households will have different needs and what suits some will not suit others. If possible, go and see the model in question before making a purchase. This may require travel to a DIY store or local showroom, but doing so will give a greater indication that this is the right purchase.
Fireplace Size
The size of the room will also determine the KW output that is required of an electric fire. Buying too small a fire will only result in the occupant being unable to feel the benefit of any heat in the room. Take measurements of the room and ask an expert what KW size fire would be best for the space.
Asking Questions
Before making any purchase, it is always wise to ask questions about the product first. Useful points to review before buying a fireplace include finding out how old the electric fire is and if it has been well used. Also double check if the seller has any specific reasons for wanting to sell it, and find out if the fire has been checked over by a qualified electrician. It is also important to find out if there is an instruction manual or if not, where one can be found. This is especially important if the fire has been damaged at any point during the ownership. Given the different amounts of wear and tear between ex-showroom models and general used models, it also pays off to ask about the product's history.
Delivery Considerations
And one final, but pretty important, consideration is if the fire can be delivered, and how. Many sellers offering electric fires through any sales forum will only sell items like an electric fire to those who live locally and are able to pick it up directly from them. If purchasing from a seller willing to send the appliance by post, always ask how it will be protected from damage during transit. If the fire is being supplied with a surround, it is also worth checking that the fire and the surround will fit together in complement if they are to be installed together at the new location. The type, condition, and measurements of the surround should also be shown in photos and described accurately.
Safety Checks
Before using a second hand fire in the home, it should be tested and checked by a professional or a DIY expert with previous knowledge in this area. Never install an appliance that has not been tested. If a second hand fire is being purchased by a landlord for use in a tenant's home, there is a legal duty on the landlord's part to ensure the fire is professionally tested. This is exactly the same as the provision of any other electrical appliance so should not come as a surprise to the landlord. Consult a professional if unsure.
Conclusion
When buying a used electric fire suite, always do lots of research beforehand into the product desired, the quality, and condition. Show a great deal of care when making a purchase on eBay, use a reputable seller and ask lots of questions. Only purchase when completely satisfied that the product in question is safe for use. Make sure to take plenty of measurements of the space where the product is going to be located. Buying a second hand electric fire on eBay can save lots of money and look every bit as stylish and sophisticated as a more expensive electric fire or equivalent gas or alternative fuel one, with the added bonus of being more cost effective and fuel efficient.