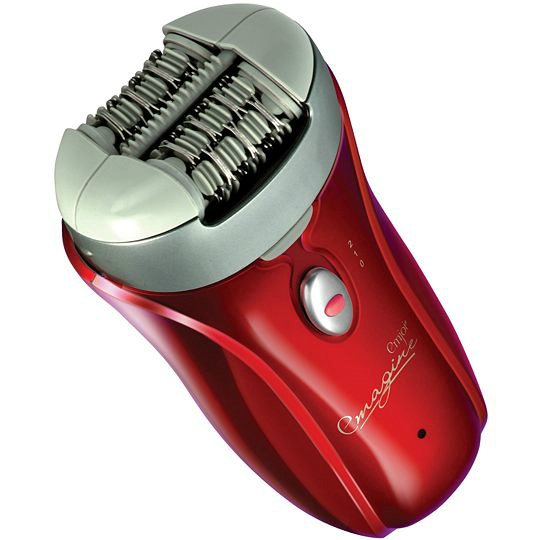 How do Epilators Work?
Epilators were originally manufactured in the mid 1980s and the first model was an Epilady, which used a spring mechanism to coil around hair and remove it at the root. Today, epilators have moved on, and modern epilators have metal plates which rotate, moving together to tweeze hair and extracting it at the root, then discarding it. It is still possible to find epilators specifically designed for facial depilation that use the spring mechanism – these are usually a length of coiled spring which has a handle on either end. The coil is curved around and placed on the hair to be removed, and as the handles are turned the hair is pulled out. These can be found on websites such as eBay for an affordable price.
The Benefits of Epilation
Epilation is a great alternative to waxing, and is a far cheaper method of hair removal than paying for waxing in a salon. In addition, epilation is ideal for sensitive skin. Because hair is removed at the root, there are no lotions or waxes being applied to the skin, so the risk of irritation is far less than with waxing or hair removal creams. Whilst the first epilation session can be painful, with some hairs breaking off rather than being removed cleanly, subsequent sessions are much easier. Hair grows back more slowly and has a finer, softer texture, meaning it is easier to remove and less noticeable.
Epilation is also a fairly quick procedure in comparison to waxing or electrolysis, which removes hairs one at a time. Epilators can grasp and remove many hairs simultaneously, so they are perfect to use on larger areas such as under-arms and legs. Compared to electrolysis or paying for professional waxing sessions, epilators are reasonably priced and affordable for most women or men looking to remove hair quickly and easily from the comfort of their own home.
Popular Brands of Epilator
There are many popular brands of epilator available today, many of which can be found on eBay at an affordable price. Here are some of the most popular brands around at the moment:
Braun – their Silk-Epil range has been very successful
Epilady – the very first epilator (although the design has been modified since its humble beginnings)
Philips – the Satin Perfect epilator is a popular choice and can be used wet or dry
Panasonic – the ES-WD51-P epilator can epilate, shave and trim
Emoji – their latest model features the most number of tweezers of any epilator available today – 72 tweezers in total, meaning that it can work quickly on larger areas such as legs and bikini line
Why Buy a Used Epilator?
When choosing an epilator, it can be difficult to know where to start. There are many guides as to the best epilators, but some brands can be expensive and hard to find online. On websites such as eBay, it is easy to find used epilators at an affordable price, which means it is also easier to invest in a high-end model for less.
Buying a used epilator is a great idea as it will provide value for money. Some of the more expensive models can be found used for a competitive price, and online auction sites such as eBay allow the opportunity to bid and find a bargain. Buying a used epilator is also a great idea when looking for a specific make or model that has been discontinued. If an existing epilator breaks and is beyond repair, it is easy to find a replacement used epilator online, and continue using a device which is familiar.
How to Choose the Perfect Epilator
Choosing the perfect epilator does not have to be a difficult decision. There are a number of factors to consider, from price to features and the method of use, and you can find a wide range of epilators to choose from on eBay. Here is a quick guide to some of the features available with the most popular epilator models and how they can be useful:
| Make and Model | Feature | Benefits |
| --- | --- | --- |
| | Can be used wet or dry and is rechargeable. It also features a massage function and handy light. | Can be used in the shower, thanks to cordless technology. The massage function helps to soothe nerve endings and reduce pain and the light makes it easy to spot small, fine hairs. |
| Emoji AP – 18 Imagine | Features 72 tweezers which have Silver Ion coating | This epilator removes lots of hairs at once – although this can be more painful for some people. The Silver Ion Coating helps keep bacteria at bay. |
| | 3 in 1 system for epilating, trimming and shaving. Features 48 tweezers. Small size and can be used wet or dry as it is rechargeable. | The 3 in 1 system is convenient for those who like to combine hair removal methods, and having 48 tweezers means faster hair removal for larger areas. Convenient to use in the shower or bath thanks to cordless technology. |
Each of the above epilators has special features that are beneficial when removing hair. So it is a case of deciding which features are most important to the individual. Those looking for an epilator for use in the shower or bath would be best choosing a wet and dry epilator, available on websites such as eBay, whereas for those looking to remove hair quickly and efficiently, one with a higher number of tweezers is the ideal choice.
Choosing the perfect epilator is a personal decision and will depend on whether a new or used model is desired. Budget will be an important deciding factor, as those looking to spend more will have a range to choose from, whilst those on a tight budget may choose the most affordable option to save money.
Epilators with Extra Features
It is often worth investing in an epilator that boasts extra features, such as a trimmer. Trimming hairs can help in achieving perfect epilation results, and will provide an immaculate finish. By investing in an epilator with a trimmer and shaving function, it is easy to maintain hair removal between epilation sessions, and it is a convenient feature for those who are often busy and don't have time to fit in epilation regularly.
For those who like to use their epilator in the bath or shower, a wet and dry model could be a great choice – although epilation is most effective on dry skin. Choosing a rechargeable model is convenient for wet and dry use, but it should be noted that these models will often have less power than corded epilators, and they cannot be used whilst plugged in. They are not a great choice for those who will forget to charge them as they might not be ready to use when needed at the last minute.
Replacement Parts
Whilst it is possible to buy replacement epilator heads and parts direct from the manufacturer, it can often be cheaper to buy them online – websites such as eBay usually have a range in stock, and individual parts or faulty whole epilators sold for parts can be found. Replacing an epilator head is not recommended whilst an item is under warranty – faulty devices can be sent back to the manufacturer for repair, as trying to replace parts at home can invalidate the warranty. Once an epilator is out with the warranty period, parts can be replaced quickly and fairly easily by the individual to ensure the longevity of the epilator.
How to Buy Epilators on eBay
The easiest way to buy Epilators online is to explore eBay. Just visit eBay and go to the drop-down menu of categories which you will find at the left-hand side of the page. Select Health and Beautyand this will open up a list of sub-categories. Go to Hair Removal and select Electrolysis and Epilators. From here you can type 'epilators' or the specific brand desired into the search bar at the top of the page.
Narrowing a search further is easy by selecting from a range of refinements including selecting new or used condition and deciding whether to bid on items or opt for 'buy it now' where the epilator is available at a fixed price and can be purchased instantly.
There are many different models of epilator to choose from, and searches can be narrowed using a certain term if looking for something specific. Just type the words related to the search, such as 'Braun Silk Epil' into the main search box. For further tips on how to search eBay, go to their Search Tips page.
Conclusion
Epilation is an easy and quick method of hair removal that is ideal for all skin types, including sensitive skin. Whilst the first session of epilation can be painful, hair regrowth is slower and finer, meaning that subsequent sessions are relatively comfortable. Because epilation removes the hair at the root, is it a long lasting method of hair removal which has similar results to waxing and electrolysis, although it is a far more affordable option than both of these and can be carried out by anyone at home.
Buying an epilator online on websites such as eBay is easy – used or new epilators are available and most popular brands can be found for an affordable price. By buying a used epilator, it is easy to find some of the more expensive models with extra features at a lower price. Epilators are an affordable, easy and convenient way to remove unwanted hair from any part of the body from the comfort of home and they will continue to be popular with women (and men) of all ages.