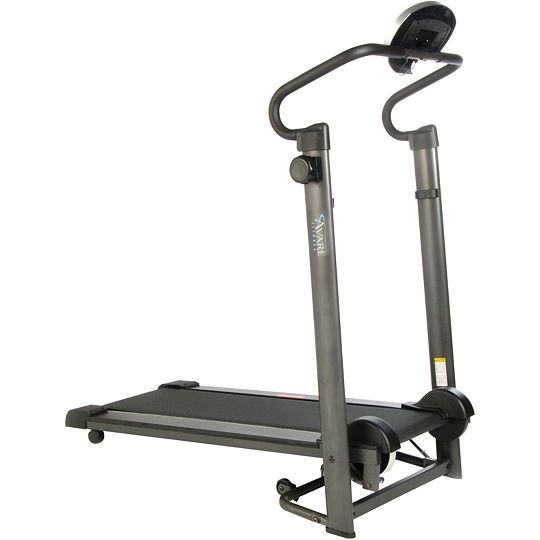 In order to stay fit exercise is an important part of a daily routine. Experts recommend half an hour of exercise a day in order to maintain optimum fitness. This can be difficult during a daily routine as people can often feel tired coming home from work or may not have time to go to an exercise class in the evening. One alternative to this is to have your own home fitness equipment. Knowing how to buy a used folding treadmill on eBay will allow you to get the exercise you need at home without having to worry about renewing your gym membership or the weather outside.
Benefits of treadmills
The padded surface of a treadmill allows you to run without causing pain on the joints. This means that the treadmill can be used by people who may otherwise avoid impact training such as those with bone conditions or older people.

Unlike running outside you are running on a consistent and flat surface. This reduces the risk of injury causing by outside obstacles such as debris or bumping into people.

You can set a treadmill at your own pace, making the workout as easy or as difficult as you wish.

If you work from home it means you can give yourself a break and do some exercise, something that prevents excessively long hours watching a screen and equally gives you a moment to clear your head.

If you are a parent it is easier to watch your children while running on a treadmill at home then it is when trying to watch your children during an exercise class or while you are doing an intense workout at the gym.

Treadmills are often recommended by health experts as they allow people to gradually get more exercise into their daily routine and this allows for longer term weight loss and health benefits rather than short term fixes such as diet plans.
How to fold a treadmill
The big benefit of purchasing a foldable treadmill on eBay is that you can put it away between workouts. Its portability also means that if you need to move house you are not faced with the additional stress of locating the box for it and ensuring it is properly stored as this is not necessary.
You ought to be able to find videos that clearly demonstrate how the unfolding process works. This may vary with some models but generally they tend to work in similar ways. Knowing how to unfold them will help to ensure that they work properly.
The treadmill ought to have a button or lever on the side to release the track.
Raise the track toward the monitor.
You should know when the track is properly in place as you will hear a click. If you do not hear a click then there may be additional levers you can use to support the track.
Tilting it back should show you where the wheels are. Folding treadmills will often have wheels at the bottom so that you can move it around and position it where you want to in the room. This then allows you to steer it towards the storage space.
How to unfold a treadmill
Steer the treadmill to the part of the room where you want to work out
Hold on to and push the top of the frame.
The treadmill ought to have a lock. Pull out this lock or with some models you may only have to pull it down rather than pull it out.
Hold the frame and gently take it down to the floor. Some models have built in mechanisms that assist you in doing this.
Always do this carefully. Bend your knees and keep your back straight so that you do not injure yourself before you start your workout.
Things to consider before making your purchase
Be wary when looking at older reviews. Earlier folding treadmill models were criticised because they were not as stable as their non folding counterparts. There was also criticism that the component parts were not as strong as in non folding products. In recent years both these aspects have been improved upon and the designs for folding treadmills have often compared favourably with non folding treadmills so you should not have to worry about buying them on eBay.
Factors to consider
A treadmill needs to be stable in order to support the weight of the person running

Cost is another factor. Treadmills designed for running tend to cost more than those designed for walking or jogging.

The treadmill ought to be easy to fold. Look for brands that use hydraulics as these will be easier to fold and unfold than those without.

Check if the treadmill fits your stride length

If you intend to move the treadmill look for lighter models for ease of movement

The power of the motor

Consider if you have enough space in the room to use the treadmill when it is unfolded

Consider if you can reposition the treadmill in order to watch television or look outside
Weight
A product description ought to specify the amount of weight that the treadmill can take. Generally it is recommended to go with a model that can handle more weight than necessary. This will also ensure that the treadmill does not wear out as quickly because it does not have to take as much strain.
Running style and stride length
One way to make sure you get the right size of treadmill is to measure your stride. This will allow you to find a treadmill that suits your particular running style. It is also worth looking for one that has sturdy support grips and shock absorption. Support grips will help to ensure you do not slip off while running and the shock absorption ought to minimise the risk of injury.
Motor power
If you run fast you need a powerful motor. There are three measurements of motor power to consider.
Continuous duty is the amount of power needed for any situation regardless of the amount of load. This measurement is often a guide to how efficient the treadmill is.
Treadmill horse power rating indicates how well the treadmill works during a reasonable amount of load weighing down on the treadmill. This measurement is the equivalent of 70 to 80 per cent of continuous duty.
Maximum horsepower is when the treadmill is handling the maximum weight load and represents 50 to 60 per cent of continuous duty.
Continuous duty is often felt to be an accurate representation of how efficient the treadmill works.
Cost
The cost of the treadmill will be proportionate to the amount of features that you want. Generally those with more customisation options will be more expensive than those without. Whether this is necessary depends on experienced you are and the amount you intend to run.
For example if you have clear goals in terms of distance, heart rate or calorie counting then you may wish for these visual options so you can clearly see if you are achieving your goals. If this is not necessary for you then you may want a model with a simpler visual display or even one without a visual display so you can purely focus on walking, jogging or running. eBay reviews and product descriptions should provide specifications so you can find the one you want.
Convenience
If you do not intend to move your treadmill around a lot then a heavier one is fine. However if you intend to carry one around a lot or want one that is more portable then consider a lighter model. A product specification ought to indicate the weight of the treadmill so you can decide if it is appropriate.
Another aspect to this is the ease in which you fold the treadmill. Some people are more skilled at folding and putting things away than others so something that is more user friendly may appeal more to people who do not wish to spend too long fiddling. This is why power assistance via hydraulics is recommended for people who want a more convenient option as this makes it easier to fold and unfold the treadmills.
Quality
With any purchase it is important to look for the ideal product for your needs that is affordable within your budget. Fortunately the benefit of eBay is that you can get a wide array of products from numerous different sellers. Each profile has clear indications of their feedback, allowing you to compare them with other sellers.
Ideally you want to find sellers that give you photos that clearly indicate the condition of the product. Look closely in order to see the condition of the machine, especially details such as whether or not the grips have worn out. They also ought to be willing to provide contact details and answer any questions you may have.
Conclusion
In conclusion when considering how to buy a folded treadmill on eBay there are a number of benefits to purchasing a folded treadmill, especially in terms of convenience. However, it is equally worth purchasing for the benefits for your health. With the right product and the right attitude you can get the full long term benefits of a healthier lifestyle and more exercise. Use the eBay category search to compare what is available and find the right folded treadmill for you.