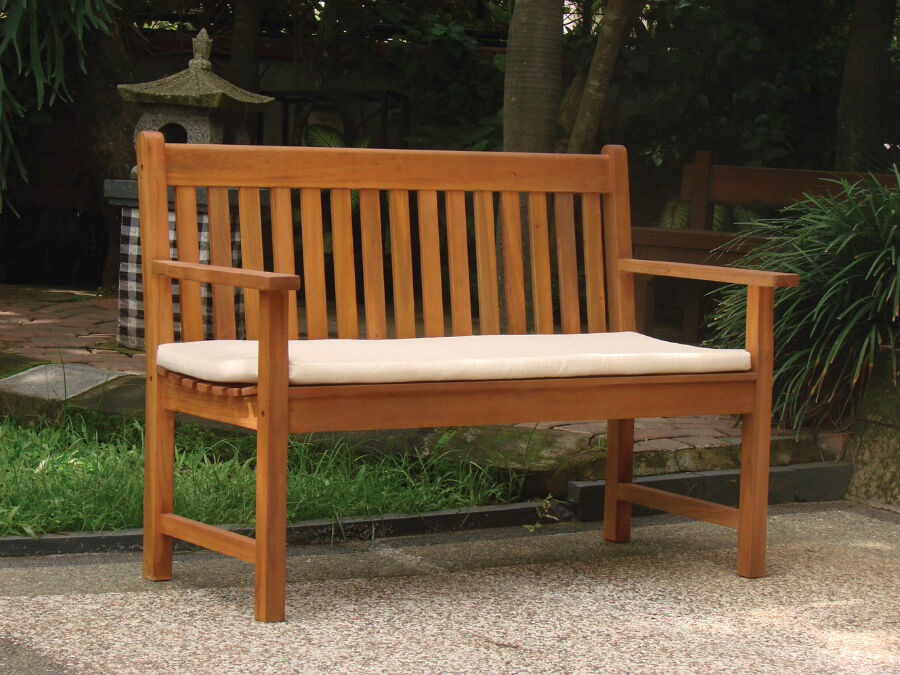 The UK summers may not be famous for bringing the good weather, but more and more people are enjoying the beauty of their gardens. Whether it's for sunbathing, letting the kids play, or having a barbecue in the summer, or chatting by the fire pit, lighting sparklers, or building a snowman in the winter, gardens are a huge part of the typical British way of life. Homeowners who do enjoy these activities, and enjoy the great outdoors, should consider garden furniture for comfort and convenience outside, and a used garden bench is the place to start.
Advantages of Buying a Used Garden Bench
No matter what material a garden bench is made out of, it's going to be sturdy, long lasting, and durable. These qualities are an absolute must in a garden bench if it is to withstand the often harsh elements brought about by a British winter. Therefore, even with age, a garden bench will still be capable of performing the task it was designed to do. Assuming there's no extensive damage to the framework or seating area, used garden benches are just as suitable an option for homeowners looking to spruce up their gardens. Websites like eBay make used items, including used garden benches, widely available to everyone, which is an aspect that brick and mortar stores cannot offer. Used garden benches for sale online can also be offered at huge discounts which cannot be found elsewhere.
Choosing a Used Garden Bench
The exact garden bench chosen will depend upon individual preference and requirements. There are a huge range of used garden benches available, especially via eBay, so it's important to consider all the options. Used garden benches can really be broken down into four categories, based upon type, material, set size, and capacity.
Type of Used Garden Bench
The type of garden bench really depends upon personal taste. Those looking for a basic piece of furniture may look simply for a bench, while those looking for something a bit more may prefer additional features or a specific style.
| | |
| --- | --- |
| Table and Bench Set | Garden benches may be available with matching tables that are not attached to the seats, allowing for freedom of placement throughout the garden. |
| Table and Chair Set | Single seater benches are often available with matching but separate tables, allowing for the chairs to be used with, or without, the table depending on preference and circumstance. |
| Parasol | Garden benches may be available with a parasol that either attaches to the bench itself or to a matching chair or table to protect from either the sun or a light drizzle. |
| Garden Chair | Single seater benches allow for more freedom of set up than multi-seater benches. They're good for large gardens and large families who prefer to sit in a dotted fashion, rather than up close. |
| Picnic Style | Benches can come affixed to a table in a picnic style. This type of bench is useful if buyers frequently dine in their gardens, or for groups who want to sit around a table chatting. |
Used Garden Bench Materials
There's not really one material that defines a garden bench, with many different materials being considered normal for this item of garden furniture. The material chosen should depend upon intended frequency of use, preferred maintenance, and where the bench will be stored.
| | |
| --- | --- |
| Plastic | Plastic benches are one of the most cost effective options, although other materials may be sturdier. A good option if intended for infrequent use. |
| Wood | Wooden benches are very popular and provide a rustic look in the garden. However, they may be prone to erosion in prolonged damp weather. |
| Stone | One of the sturdiest, and most costly, options. Stone benches are often carved with intricate detailing for an old fashioned appeal, and may come with a separate seat and base. |
| Metal | Metal benches are sturdy, but may be prone to rusting without a protective coating. They can easily be painted to fit in with garden themes or decor. |
| Wicker | Wicker garden benches are lightweight so can be brought out in the sun. They are not recommended for storing outside permanently, and may suit a home with a conservatory. |
| Concrete | Concrete is a less expensive yet suitable alternative to stone. The look may not be as authentic, but it's a durable and convenient outdoor seating option. |
Used Garden Bench Set Size
If looking for a complete garden seating solution, homeowners may wish to look for garden benches that are available with matching items to increase usability and also seating capacity.
| | |
| --- | --- |
| One | A single bench or garden chair is ideal for small or single person households. It's the first step in creating a welcoming outdoor environment. |
| Two | Two piece sets usually comprise of a bench or chair and a table, or separate seating and base parts. Again, they are particularly suited to smaller households. |
| Three | Three piece sets could include a bench or chair, a table, and a parasol, or perhaps a table and two forms of seating. It's also common for stone benches to come with seating and two separate legs. |
| Four | The combinations are almost endless for four pieces, and comprise of benches or chairs, tables, parasols, and removable accessories such as chair and bench arms. |
| Four Plus | When it comes to more than four pieces in a set, it's usual that the majority of the set will comprise of additional seating options. These sets are a good choice for larger households, or for those who entertain. |
Used Garden Bench Capacity
While single benches are likely to meet the needs of small households, larger households and those who entertain on a regular, or even semi-regular, basis, may wish to choose furniture, or a furniture set, that is capable of comfortably seating larger groups of people.
| | |
| --- | --- |
| One | Single seats are suitable for either single person households or as a supplement to a larger capacity seating set. |
| Two | Small traditional garden benches will typically seat two comfortably. Ideal for couples or smaller households. |
| Three | Larger traditional garden benches will often comfortably seat three people in a row. These are perhaps the most common type of garden bench available. |
| Four | A bench and table combination, or a picnic style table with attached benches, typically seat two people on each side of the table. |
| Four Plus | Round tables with multiple attached benches can seat larger groups, or homeowners may wish to purchase a larger piece set to accommodate big groups. |
What to Look for in a Used Garden Bench
As a used garden bench is a large and important item, it may be beneficial to check it out in detail before making the purchase. If buying from eBay, the seller can be contacted in advance and asked if a viewing would be a possibility. The most obvious thing to be on the lookout for is damage or erosion. As used garden benches are designed to be sturdy, damage should be uncommon, although wooden benches that have been out in the elements for a number of years may have some wear and tear that renders the bench vulnerable to further degradation. However, if it's the wooden seating slats that are damaged, these can easily be replaced. It may also be wise to search for items available locally which can be collected so as to avoid hefty courier fees.
Find a Used Garden Bench on eBay
Simply searching for 'benches' on eBay is going to produce a list of benches designed for both in and out of the home, so it's best to specifically search for 'garden benches' to yield appropriate listings. Even better, by using eBay's category pages, all results tagged as garden benches can be viewed, and then narrowed down based upon preference. From the Home & Garden category, select Garden & Patio Furniture,, followed by Benches. Using the left hand menu, results can be filtered to just included used garden benches, and can then be narrowed down further depending on specific requirements.
Conclusion
Used garden benches are a welcome addition to any garden, and as they are built specifically to endure whatever the great outdoors can throw at them, buying a used bench rather than a new one really is a viable option. Used garden benches are widely available on websites like eBay which allow sellers to list their unwanted items, and come in a range of designs, materials, and sizes to suit all intended purposes, all environments, and all family sizes, ranging from single person households to large families, to those who use their gardens for entertaining a group of family and friends on a regular basis.